Ryan Mason exclusive: Hull midfielder recovering from life-threatening head injury
By Geoff Shreeves
Last Updated: 14/05/17 2:16pm
On January 22, Hull City midfielder Ryan Mason suffered a fractured skull in a clash of heads with Chelsea's Gary Cahill.
In his first major TV interview since that day, Sky Sports' Geoff Shreeves meets a player who is bursting with positivity as he recovers from an injury which might have ended his life, but he is adamant won't end his career…
To my intense relief, Ryan Mason walked into our interview exuding good health and vitality.
Given the seriousness of his injury, I was genuinely concerned as to what condition he would be in. I'd seen pictures of him in the stands at Hull's game last week and had been shocked by his pale and gaunt appearance.
I had quite the opposite impression when we met on Friday afternoon. He strode into the room looking extremely buoyant, radiating with health and, perhaps more importantly, a positive attitude.
He is very aware of how serious his injury was and, ultimately, is grateful to be alive.
When describing waking up in hospital, unsurprisingly with a headache, he remembers one overwhelming emotion: "It was pure relief that I was still here because it was serious," he said.
"It could have quite easily gone another way."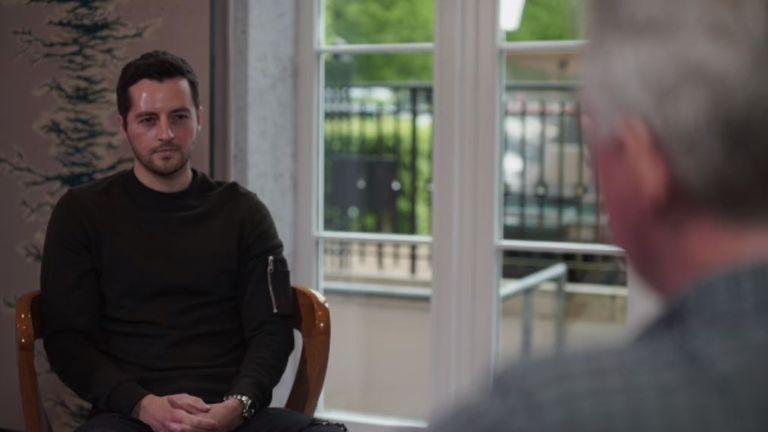 For half an hour we spoke about his recovery from the injury and how decisions made by medical personnel during what they term "the golden hour" saved his life.
He remembers every single thing about the incident, but has chosen not to watch it back on tape. That's because he can't see how anything positive can be gained by seeing it over again.
"I remember everything. I remember the doctor coming on, I remember having a conversation with him and the ambulance arrived.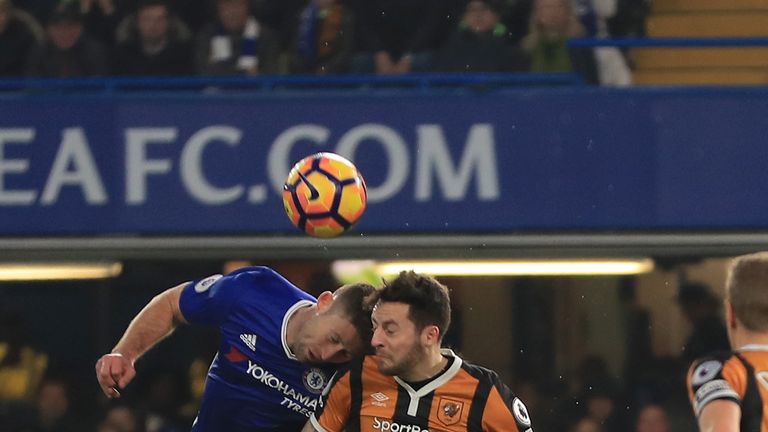 "I wish I didn't to be honest. It wasn't a great 30 or 40 minutes. I don't see the need [to watch it back]. I've dealt with it in a very good way and I'm positive about my recovery, but to sit there and look at the incident, I don't feel like I'd get any benefit from it.
"Sometimes you have a clash of heads and it feels a bit sore, but I remember the impact was huge. I was touching my head and it felt like it was pouring with blood, but I remember looking and there was nothing on my hand. For me that was a sign it was probably quite serious.
"As soon as the doc came on, the procedures he was going through did make me realise I was in a little bit of trouble. Thankfully the doc I had from Hull and the medical team were fantastic with me.
"Mark [Waller], the doctor, made some crucial decisions on the pitch and in the ambulance that did help me with my recovery.
"There were people that maybe wanted to go to a different hospital and get me scanned there, but he knew it was a fracture and how serious it was. We drove past two or three hospitals to get to this specific hospital because he knew I would be requiring surgery on my brain."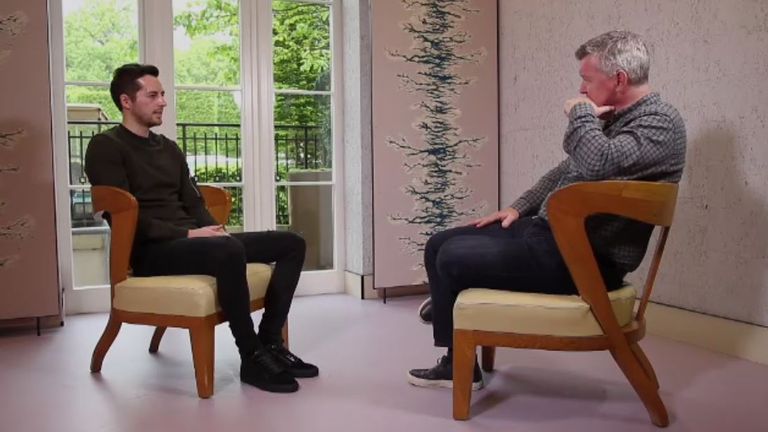 After coming around, Mason spent the first week telling his family and friends how much he loved them and how much they mean to him.
Prior to the incident, Ryan was a positive person but that's even truer now, despite some difficult times on his road to recovery.
"There were times during the first few weeks when I would look in the mirror and my head was huge and I was just thinking 'how on earth is that going to go back to how it was? How is that going to be normal?'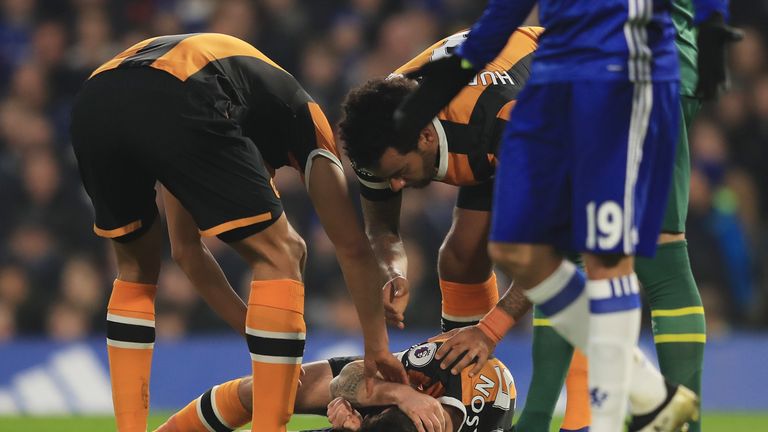 "Thankfully I had people around me that were positive. I'm quite a positive person anyway and I realise the benefits of not trying to look at the negatives on things.
"It was a worry, I'm not going to lie. There were nights when I would sit and think 'am I going to be able to live a normal life?'
"It was a big thing for me just to be able to get in a car and go and see my mum and dad or go and see family and friends. That was huge for me."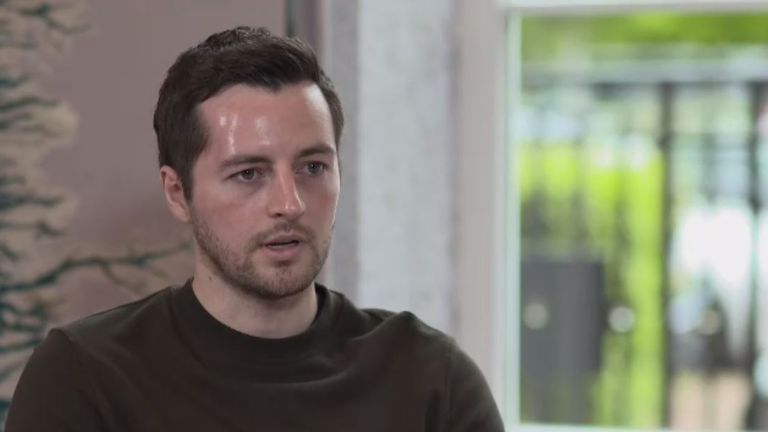 He is fulsome in his appreciation to his close family and friends; to Hull City and their medical staff in particular; and to the wider football family for the support he has received.
But one moment that truly stands out in his rehabilitation was when Petr Cech sought him out and came to visit him, talking to him for an hour about his own experiences of a life-threatening head injury playing football.
The reassurance and empathy offered by the Arsenal goalkeeper - a player who has achieved so much in the game after his recovery - had a huge impact.
"He's a great man," Ryan explains. "He chased my partner up and had been in regular contact with her. He was speaking to her and reassuring her that what I was going through was completely normal.
"With this sort of injury, the people around don't really understand what the person is going through. Fortunately for me, my family and my partner we had someone who had been in my position who was a footballer and had gone through the exact same thing.
"It was great for us. That reassurance of hearing it from him that it was ok to be sleeping 20 hours a day and it was ok to not be speaking and to hit a brick wall at certain stages throughout the day. It was great for me.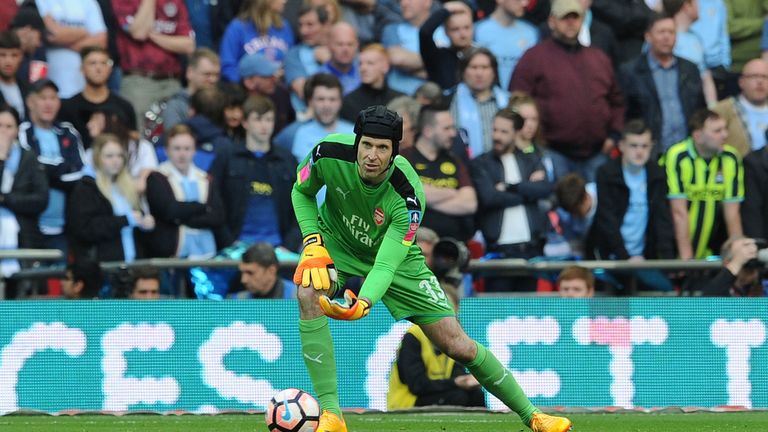 "What he's achieved since the accident is phenomenal really. It just shows the sort of person and character he is for working hard and coming back stronger. I'm sure that with the personality I've got and perseverance, I'm going to return and be a better player and stronger from this."
Life can be full of remarkable coincidences sometimes. Twenty-four hours before interviewing Ryan, I sat down with Gary Cahill who was involved in the injury and has been regularly texting messages of support.
And then after the interview with Ryan, I headed to the train station and the first person I bumped into on the platform was… Petr Cech! He and the Arsenal squad were on their way to Stoke and we spoke about the help he had offered.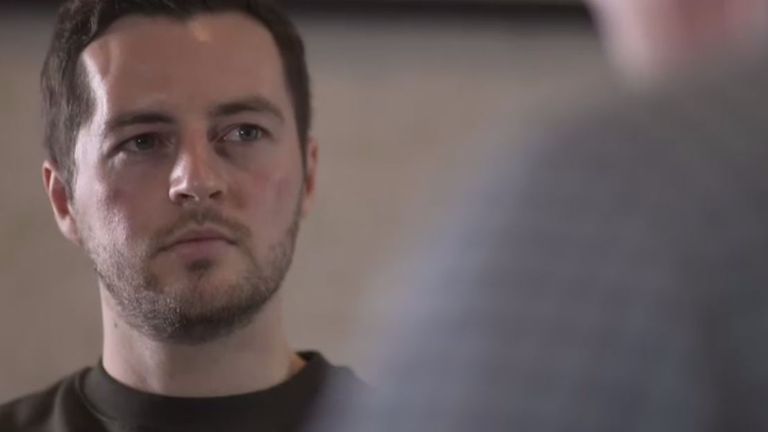 As for Ryan, he is determined to follow Cech's lead and return to the game he loves and play football again. However, he is aware that it is a long journey and he will take it step by step.
There's no medical reason why he can't return, but if it's not possible, after everything he has been through, then he will be accepting of that.
"After four or five weeks I said to my partner I never want to play football again. I said I wanted to go into coaching or something like that because at that moment I couldn't physically imagine being able to play football again.
"I think it was after eight weeks I was watching football for the first time on the box and I just had that feeling inside me. I got that buzz.
"I said to her I'm going to return to playing and she was obviously happy. I said I'm going to be better than I was before and that's what I want.
"It's an opportunity for me to come back from something. My dream was almost taken away from me and I will be able to return to playing. That's a great and satisfying feeling.
"Time is a healer and I'm working hard and doing all I can. At the same time, it's the kind of injury you've got to respect and understand when you can't do something you've got to let go and wait until you can.
"I would accept it, but from the feedback I've got that's not going to be the case and in my mind I'm going to return to play football. There's hopefully no reason why I shouldn't."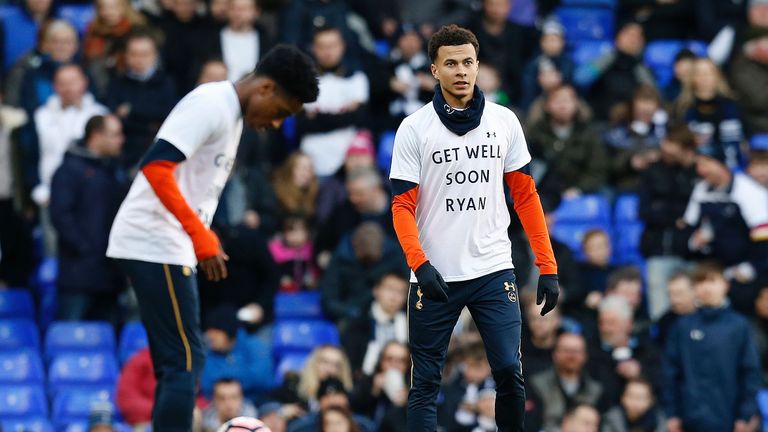 That possibility is far from his immediate thoughts, as is any trace of self-pity. He does not consider himself unfortunate - quite the opposite.
"There was not one point in this recovery so far where I sat there and thought how unlucky I was," he said.
"If anything I thought how lucky I was.
"You can always say 'what if I hadn't done this and what if he hadn't done that', but it's just one of those things. It was an accident.
"Fortunately the people around me made those decisions that gave me this possibility to come back stronger."