Everton agree £45m deal for Swansea's Gylfi Sigurdsson
By Sky Sports News
Last Updated: 16/08/17 9:13am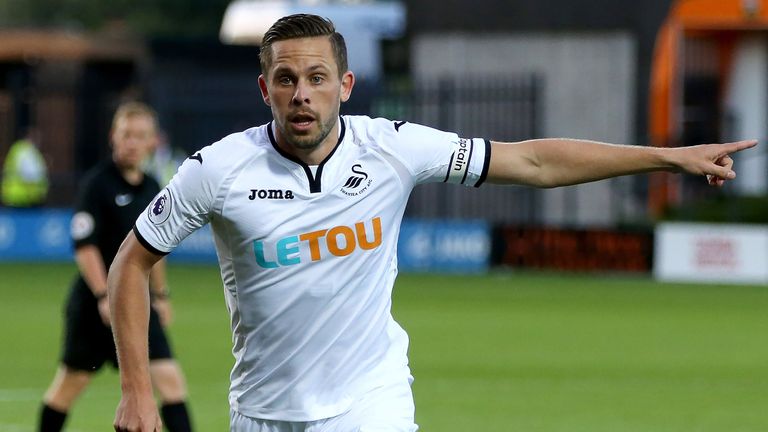 Everton have agreed a £45m deal to sign Swansea's Gylfi Sigurdsson.
The Iceland international is expected on Merseyside on Tuesday evening and will undergo a medical on Wednesday.
Ronald Koeman has been determined to sign the 27-year-old all summer and, just last week ahead of the Premier League's opening weekend, the Dutch boss revealed the deal was "close".
Sigurdsson missed Swansea's 0-0 draw at Southampton, which led to criticism of the transfer deadline from the club's own manager Paul Clement after he was forced to leave him out.
Both Everton and Leicester City saw £40m offers rejected earlier this summer but the former has continued to pursue a move despite being told by the Swans he could cost as much as £50m.
As the saga rumbled on in pre-season, Sigurdsson missed Swansea's tour of the United States because he was "not in the right frame of mind", according to the Welsh club.
Sigurdsson joined Swansea from Tottenham Hotspur in a £6.8m deal in 2014 and he has scored 29 goals in over 100 appearances as the Swans have battled to stay in the Premier League.
Ahead of losing perhaps his best performer last season, Swans boss Clement said he would be relieved to see changes made to the transfer deadline - something Sky Sports News revealed will be discussed in a forthcoming meeting between all 20 Premier League clubs.
Clement said: "What would be a better situation would be if the transfer window closed before the start of the season.
I don't really understand why it goes to the end of August. I know there's talks about that changing in future. And that's my opinion that it should do."