The Debate: Difficult moment for Mauricio Pochettino and Tottenham
Tottenham lose three in a row for the first time under Argentine manager
Last Updated: 18/09/18 11:23pm
Mauricio Pochettino and Tottenham are going through a "difficult moment" and lack of investment in the summer may come back to hurt them, say The Debate panel.
Spurs lost their third game on the trot for the first time under Pochettino as two late Inter Milan goals gave them a 2-1 victory at the San Siro in the opening Champions League Group B clash.
Spurs were without the injured Dele Alli and Hugo Lloris, and left Kieran Trippier and Toby Alderweireld at home for "technical reasons".
Speaking on The Debate, Chelsea Women manager Emma Hayes said some of Spurs' players may be jaded from recent seasons, not just the World Cup, and added that Harry Kane's form may be more reflective of the team as a whole than his individual performances.
"It's a difficult moment for Spurs, and a difficult moment for Pochettino. He has no new players in which to keep the environment fresh.
"He has a group of players which you can see some are jaded, and I can't just say from the World Cup but from the last couple of years.
"Once again, the way of playing and pressing under Pochettino is very demanding. Perhaps there is the fall-out effect of that for Tottenham at the moment.
"Let's see where [Kane] ends up. Spurs in general are struggling going forward, and you're only as good as the players around you. And if they're not creating the chances…
"Spurs have opened up quite poorly, they look lethargic and quite unsure of what they're doing, and that's very un-Pochettino like. I'm not sure Pochettino knows his best side, and their best players aren't producing just yet."
Spurs were the first Premier League side not to make a summer addition since the introduction of the transfer windows in 2002, and Hibernian manager Neil Lennon says the lack of investment may prove crucial in future.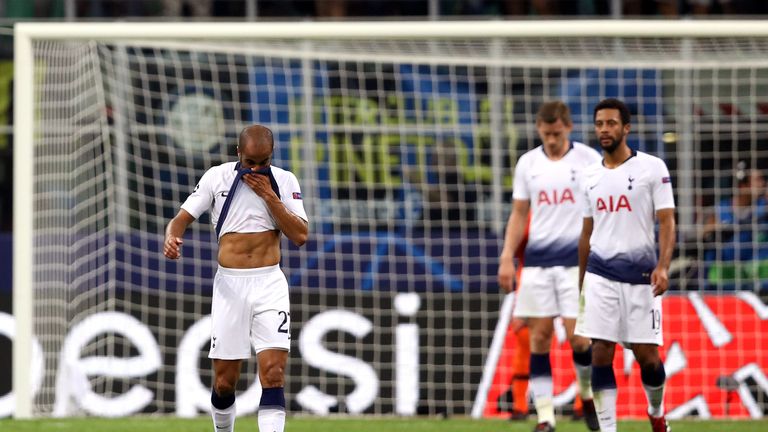 Former Celtic boss Lennon added that Pochettino's recent rants are uncharacteristic, and may suggest that cracks are starting to appear.
Poch rant: Don't disrespect my players
Kane improves but Poch is undone
"It's not like [Pochettino]. Maybe there is a little grumble of frustration there. Normally he is quite smooth and serene in front of the cameras," said Lennon.
"I'm a big fan, not just the way he sets his team out but the way he handles the media as well, so a little bit of a crack there I haven't seen before.
"I always think it's important to add players to your squad. I think that may come back to hurt Spurs over the course of the season."