Ivan Gazidis' tenure as Arsenal chief executive will be judged unfairly, says Ian Wright
Last Updated: 20/09/18 2:20pm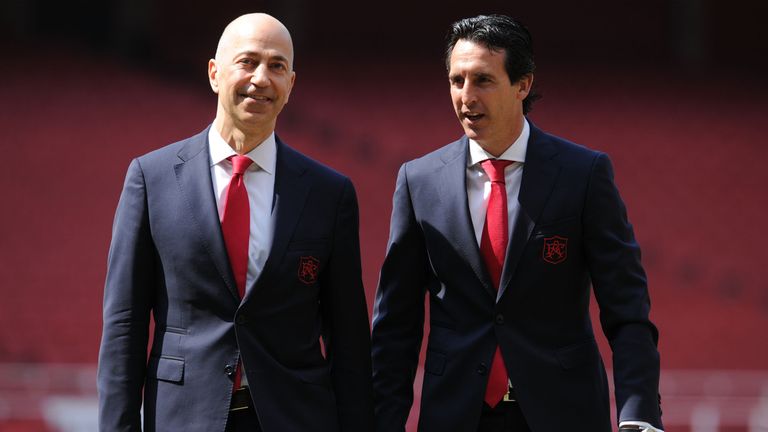 Ian Wright believes history will judge Ivan Gazidis' tenure at Arsenal unfairly after he turned his back on the club when they needed him most.
Gazidis' nine-year reign as chief executive will come to an end at the end of October, with the 53-year-old taking up a new role with AC Milan on December 1.
Tuesday's announcement came just four months after Arsene Wenger ended his 22-year spell as Arsenal manager and just five games into Unai Emery's tenure.
Speaking on The Debate, former Gunners striker Wright believes the timing of Gazidis' decision to leave shows a lack of understanding for the current state of the club.
"I'm not sure about the legacy Gazidis has left," he said. "What we have learned is that he is not a fan of the club, he is doing a job for the club.
"You get confused with the fact that somebody like him actually cares for the club. You only need to look at his statement when he said fans should get behind the new structure and manager, and then he leaves.
"It's quite disappointing at a time when everything has gone on with Arsene in the last 10 years, this is a time when maybe he needed to stay and keep things going. This was a time for him to build some kind of legacy."
Asked why Gazidis has decided to leave Arsenal at this time, Wright added: "That's the make-up of the guy.
"He feels this is the best time to leave but if he really sat back a looked at what's going on at Arsenal, this is the time they needed a CEO that would steer the ship through what's going on now with Unai Emery and new people at the helm.
"People talk about the commercial side of what's happening, Arsenal are a global commercial entity, but that's not what you are thinking his job should be - his job is to get the best possible team on the pitch.
"When you look at where Arsenal are at the moment, 37 points behind Manchester City last season, not really challenging at Champions League level, they are not in that ballpark anymore.
"You look at the contracts that have run down and the good players that have left the club," Wright added.
"The Luis Suarez debacle was on his watch, a pound over the buy-out clause for somebody that would have changed the direction of the club. That was on his watch.
"I'm quite pleased he's gone because after releasing that statement about structure, his decision to leave shows what kind of person he is, that's not the kind of person we need at Arsenal.
"We need somebody who is going to be fighting for the fans and back where we need to be, which is challenging for the top four, let alone winning the Premier League.
"History will judge him unfairly because I don't think he's done very well."