Javi Gracia says Nathaniel Chalobah can become £50m player after Troy Deeney's initial claim
Troy Deeney told Monday Night Football that Nathaniel Chalobah's value could rise to £50m in the future
Last Updated: 20/09/18 5:22pm
Watford boss Javi Gracia has echoed Troy Deeney's belief that Nathaniel Chalobah could become a £50m player in the future.
Deeney said on Monday Night Football that regular football could see Chalobah's value rise to £50m in 18 months' time.
Asked what he made of captain Deeney's comments, Gracia replied: "I agree. But not only Chalobah, all of the players we have in this moment, for me, they have high value.
"You never know what happens in the future because many times, it depends on many circumstances. For me, all the players are very good players. I'm sure all of them have high value."
Chalobah signed for Watford from Chelsea last summer, but missed the majority of the 2017-18 season after fracturing his kneecap.
The 23-year-old has played just four minutes of Premier League football so far this season, while Gracia has named an unchanged XI for their opening five league games.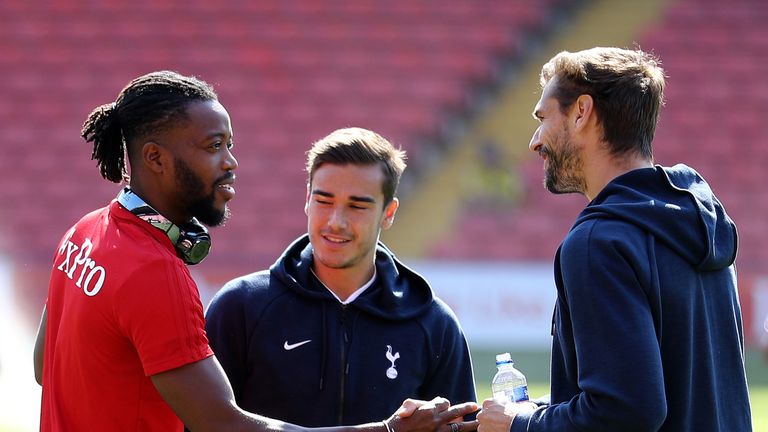 Watford face Fulham on Saturday - live on Sky Sports Premier League - before heading to Tottenham in the Carabao Cup on Wednesday, and with Arsenal to follow next weekend, Gracia suggested that rotation will be necessary.
"In the next seven days, we are going to play three important game," Gracia said. "I'm sure all the squad is going to play. In this moment, all of them are ready. They know they're all important, and we try to choose the best line-up for all the games."
Meanwhile, Deeney also told Monday Night Football that he would offer Gareth Southgate's England a "different dimension".
Deeney is uncapped for England, despite registering a total of 44 Premier League goals and assists since the 2015/16 season, the fifth-highest tally of any Englishman.
England boss Southgate has praised the 30-year-old's qualities in recent weeks, but admitted the "next forward players that I see that should be challenging are some of the younger ones."
Gracia said it was not down to him on whether Deeney should feature, but says the striker has been playing "very well" for Watford.
"That is not my decision. The national team's coach, they try to choose the best players for them, and I'm sure of that, I think the English players we have, all of them are good options," said Gracia.
"We are waiting for the moment, they choose them, and we will be very proud if they go with the national team. But it doesn't depend on me.
"For me his is playing very well. But I tell you again, to play in the national team is not my decision. I am very respectful for the national team coach."