Tottenham into the Champions League semi-final: Mauricio Pochettino takes the next step
Watch Man City vs Tottenham on Saturday, live on Sky Sports Premier League from 11.30am; Kick-off 12.30pm
Last Updated: 18/04/19 11:26am
In one of the great games, it was Tottenham who confirmed their place in the last four of the Champions League with a dramatic 4-3 second-leg defeat to Manchester City enough to send Spurs through on away goals.
Adam Bate was there to see it for Sky Sports and reflect on a huge accomplishment by Mauricio Pochettino and his players that elevates them to the next level...
"We know we will have to suffer," said Hugo Lloris in the press conference before the game. Nobody from either team could have known quite how much in a crazy contest that turned one way and then the other before ending in elation for Tottenham and devastation for a Manchester City side as they were denied a stoppage-time winner after a VAR review.
This was an instant classic and a unique one at that.
Both teams played their part but Spurs were sick of just playing their part. Mauricio Pochettino was clear about that. "We are ambitious," he had stressed beforehand. "We are here not because we love to play football but because we love to compete and we love to win." The Spurs supporters crammed into the Etihad Stadium will share that sentiment.
They deserved it too. Not that City weren't superb at times. They threw everything at Tottenham, scored four goals along the way and briefly got to celebrate a fifth. Raheem Sterling was sensational, Kevin De Bruyne even better. For a while there it looked like this would be the story of their comeback but instead it was Spurs who stunned City.
It might seem strange to style this triumph as a comeback at all when Tottenham were only actually behind for 14 of the 180 minutes of the tie. But one of the many remarkable things about this result was the resolve that Pochettino's team had to show to come through it.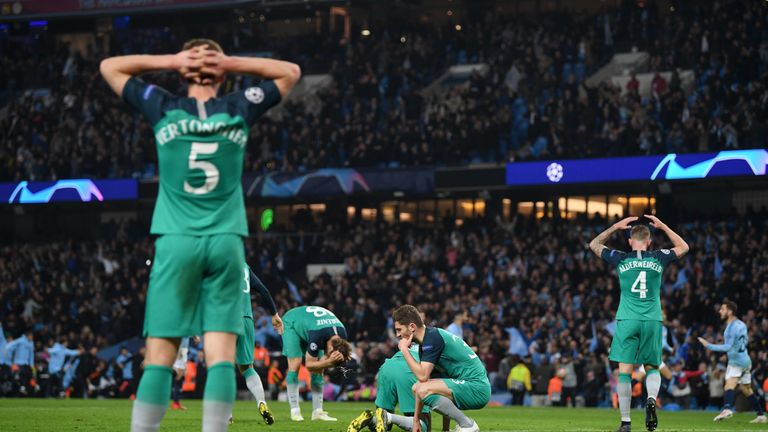 Think of some of the most famous comebacks in Champions League history - Manchester United in 1999 and Liverpool in 2005, for example - and as astonishing as they were, the momentum only had to shift once. City seemed set to take this tie away from Tottenham time and again before finally, incredibly, it was the away fans who were left celebrating.
Spurs show their resolve
One national radio station ran a poll soon after the quarter-final draw was made inviting their audience to pick which of the English teams would go furthest in the competition. Tottenham were not even one of the options. They went and won the first leg and, crucially, denied City an away goal, but they were still huge underdogs heading to Manchester.
It took only four minutes to find out why. "We have a small advantage but everything can turn very quickly," Lloris had said and so it proved as Sterling was given too much time to cut inside and fire past the Tottenham captain. How deflating that must have been after the hard work of a week ago. And how emphatic the response was from Pochettino's players.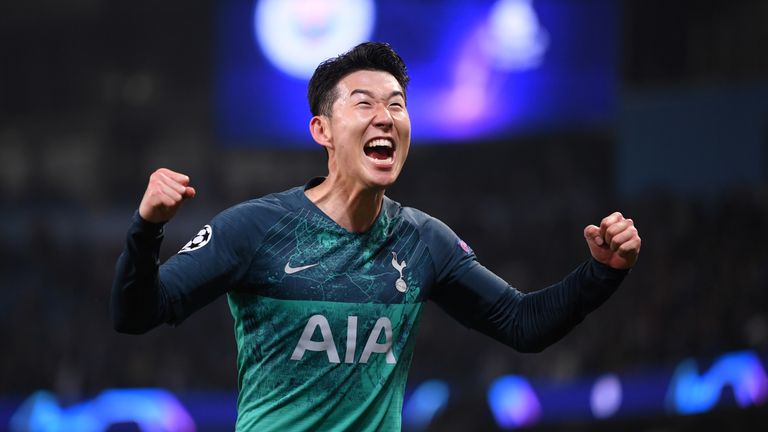 Two goals in three minutes from Heung-Min Son changed everything. The hope had been that Spurs had the pace and invention to counter as well as contain but the big question was whether they could seize any opportunities that came their way. Son's second goal, in particular, was a delight. "I am so happy with him," said Pochettino. "He was unbelievable."
Still the blows kept coming.
There was barely time to celebrate before City conjured up an equaliser. And it was not even the midpoint of the first half when City were back in front on the night as Sterling added his second with alarming ease. Another setback. Imagine the mood at the interval. It would have been easy for heads to drop in the belief that it was slipping away.
Still more hurdles were put in front of them.
Moussa Sissoko, whose energy had surely been an integral part of Pochettino's plans, had succumbed to a groin problem by that point. He joined Eric Dier and Harry Winks, Serge Aurier and, of course, Harry Kane on the injury list - and sparked a bold substitution by the manager. Instead of taking a backward step he brought on Fernando Llorente.
The next deflating experience was Sergio Aguero's goal that not only put City ahead in the tie but came within a minute of Llorente being denied with a headed chance and Christian Eriksen seeing a long shot saved. No matter. Spurs had enough about them to go again.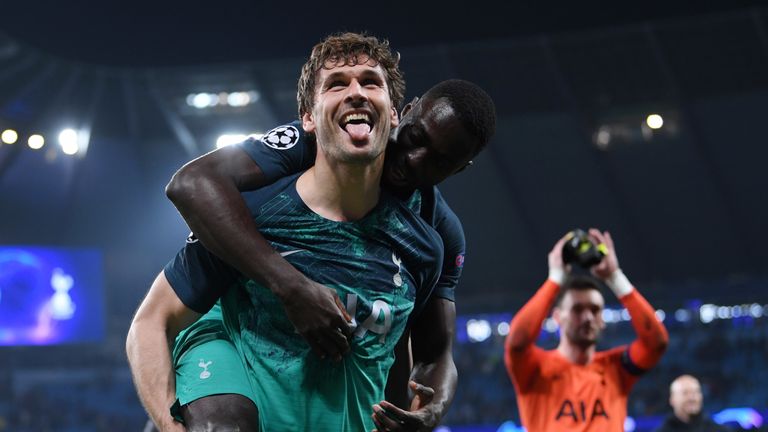 Llorente answered the call by forcing home what would prove to be the tie's winning goal. The cumbersome striker has been much maligned at times but he has made some important interventions of late and none more so than this. He will always have this goal.
Like Sissoko, Llorente's cult status is now assured and it's revealing just how many of these Spurs players who had found themselves on the fringes are now showing up. Victor Wanyama's efforts here should not be forgotten. Lucas Moura too. This wasn't their strongest side on paper but Spurs found their strength from somewhere. It speaks volumes.
"Names we rotate but always we keep the same spirit, ideas and philosophy and that is the most important," Pochettino explained. "Our belief and faith in the way we play and work."
He added: "Football is not only about talent but belief and the right mentality. This team has the personality, character and mentality to believe all is possible. With only quality it's impossible to achieve a Champions League semi-final. You need belief, faith and spirit."
He was clearly enamoured with them all. "My players are heroes," he said. But the architect of the success, even one as manic and out of control as this, is Pochettino himself. He is the one who has forged a new culture at Tottenham. This was his reward for that.
Significance for Pochettino
Even before the first leg, Pochettino never shied away from the fact that this was a huge moment in his career, admitting it was perhaps the most important game that he had ever been involved in. A comment like that could easily have blown up in his face had it gone badly wrong - as well it might against a side as explosive as Pep Guardiola's City.
Yes, he joked about beating Guardiola in the Catalonia Cup when discussing his counterpart's list of trophies, but he stopped short of playing the out-and-out underdog. He eschewed the invitation to complain about the gulf in resources and that was telling. There is a sense that both he and Spurs will no longer be satisfied to settle for plaudits.
They are ready for more.
History boys
Tottenham last reached the semi-finals of Europe's elite club competition in the 1961/62 season
"Now it is a moment to close a chapter this season and start another chapter," he explained. "To achieve the things that this club deserve with our amazing stadium and amazing fans to try to be competitive again, fight and be a real contender for the big things."
The Argentine wants to manage that shift from overachieving underdog to embracing the expectation. "We need to be contenders to fight for the Premier League and fighting for the Champions League, and find the tools to try to be there," he declared.
As a result, the significance of this victory can hardly be overstated. Pochettino doesn't have his trophy yet but he will go into May still chasing the biggest prize that club football has to offer, his team not just in the top four of the Premier League but in the final four of the Champions League too. They are even narrow favourites to beat Ajax and go all the way.
It's a dream made possible by Pochettino and made reality by events at the Etihad Stadium that will never be forgotten. It will be remembered as an extraordinary evening, but the ambition at Tottenham now is to make the extraordinary ordinary. To not just play in the big games but to win them. This was a huge step towards doing that, one that elevates Spurs.
They have suffered, but Tottenham are truly in the elite now.
"Anyone can win a one-off game, I've seen it a million times in FA Cup shocks. But to go there and score three goals and to show the bottle to have a go. Second half, Tottenham were pinned back. They could easily have put their heads down and gone 'there's no way we're getting out of this. At 4-2 down, we're out'. But they kept on going.
"Fair play to Pochettino. There have been a lot of injuries, their bench wasn't mouth-watering. We always sit there and say City were unlucky but credit where credit is due for Tottenham. They've been up here when they were 2-1 up and they've been down and then up against it and they still had that fight to come back. That takes a lot of bottle."