Vincent Kompany's iconic strike puts Manchester City on brink of title race triumph over Liverpool
Vincent Kompany rescued Manchester City's title hopes with a stunning long-range strike against Leicester at the Etihad Stadium
Last Updated: 07/05/19 4:22pm
If Leicester could have chosen one Manchester City player to line up a shot from 30 yards out, it probably would have been Vincent Kompany.
The centre-back has scored some memorable goals during his 11-year stay at Manchester City - only last season he netted the second in their Carabao Cup final win over Arsenal - but none quite like this.
None even close to this.
Aymeric Laporte only passed to him because there was nothing else on. But Kompany got the ball out of his feet with his first touch, kept striding forward with his second and unleashed a ferocious, swerving drive which whistled into the top corner with his third. The Etihad Stadium - a cauldron of anxiety for 70 minutes beforehand - erupted in delirious celebration.
"Where do you want your statue, Vincent Kompany?" bellowed Gary Neville in the Sky Sports commentary box.
This extraordinary title race is not over yet - not with one final round of fixtures to go - but finish the job against Brighton on Sunday and this iconic goal will go down as a moment to rival Sergio Aguero's title-clinching strike against QPR in 2012.
Kompany had never scored a goal from outside of the box for City - he had not even had a shot on target from outside the box since 2013 - but the unlikeliest of scorers was a fitting hero. The 33-year-old, City's captain and leader, has driven their rise right from the start. "I always feel in big moments that I'm going to do something," he told Sky Sports afterwards.
A nervous evening for City
The euphoria was even more pronounced because of what preceded it. City came into the game knowing nothing less than victory would suffice following Liverpool's dramatic 3-2 win over Newcastle on Saturday, but the pressure of this relentless title race appeared to get to them.
City were uncharacteristically sloppy in the first half, struggling to carve out clear chances and enduring some nervous moments at the other end, too. Indeed, it might have been a different game altogether had Leicester's Ricardo Pereira gone to ground in City's box following a late challenge by Ilkay Gundogan in the eighth minute.
Leicester were well organised, Jamie Vardy menacing on the counter-attack, and for City there were nerves in the stands as well as on the pitch.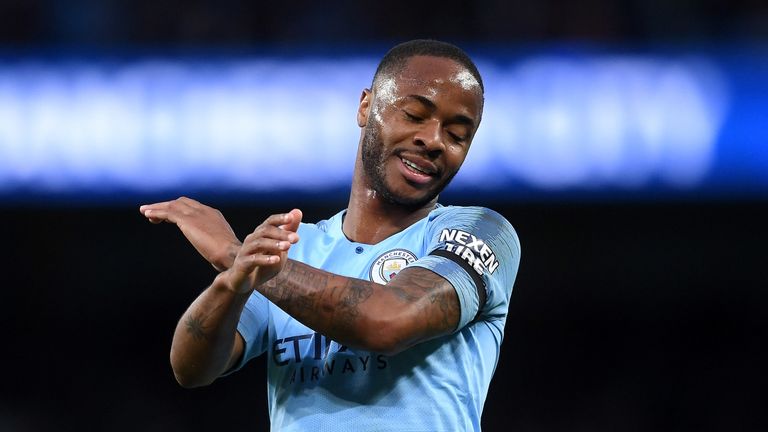 "It does feel like there is an edge in the crowd, maybe a bit of anxiety," said Neville. "It's not desperation at this stage, but when the fans are chanting 'Come on City!' there's a little bit of an eagerness there. Things like that sometimes transmit to the players."
That certainly seemed to be the case after the break. City laid siege to Leicester's goal from the start of the half, but the clinical edge continued to elude them. Bernardo Silva had his head in his hands when he sent one shot over. Raheem Sterling dragged another effort wide soon afterwards.
It seemed City's gruelling season was catching up with them. In a period of a few minutes midway through the half, Kyle Walker and Gundogan took it in turns to send routine passes out of play. Pep Guardiola's side were running out of ideas and they were running low on energy.
A fitting strike for a thrilling race
It was then, just when City were becoming truly desperate, that Kompany took matters into his own hands, charging out of defence and ignoring the team-mates around him imploring him not to shoot.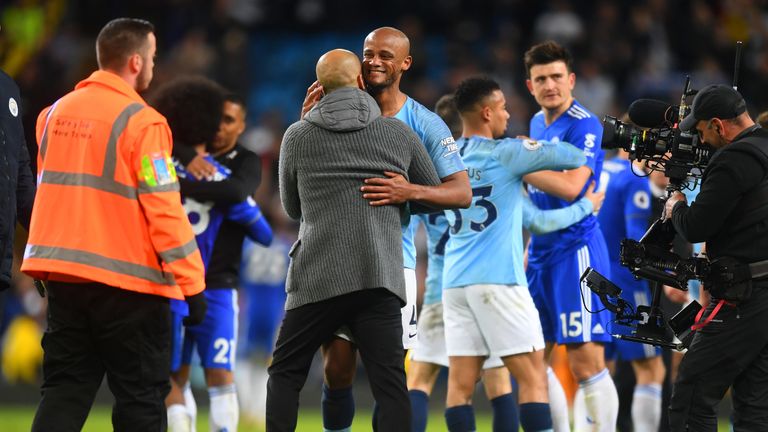 "Everyone was saying 'don't shoot, don't shoot' and I could really hear it," he said afterwards. "I thought, hold on a second, I've not come this far in my career for young players to tell me if I can take a shot, so I just had a go!"
It was a sensational strike in keeping with the sky-high standards of this remarkable title race. City and Liverpool now have 95 and 94 points respectively. Barring any shocks on the final day, they will finish the season with the second and third-highest points totals in Premier League history.
Manchester City have now won their last 13 Premier League games in a row, scoring 27 goals and conceding only three. Liverpool, meanwhile, are on an eight-game winning run of their own. At the most highly-pressurised point of the season, neither side has dropped a single point since the start of March.
It remains to be seen whether there will be one final twist on last day of the season on Sunday, when City travel to Brighton and Liverpool host Wolves, but what's certain is that there can only be one winner.
Thanks to Vincent Kompany - thanks to the moment of brilliance that nobody saw coming - that winner is likely to be Manchester City.
Title race final day live on Sky Sports
The last act of The Run In will be shown live on Sky Sports on a defining final day of the Premier League season.
Manchester City's trip to Brighton is live on Sky Sports Main Event from 2.30pm, while Liverpool vs Wolves at Anfield is live on Sky Sports Premier League from 2pm on Sunday, May 12. Kick-off for both games is at 3pm.