Liverpool boss Brendan Rodgers feels Luis Suarez has been made scapegoat over diving
Liverpool boss Brendan Rodgers has called on his fellow Premier League managers to stop criticising Luis Suarez.
Last Updated: 03/11/12 1:53pm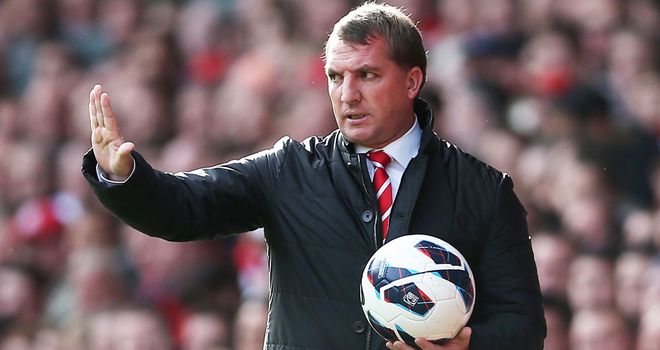 Suarez was again singled out in the build up to last weekend's Merseyside derby, with Everton boss David Moyes claiming his antics would drive fans away from the game.
However, Rodgers has jumped to the defence of Suarez and feels the Uruguayan has been unfairly targeted for complaints which is widespread throughout the game.
"I believe this will be the ongoing debate, and now people will see that diving is an issue which is at every club - it is widespread within the game," Rodgers said. "It is ridiculous to single out one man, because every single club has an issue."
Swansea's Angel Rangel, Everton's Phil Neville and Chelsea striker Fernando Torres were all booked for diving last week and Rodgers feels Suarez should no longer be an easy target.
"Just look at last weekend, and two players you would deem to be great professionals - Angel Rangel and Neville - almost above criticism," added Rodgers.
"Rangel was booked against Manchester City for diving but I worked with him for two years at Swansea and he's one of the most honest, genuine people I've come across in my life. But he got booked for diving.
"Neville is 35 and over the years you would consider him to be a really honest guy, an impeccable professional. But then he gets booked for diving after his manager has read the riot act to his players by all accounts. Then you have Fernando Torres booked for diving.
"So managers have made a criticism of Luis, but I can guarantee you they will have players who are criticised for diving. Hopefully people won't continue to vilify Luis just because he was the easy target before, and look beyond themselves and their own players to see it's part of the game.
"Of course we don't like it when it's blatant and personally I believe we must continue to fight to eradicate that. But it is nonsense to suggest it's just a problem with Luis Suarez."
Rodgers also warned opponents that it is no good trying to wind up Suarez, feeling it only makes the striker stronger.
"I honestly don't think you can wind Luis up, by having a go at him for diving or anything else," continued Rodgers.
"Others have tried to use it as a psychological tool to put him off and affect referees but it makes him stronger.
"Looking at his performance levels, consistency and goals he's scored, they'd be better off saying nothing. He'll always divide opinion. If he's on your team people will love him but if he isn't he'll get a bit of stick, but that's because he's world class.