Roberto Martinez has advised Tottenham's Gareth Bale against Spain move
Wigan boss Roberto Martinez has warned Gareth Bale against making a move to Spain, feeling it may not suit him.
Last Updated: 03/11/12 11:28am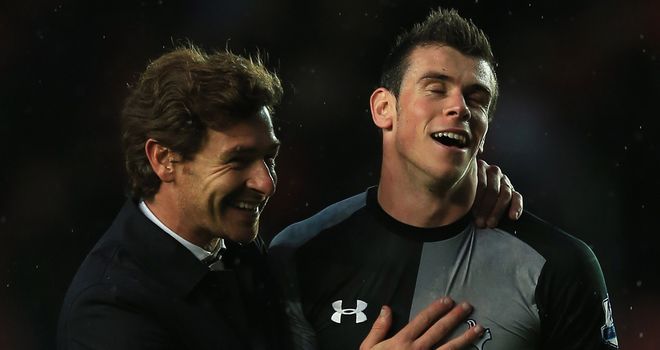 Bale has been strongly linked with a move to the Primera Liga with Real Madrid and Barcelona are long-term admirers of the Welsh wizard.
But Spaniard Martinzez has advised Bale that a switch to either Barcelona or Real Madrid could backfire against him as he would no longer be guaranteed a place in the starting XI like he is at Spurs.
"A real compliment for him is people are talking about him signing for Real Madrid and Barcelona," said Martinez.
"Only a handful of players around the world carry that status and he is one.
"Look at his two performances for Wales against Scotland and Croatia and you could see he was a step ahead of the other 21 players on the pitch. That is quite a statement.
"But it's hard to tell whether a move to Spain would help him improve. Sometimes going to a club we consider as bigger will be healthy. But if you take on a lesser role instead of being the main man it doesn't work.
"It's different if you are one of five or six key men, because maybe the team won't play to your strengths. Certain players enjoy that responsibility of being the main man, and it can be difficult to have the same impact in a team that has three or four other world-class stars.
"Gareth is in a top team, and the way they rely on him is bringing the best out of him."
Threat
Wigan come up against Bale this weekend and Martinez is trying to find a way to combat the the flying winger.
Wigan face Tottenham at White Hart Lane on Sunday and after heaping praise on Bale, Martinez will turn his focus to stopping the winger.
"His biggest strength is that he can somehow change pace while he is sprinting," added Martinez. "He can actually accelerate further, and that takes him away from defenders with ease.
"He's unique in that respect. It's what makes him so special, what lifts him to world-class. You have to try to stop the service to those players, because you can never really stop them playing. They are the players who make a difference.
"What we need to do is make sure his effect is not as important as the effect we have on the game as a team. We must be aware of him and share the responsibility of handling Bale. We will have to be at our best, but we have done it before. We know how to win at White Hart Lane."