Rafael Benitez says winning is the only way to stop criticism from Chelsea fans
Chelsea boss Rafael Benitez says winning is the only way to stop criticism of his reign at Stamford Bridge.
Last Updated: 16/01/13 7:15pm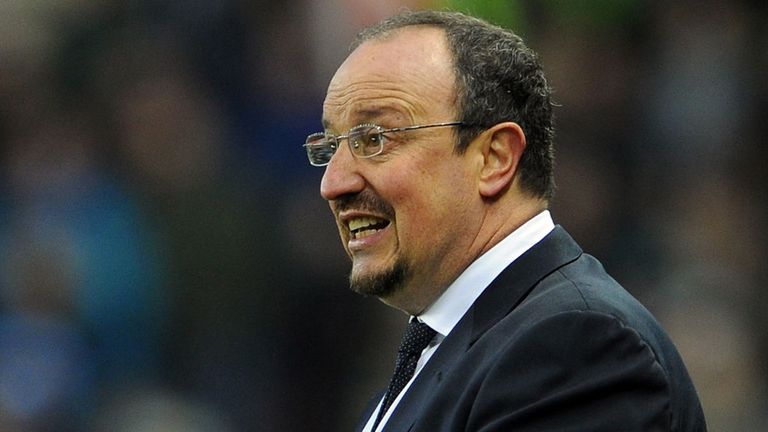 Fans were infuriated by the Blues' 2-0 Capital One Cup home defeat to Swansea last Wednesday, and Benitez was slated for using injury excuses for both Fernando Torres' and Demba Ba's poor performance.
While both strikers are available for Wednesday night's Premier League tie with Southampton, the Spaniard is likely to opt for Ba, in a match that Chelsea must win if he wants to stop the reproach.
"I was surprised the other day when I spoke about Fernando's problems with his stomach (and that) we couldn't play Demba Ba because he had a niggle," he said.
"Afterwards it was said I was making excuses, but I wasn't making excuses.
"I am still being criticised for making the decision to play Fernando Torres instead of Demba Ba, who was a big risk if he got injured.
"If you know Demba Ba could be injured, it is my job as manager to make this decision.
"He scored two against Southampton (in the FA Cup) but couldn't play the next game against Swansea because of a niggle.
"If we can continue winning games, it's not a case of I can't win."
Benitez was slated by angry supporters after losing to Swansea last week, and their fury has been only temporarily calmed by Saturday's 4-0 win at Stoke.
"We are doing well away but at home other teams play deep and wait and there's less space," he said.
"We are still creating chances but the main thing is to be more clinical.
"If we take our chances it will be totally different because the teams we play will be more open and we will have the space we're looking for.
"But if that's not the case, as in the last two games, it is more difficult.
"If a team puts 11 players behind the ball you have to find the space and be more precise."