Premier League: Andre Villas-Boas blasts Frank Lampard for his lack of support during Chelsea reign
Andre Villas-Boas has hit out at Frank Lampard, claiming the midfielder never supported him during his time at Chelsea.
Last Updated: 08/05/13 9:43am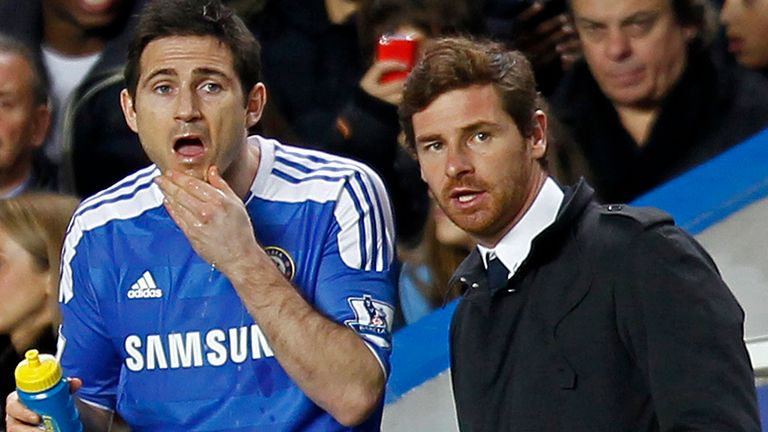 Tottenham boss Villas-Boas returns to Stamford Bridge on Wednesday for the first time since he was sacked by the Blues after a tumultuous nine months in charge.
The Portuguese was axed after a run of three victories in nine games and criticised Lampard for his attitude during his ill-fated reign.
Villas-Boas said: "Yes, there was a lack of support from Frank Lampard but his ability and quality were never in doubt."
He added: "Whether the Chelsea players supported me does not matter right now. And probably being sacked made me a better manager."
Tottenham trail third-placed Chelsea by two points and need a victory to keep their hopes of Champions League qualification alive.
"Going back is not very special for me," said Villas-Boas. "We have beaten all the big teams apart from Chelsea.
"Now we have the opportunity to put destiny in our hands."
While Chelsea have amassed 10 major trophies in a decade under Roman Abramovich, Villas-Boas feels it is more important for a club to have its own identity.
"If you don't have a style, it makes you invisible in football. Only teams with style succeed, but in the end, success normally is what matters in modern Europe," Villas-Boas said.
"Obviously what is attractive to me is maybe different to the style of football you might find attractive.
"There are various types of teams, teams built along great creative players and these Chelsea teams have the ingredient to be able to play this type of football.
"If you remember the team of 2004 was an absolutely deadly machine of football, but in a different way, a great, great counter-attacking football and one of the great teams in the country."