Sam Allardyce has every faith West Ham's board will not make him the first managerial casualty of the new Premier League campaign.
Allardyce defended his attempts to rejuvenate the Hammers' attacking style despite slipping to a frustrating 1-0 home defeat to Tottenham on Saturday.
Debutant Eric Dier pounced in the 90th minute to hand new boss Mauricio Pochettino victory in his first competitive Spurs outing at Upton Park.
Allardyce avoided the sack last term, but West Ham's owners ordered him to produce slicker attacking football with Teddy Sheringham joining the coaching staff.
The former Bolton boss asserted his Upton Park control despite his side wasting a host of chances, rejecting any fears of the sack.
"If they're going to do it after one game, they might as well have done it at the end of last season," said Allardyce in his post-match press conference, after West Ham spurned a host of half chances.
"Why wait until now? Why do the whole pre-season we've done, create what we've tried to create and buy what we've tried to buy under my stewardship and then do it after one game?"
Mark Noble's missed penalty summed up a galling afternoon for Allardyce, who praised his side's attacking intent but was left to lament limp finishing.
Tottenham's Kyle Naughton was sent off for the handball that led to Noble's penalty miss, while West Ham had defender James Collins dismissed after the break.
Hugo Lloris saved superbly from Stewart Downing in the closing stages before Dier's late sucker punch.
"I truly believe had it stayed 11 v 10, we would have eventually broken Tottenham's resilient defence down," Allardyce told Sky Sports.
"I thought we played some excellent football. Their goal coming right in the last minute was a bitter blow to us."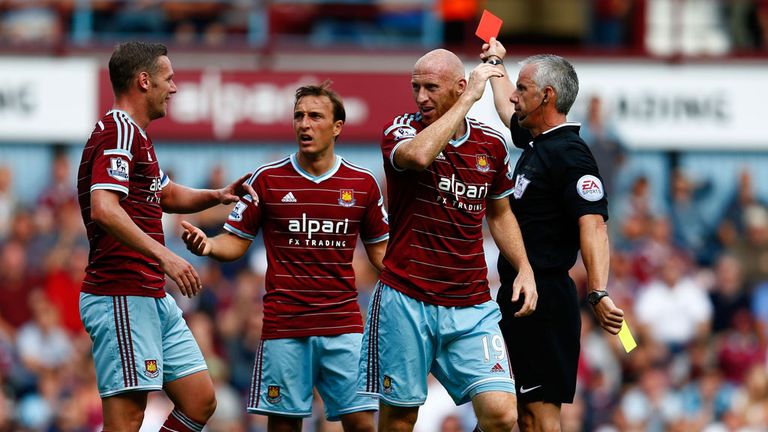 We were very naive allowing ourselves to go down to 10 against 10. I think it's harsh, but I think that's what referees are instructed to do.
On the missed penalty, he said: "Mark waits to see where the keeper goes, but what he hasn't done is catch it as well as he normally does.
"In the three to four years I've been here, it's the first one he's missed. Had he scored the penalty, I don't think we'd have lost.
"And when the golden chance pops up for us (for Downing), after all the one we missed before… although I suppose you have to give Lloris some credit, for what a good save it was."
Allardyce conceded he remains in the market for a clinical, natural goalscorer.
"At the end of the day, we haven't deserved to lose, we've played very, very well," said the Hammers boss.
"We've got a lot of players that will come back and make us stronger when they are fit and on that performance today I'm very confident our season's going to be a good one.
"We saw it today (more attacking football).
"When you've had 20 attempts on goal like we've had today, why do you need another striker?
"I suppose finding another goalscorer for us is the critical point, and he must play, that's a definite now.
"Like I said today, 20 attempts at goal created, not enough quality, so we need to find somebody who has got that quality better than we've already got to help us along the way in scoring the goals we need."
Allardyce admitted Collins was "naive" to be dismissed for a second yellow card, fearing a defensive shortage if James Tomkins fails to beat his hamstring problem.
"We were very naive allowing ourselves to go down to 10 against 10," he said.
"I think it's harsh, but I think that's what referees are instructed to do.
"I don't think he's got any choice because he might get the ticking off from his bosses.
"I don't agree with it, but it's what they have to do, because it's what they're told to do, so in that case I can't complain about it.
"Like I say to the lads, if you're in risk of getting sent off, don't let the lad go past you.
"It's more our fault than the referee's today.
"There are injuries, and Tomkins adding to that was not obviously helpful."
West Ham return to action next Saturday, with another London derby away at Crystal Palace.