Premier League: Jose Mourinho refusing to enter a war of words with Manuel Pellegrini
Last Updated: 26/09/14 4:01pm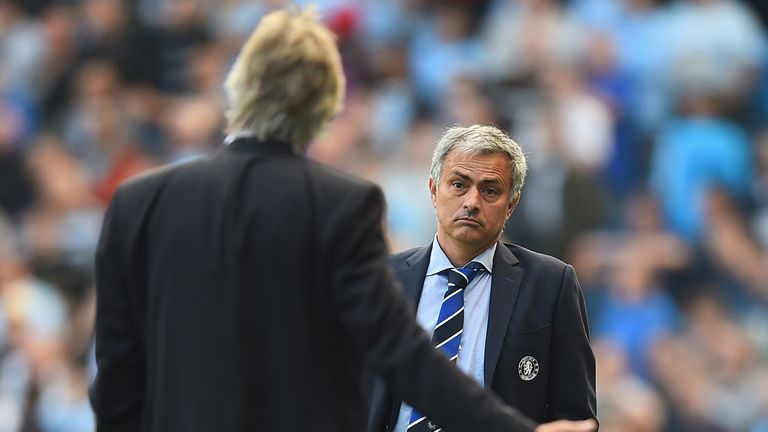 Jose Mourinho is refusing to be drawn into a war of words with Manchester City counterpart Manuel Pellegrini following the Chilean's criticism of Chelsea's style of play when the sides met last weekend.
Pellegrini likened Chelsea's approach to that of Stoke, prompting journalists to ask Mourinho for his thoughts on the comments at his press conference on Friday.
But Mourinho refused to get sucked in, insisting he would leave it to the media to pass comment on Pellegrini.
"I don't have a reaction. I think you (the media) should, not me," Mourinho said.
"It was not once or two or three times that he said he doesn't speak about referees (then) he killed Mark Clattenburg (after City's draw at Arsenal).
"It was not one, two, three or four times that he said he does not talk about me or my team's opponents (then) he did it once more.
"So I think it is for you to comment. When I say I don't want to speak about him that's what I try to do.
"If you want the story you have to speak to him and not me. I follow my line I don't want to discuss any situation in relation to that."
Mourinho also refused to discuss the situation surrounding Frank Lampard's loan from New York City to Manchester City, with some reports claiming the deal could be extended for the remainder of the season.
"I don't speak about players from other clubs. That's not my problem. I don't have to speak about players from other clubs."
But the Chelsea manager was happy to discuss the fitness of his striker Diego Costa ahead of the visit of Aston Villa on Saturday which is followed by a Champions League game against Sporting Lisbon on Tuesday.
"He plays for sure, he starts the game for sure and he is in very good condition to start," Mourinho said.
"He plays tomorrow and he starts the game without problems. The question is always the same. Can he finish the game and be in a condition to play in Lisbon 48 hours later?
"If he doesn't play against Sporting he doesn't play – we'll play Drogba, play Remy, but the game is tomorrow not Tuesday.
"Tuesday is another game, is another story - I don't think about the Sporting game. I play tomorrow with the team I think is the best team to play and try to win against Aston Villa.
"The consequences after that I have to face. I have to organise a team to play against Sporting but tomorrow I play with the team that I think is the best team. "