Thierry Henry should be regarded as the greatest centre-forward of the Premier League era, writes Adam Bate...
The Frenchman's distinguished career has finally come to a close after he announced he is joining Sky Sports as a football expert and ambassador from the start of 2015 but here Arsenal's leading goalscorer is recognised as a Premier League great.
Pre-Premier League
There is an accepted wisdom that Arsene Wenger set Henry on the journey to greatness when he brought him to Arsenal but it's worth remembering that he was France's top scorer in their successful 1998 World Cup campaign before even making the move to Juventus. Prior to that he'd broken through at Monaco under Wenger and featured 36 times in Jean Tigana's 1996/97 title-winning campaign.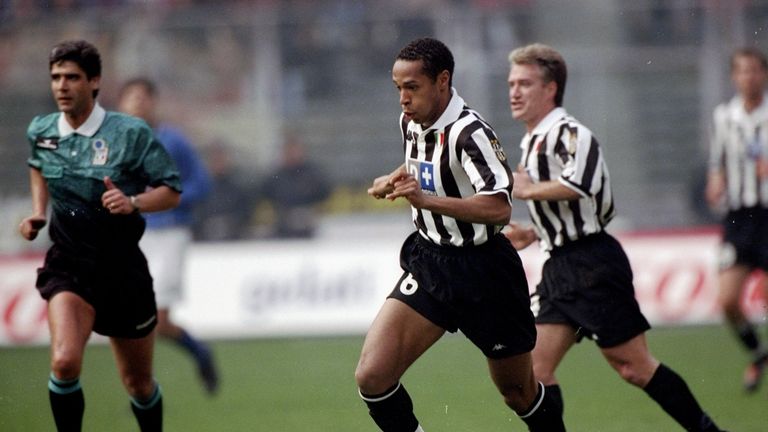 Even that supposed failure at Juve has been overplayed according to the man himself. "There's something that needs clearing up," he told FourFourTwo. "First of all, I only joined them in January, which explains the limited number of games.
"I played in all of the remaining 16 games of the season, starting in 13 of them and in the last five or six games I either scored or set up a goal. One or the other. It's true that it took me a few games to get used to the system, because we played a 3-5-2 system I wasn't used to, but I soon adapted and started to play well. I left Juventus for other reasons, which I've never wanted to go into."
Premier League great
What is true is that Wenger changed Henry's position upon his arrival in England. Although the new signing failed to score in his first eight appearances for Arsenal, the notion that his qualities were anything but instantly obvious is undermined by the extraordinary reaction of team-mate Martin Keown when Henry finally did get off the mark in a 1-0 win over Southampton.
"When he scored his first goal I said to him that I would be able to tell my grandchildren that I had played with him," Keown told the Mail. "He was a dramatic, driving force when he was in the zone. He was unstoppable once he realised he could win games single-handedly."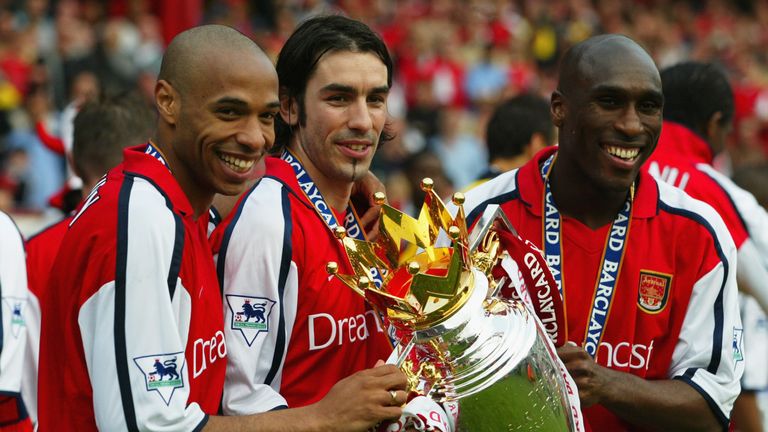 That meant transforming himself from a speedy winger into someone who could score goals consistently. "He always had so much talent but he improved so much," fellow Gunner Ray Parlour told Sky Sports News. "He was an athlete as well - 6ft 1, 6ft 2 but he could run once he got into his stride. He was an absolutely fantastic player. But his finishing – that was his main strength."
Ruud van Nistelrooy was Henry's chief goalscoring rival during his Premier League pomp. But while the Dutchman was the archetypal goal poacher, netting 150 goals in 219 games during his five years in England, Henry offered so much more – and still outscored the Manchester United striker in four of those five Premier League seasons.
PL Strikers
| | | | |
| --- | --- | --- | --- |
| PL Strike Rates | (min 50 goals) | | |
| Player | Apps | Goals | Strike Rate |
| Thierry Henry | 258 | 175 | 0.68 |
| Sergio Aguero | 102 | 66 | 0.65 |
| Ruud van Nistelrooy | 150 | 95 | 0.63 |
| Luis Suarez | 110 | 69 | 0.63 |
| Alan Shearer | 441 | 260 | 0.59 |
| Robin van Persie | 268 | 141 | 0.53 |
Indeed, Jimmy Greaves is the only player since Victorian times who can match that feat of being the top scorer in the English top flight on four occasions. That the only other two players to have done that twice in the past century are Gary Lineker and Alan Shearer – more traditional centre-forwards – says much for Henry, the goalscorer.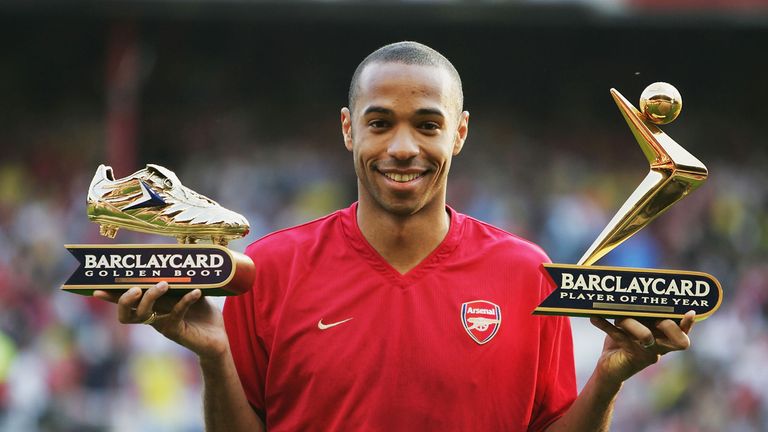 But of course, there was so much more to Henry, the player. For starters, there are the 80 Premier League assists that rank him among the top-six creators and above any out-and-out striker. "Take the goals away and I always think someone like a Thierry Henry or a Luis Suarez got goals but they also did things outside of the box that took your breath away," Jamie Carragher told Sky Sports recently.
Carragher added in the Mail: "He is the finest player I have seen in the Premier League. His game didn't have a weakness. When he hit top gear and ran past you, it was like trying to chase after someone on a motorbike."
Those physical qualities set Henry apart. The fact that he reached double figures for goals in each of his eight seasons with Arsenal is also a testament to the reliability of his fitness. By comparison, Shearer failed to reach double figures in three of his 10 seasons at Newcastle and Didier Drogba didn't reach that mark in three of his eight seasons at Chelsea during his first spell with the club.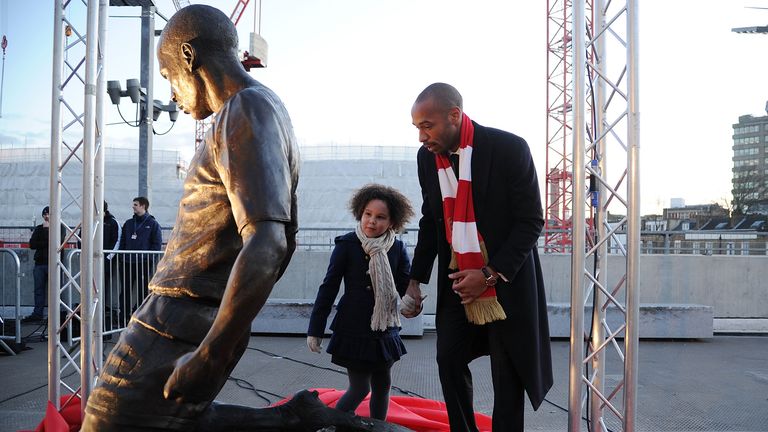 Henry's achievement of scoring at least 30 goals in five consecutive seasons showed his consistency and the 39 he scored in Arsenal's Invincible season in 2003/04 perhaps represented hitherto unscaled heights in the Premier League era – a player at the very peak of his powers.
Two years later in 2005/06 he carried Arsenal to the Champions League final, an accomplishment which helped make him the FWA Footballer of the Year for a record third time, with his only regret being that he was unable to win that trophy for the Gunners when they were denied by two late Barcelona goals in Paris.
Post-Premier League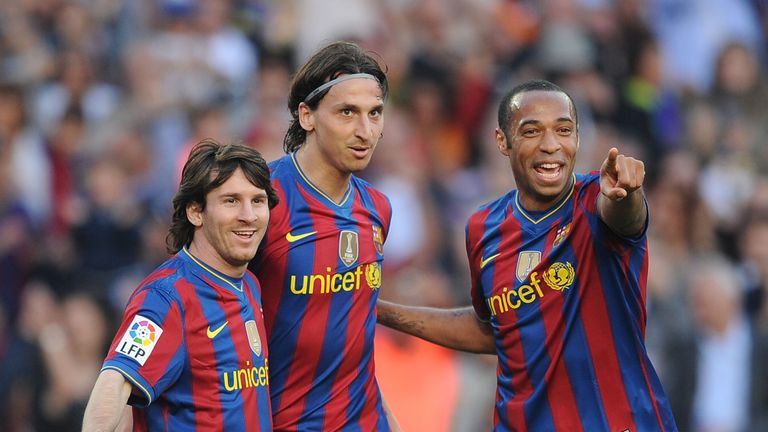 One year on, Henry had to finally concede that if you can't beat them then joining them was the only option. The Arsenal legend made the move to Barcelona. Sometimes styled as a bit-part player given the pre-eminence of Ronaldinho and Samuel Eto'o, as well as the later emergence of Lionel Messi, Henry still enjoyed himself at the Camp Nou - adding the titles that eluded him at Arsenal to complete a set of trophies that are the envy of just about everyone who's played the game.
In the 2008/09 season he won La Liga, the Copa del Rey and the Champions League – scoring 26 goals in the process – before adding the Spanish Super Cup, UEFA Super Cup and FIFA Club World Cup later in the year. There was even time to make more than 100 appearances and score over 50 goals for New York Red Bulls to cap an extraordinary career notable for its longevity as well as its excellence.
Conclusion
Henry has the accolades, the trophies and the goalscoring feats to his name that mark him out as an icon of the game. But to appreciate why Henry is the greatest forward the Premier League has seen, he had to be watched. The glide beyond his markers, the simplicity of the finishing and the intelligence to make the right decisions time after time all added up to a unique talent. The selfless striker who was nevertheless at the centre of everything.
Check out our extended interview with Thierry Henry via On Demand, Sky Go and the Sky Sports for iPad app.