Suarez, Torres, Balotelli, Kaka, Henry and Del Piero pay tribute to Steven Gerrard
Last Updated: 18/05/15 6:55am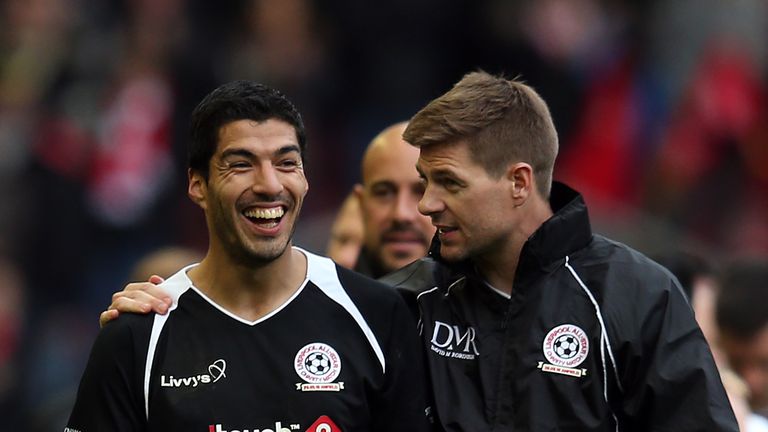 Barcelona striker Luis Suarez, Orlando City's Brazilian playmaker Kaka and Sky Sports pundit Thierry Henry are among the greats from the world of football to have paid tribute to Steven Gerrard after he made his final Liverpool appearance at Anfield.
The talismanic captain bid an emotional farewell to the club where he has spent his entire career to date and made more than 700 first-team appearances.
Suarez, who left Anfield for Barcelona last summer, paid tribute to the departing captain, saying: "Thank you legend for all you made me live in Anfield and for all the joy you have given to the football world. Thank you my friend for everything. You are truly one of the greatest!"
Fellow former Reds forward Fernando Torres tweeted: "An absolute pleasure watching you playing and even more play alongside you.Thanks for everything captain. #ThanksStevie"
Current Liverpool striker Daniel Sturridge, who was unable to be present at Gerrard's farewell due to injury, also took to Twitter to pay a personal tribute to his captain.
"The greatest player to ever wear a Liverpool shirt," he said. "Wish I was there to share his last moments and season with the club.
"He's taught me a lot about football on and off the field and made me feel welcome at the club on my first day when I was nervous and had no idea what to expect.
"As the saying goes you don't know what you've got till it's gone, but for me we already know what we'll miss."
Former Arsenal striker Thierry Henry said: "What a day for #StevieG. Last game for @LFC at Anfield. What a career he has had for the club. Great player and top man #legend."
Liverpool striker Mario Balotelli added: "Steven Gerrard #legend #respect #icon YNWA."
Former AC Milan midfielder Kaka, who stood toe-to-toe with Gerrard in the 2005 and 2007 Champions League finals, said: "There were 2 @uefachampionsleague finals against @stevengerrard, and a title for us each! Congratulations for your career at @liverpoolfc, see you soon in @mls."
Juventus legend Alessandro Del Piero, who enjoyed a similar career-spanning spell with one club, said: "A fitting tribute for a real pro and true legend! Good luck Stevie #Gerrard."
"Was an absolute pleasure to play alongside this legend," former Liverpool and England striker Emile Heskey said. "He'll definitely be missed on these shores! Good luck in LA #legend."
Fellow Merseysider and current QPR midfielder Joey Barton added: "Incredible send off for Stevie, thoroughly deserved. Will there ever be another who epitomises a club like he did? #Legend #SG8."
Chelsea opponent Cesc Fabregas tweeted: "Going to miss playing against you @StevenGerrard goodluck on your new adventure. #respect"
Journalist, and life-long Arsenal fan, Piers Morgan sarcastically quipped: "He's no Vieira. #gerrard."