Former Premier League referee Dermot Gallagher thinks the altered offside rule will be easier to understand in practice.
In recent seasons, players have been allowed to occupy offside positions without necessarily being penalised depending on whether they were thought to be actively involved in play or not.
Now they will be punished if they clearly attempt to play a ball close to them when their actions have an impact on an opponent's ability to play the ball.
At first glance, the reworking of the rule appears confusing but Gallagher, a Premier League referee for 15 years until he retired in 2007, thinks it makes the game more straightforward.
He told Sky Sports News HQ: "A player has got to make an obvious action and clearly impact on their opponent's ability to clear the ball.
"I actually think it will simplify it. When you see the season unfold on Saturday, you'll think that it's one thing on paper and another in practice.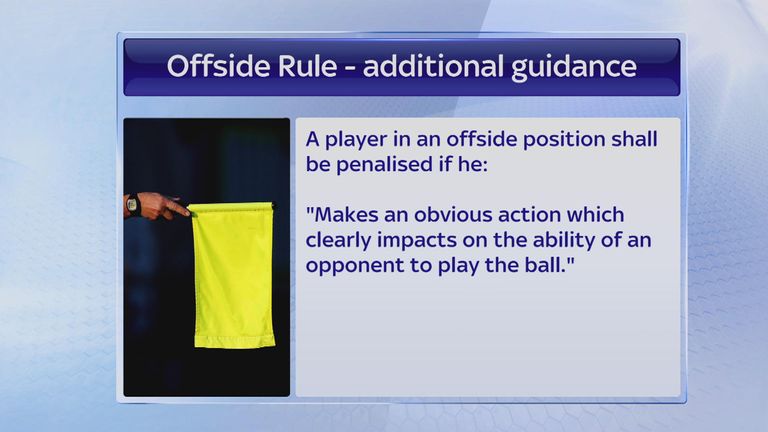 "Don't forget the managers and coaches have had referees visiting them throughout pre-season to go through clips and it won't be a shock to them.
"When this was issued in the summer, referees took this into their games so hopefully they will be as up to speed as the players."
Gallagher talked through a number of scenarios from last season to highlight how the rule might change which decisions are reached, including these three goals...
GOAL: Juan Mata (Manchester United) v Stoke City, 02/12/14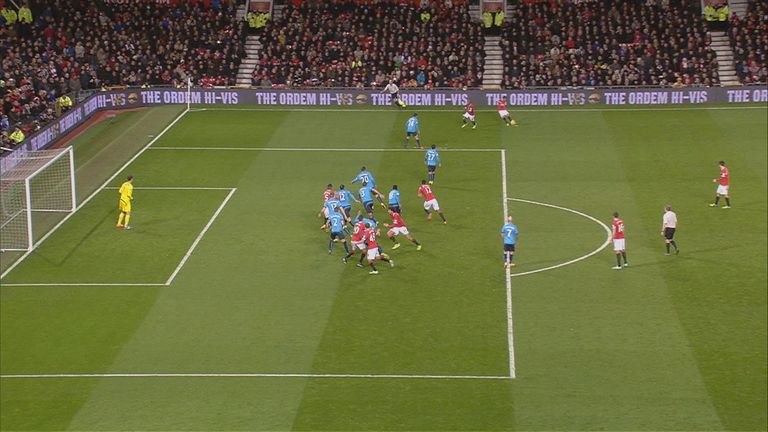 THE SCENARIO: United have a free kick on the right which Mata takes and it swings in towards goal. At the point the ball is played, Marcos Rojo is in an offside position and he attempts to head the cross in but misses. Nobody else connects with the ball and Mata's effort goes straight in, with a goal awarded.
THIS SEASON'S DECISION: Goal is disallowed.
GALLAGHER SAYS: Rojo has jumped for the ball and clearly gone to head it. He is clearly offside when the free kick is taken and the keeper can't make his move until Rojo has either headed the ball or missed it. He is deemed to have had an impact on the goalkeeper, so that goal would be disallowed. Even though he doesn't touch it, he has a chance to touch it. If that ball went 20 feet over his head, he wouldn't be deemed offside because he would have no chance of playing it.
GOAL: Harry Kane (Tottenham) v Burnley, 20/12/14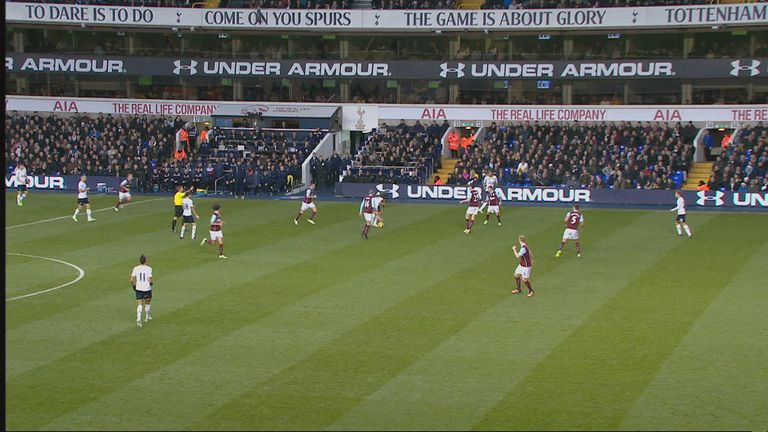 THE SCENARIO: A free kick is awarded to Tottenham on the left flank which Kane plays quickly down the wing. The ball rolls towards Christian Eriksen, who is in an offside position, so he steps out of the way and does not get involved in the passage of play. The ball is eventually crossed into the box by another player and finds Kane in an onside position. He heads in and the goal stands.
THIS SEASON'S DECISION: Goal is given.
GALLAGHER SAYS: This goal was given last year and would be given again this year too, the reason being that being in an offside position as Eriksen was is not an offence in itself. He makes no move towards the ball and doesn't affect an opponent. He has got to make an attempt to play the ball, move towards the ball or affect an opponent to be offside and he didn't do any of those three things. He stood his ground and under the guidance, that would be a goal this year.
GOAL: Kevin Mirallas (Everton) v Manchester United, 26/04/15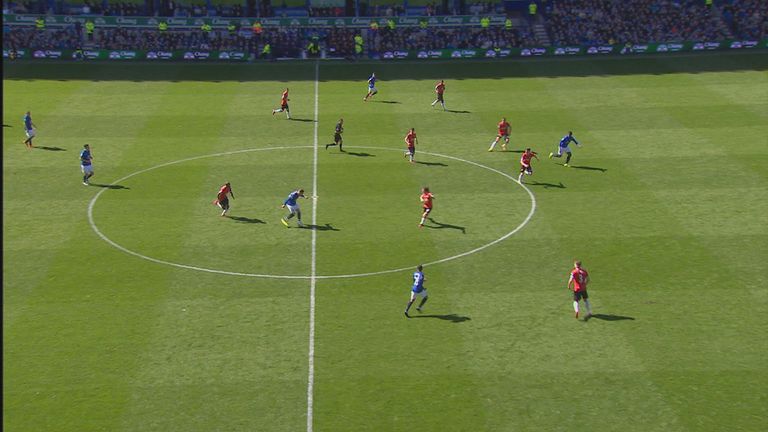 THE SCENARIO: Ross Barkley lifts the ball over the United defence looking for Romelu Lukaku, who is in an offside position, but the ball runs past him to Mirallas instead and he runs onto it from an onside position. Lukaku stops briefly then runs alongside him looking for a pass as the two Everton players close in on David de Gea with no defenders in between. Mirallas chooses to shoot himself rather than pass and scores, with the goal awarded.
THIS SEASON'S DECISION: Goal is given.
GALLAGHER SAYS: Lukaku is in an offside position but stops and doesn't affect the defender because the defender is on the wrong side of him. The ball goes through to Mirallas and he is allowed to continue. That was a goal last season and if it occurs again this season it will be a goal again. Lukaku has no impact on an opponent or the ball because it has gone straight over his head.
Of course, it won't just be when the ball hits the net that potentially contentious offside calls will be made.
There are several other scenarios where decisions made last season will change now, with Gallagher also explaining how these three incidents would pan out in the future...
MATCH: QPR v Crystal Palace, 28/12/14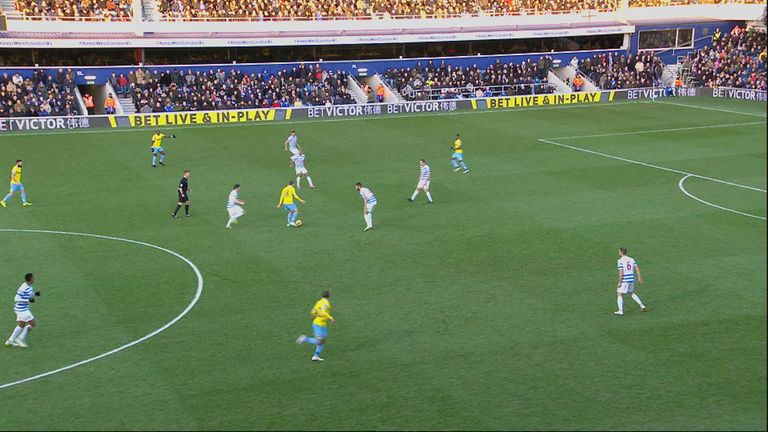 THE SCENARIO: James McArthur passes to Yannick Bolasie, who is in an offside but stays inactive and allows the ball to run past him. Mauricio Isla gets back to take possession for QPR and Bolasie closes him down, forcing the defender to play back to goalkeeper Rob Green.
GALLAGHER SAYS: Bolasie is now clearly offside. Last season you would have played on but Isla is then pressured by a player who was initially in an offside position into giving the ball back to green and QPR then lose the ball. The player pressured the defender because he started in an offside position. Isla's options are closed down and he can't play up the line and Bolasie has impacted on his ability to clear the ball as successfully as he wants to.
MATCH: Manchester United v Sunderland, 28/02/15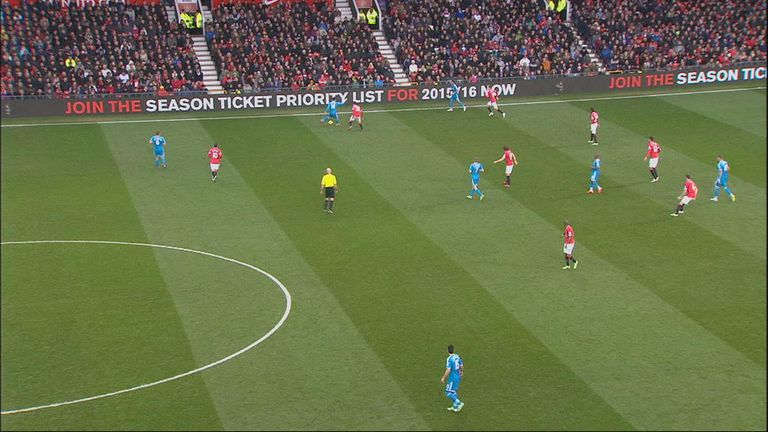 THE SCENARIO: A ball is lifted down the left wing to Connor Wickham in an offside position but United's Antonio Valencia gets there first. Wickham then quickly closes down Valencia, who steps back inside and past his opponent to get out of a difficult situation in the corner of the pitch and surges upfield.
GALLAGHER SAYS: The Wickham situation is similar to Bolasie's. He starts in an offside position and when Valencia gets to the ball, Wickham closes him down very quickly. As it is, the defender does pretty well to get out of that but Wickham would be offside now.
MATCH: QPR v Everton, 22/03/15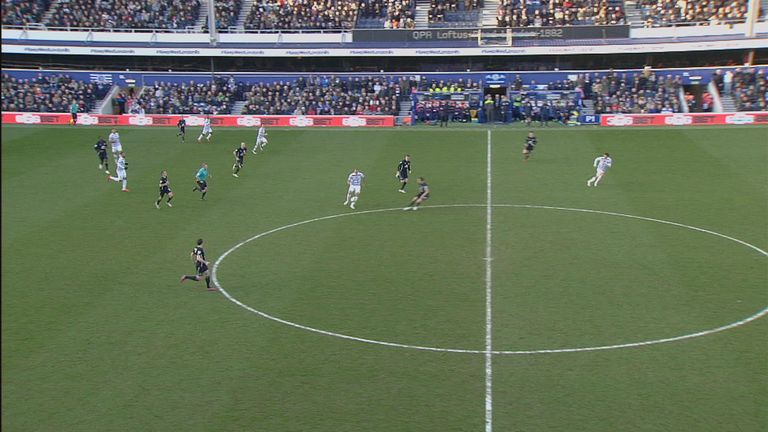 THE SCENARIO: A ball is played over the halfway line with Charlie Austin several yards offside in a central position. He keeps jogging as he allows James McCarthy to get back and move the ball out to the left wing. Austin tracks him and as the ball runs towards the touchline he closes McCarthy down but the Everton player is able to play up the line before he can get there.
GALLAGHER SAYS: Austin didn't have offside given against him last season but he would now. This situation is a great example of how it's different because as the defender comes away, Austin comes almost 40 yards across the pitch with him to eventually try to close him down again. You will see the flag going up in those situations more often because the assistant referees will be tuned in to it.
Follow 92Live throughout Tuesday on Sky Sports News HQ, with our live blog on Sky Sports digital platforms and on Twitter by following @SkySportsNewsHQ, using #92Live.