A decisive clash in this weekend's heavyweight tie between Arsenal and Manchester United takes place in the Gunners' defensive third. Anthony Martial, Manchester United's extravagantly priced, yet instantly potent striker, meets Arsenal's Gabriel, set to return after his recent scrap with Diego Costa.
Injury to Laurent Koscielny means it's Gabriel's task to derail United's burgeoning new talent, whose arrival has seen his side score nine goals in three Premier League games, having managed just six in the previous 10.
No Koscielny means it initially looks another inviting match-up for Martial, just as each of his first three Premier League outings have been. The backlines of an error-prone Liverpool, a new-look Southampton and a disjointed Sunderland are all that's faced the world's most expensive teenager, and he's found success against all three.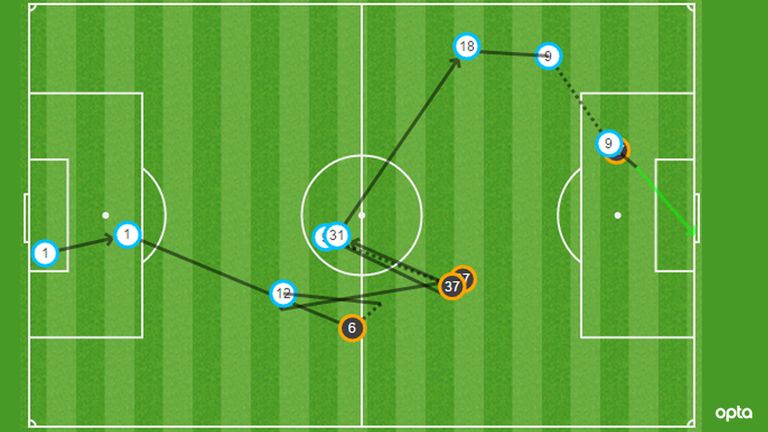 Martial's impact has been explosive. He's a fast, direct dribbler, keen to run at and beat defenders. It's a formula he's found simple and effective so far and one he fully demonstrated with his debut goal against Liverpool, in which he dribbled past Martin Skrtel on his way to goal.
In the Premier League, he's already completed seven successful dribbles from 10 attempts, beating a defender every 29 minutes: a top-10 return in that category.
Martial art
Anthony Martial has scored three goals and assisted another in 205 minutes of Premier League action so far.
A factor in this success has been the pace of those defenders against him. The majority have been on the slow side, with Skrtel, Younes Kaboul, Jose Fonte, Virgil van Dijk and John O'Shea all clocking top speeds below Martial's fastest pace of 33.2 km/h.
This won't be the case with Gabriel, though. Of the 68 centre-backs measured in the Premier League this season, the Brazilian currently ranks fifth fastest, and his top speed of 34.1 km/h actually makes him significantly quicker than Martial.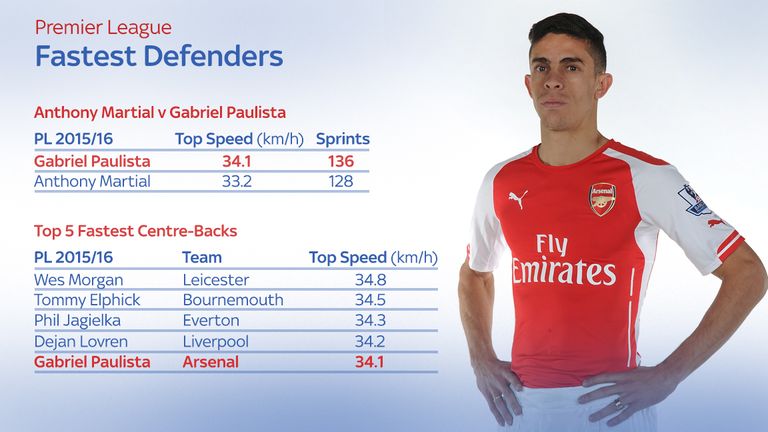 Gabriel is also proving especially uncompromising in one-on-one situations. The Brazilian is yet to be dribbled past this season, something no centre-back to face Martial can boast. Dejan Lovren is the only one with similar pace to Gabriel, but he hasn't been anywhere near as effective one-on-one. He was dribbled past 17 times last season and three times in this.
No Premier League defender has made as many tackles as Gabriel without being dribbled past, and, impressively, his Premier League career has seen him dribbled past just once in 665 minutes. Clearly, this remains a small sample size, but Martial will do well to find success when running at the Brazilian.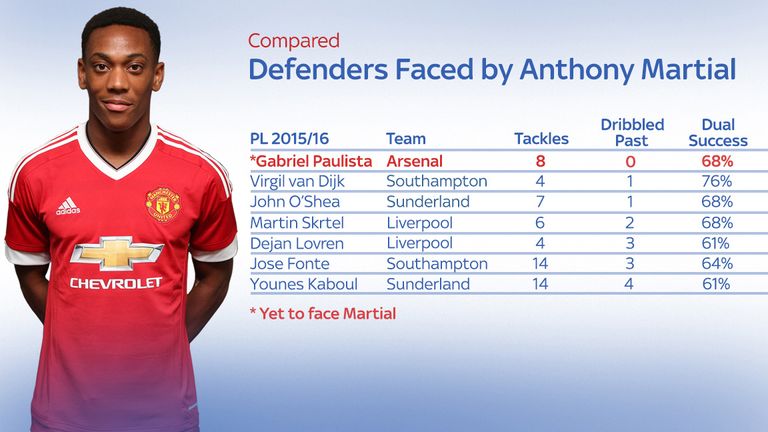 Elsewhere, Martial's hold-up play, a trait many did not expect to appear so immediately polished, will also be tested. Gabriel brings an aggressive, hands-on approach to defending and will be as physical as any defender to face Martial so far.
Arsenal are yet to concede in the Premier League this season with the Brazilian on the pitch and he's already found success against some speedy strikers and persistent dribblers, nullifying Raheem Sterling, Romelu Lukaku, Mame Biram Diouf and Ross Barkley, among others.


Losing Koscielny is a blow to Arsenal, but Gabriel's combination of speed, physicality and one-on-one proficiency has the potential to ask more of Martial than he's previously shown.
Arsenal v Man Utd is live on Sky Sports 1 HD from 3.30pm on Sunday