Jose Mourinho hits right note with media on Manchester United bow
By Ben Ransom, Sky Sports News HQ reporter
Last Updated: 05/07/16 5:46pm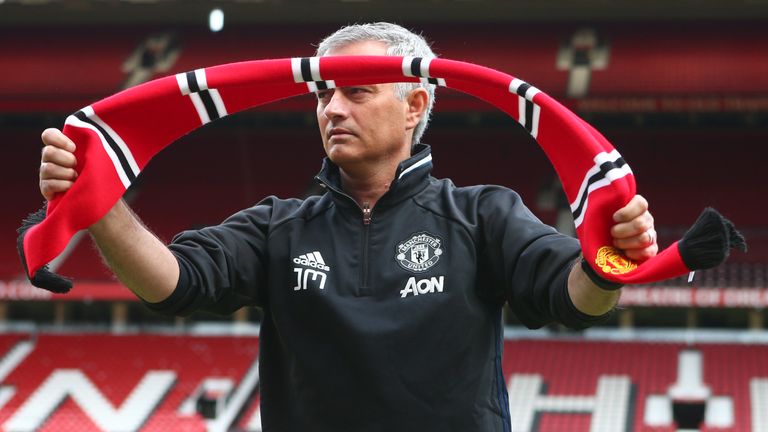 Sky Sports News HQ's Ben Ransom was among the reporters in a capacity crowd packed in to witness Jose Mourinho's first Manchester United news conference - and the man who formerly played the role of the 'Special One' didn't disappoint.
It was all there among the smiles, the jokes and the statements of intent.
Live on SSN HQ, Mourinho served up direct answers to questions on Wayne Rooney and transfers. He extolled the virtues of former club Chelsea, and his utmost respect for them, while throwing in a few carefully chosen barbs at his fellow managers.
Yet between the tabloid headlines was a self-assurance and maturity we perhaps haven't seen before.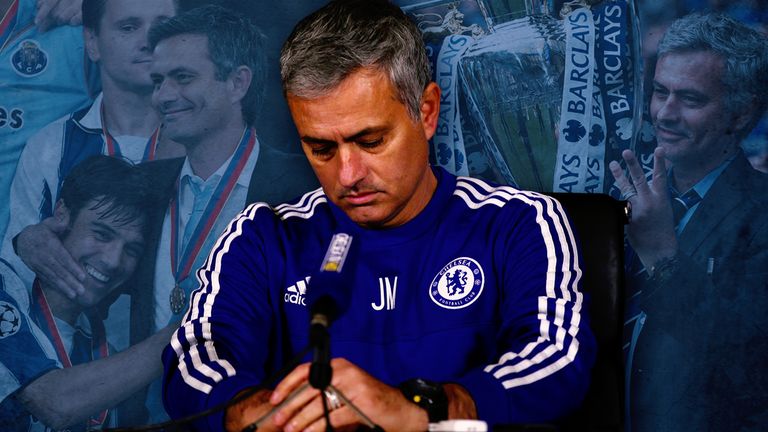 It might seem an odd thing to say about a man who has been managing at the top level for so long, with so much success, but the irritability that came across during his final months at Chelsea, a period he reflects upon as a "disaster," was gone.
Today Mourinho was intent on reminding every one of the 80 or so journalists - and in turn the millions of Manchester United fans around the world - that he still has plenty to offer.
It's as if finally getting to sit in the chair he coveted even before Sir Alex Ferguson handed the reins over to David Moyes, has breathed new life into him. In return he is promising to breathe new life into English football's most successful club.
"I'm only 53" he stressed on no fewer than four occasions - as if finally banishing any fatigue that might nag at the back of his mind following last season's struggle at Stamford Bridge.
Mourinho is a man who, by his own admission, was tired of himself back then. Now he's promising to win it all and restore the "biggest club in the UK" back to their place at the top of the pile.
Taking his time to provide thoughtful answers, at one point Mourinho asked for clarification on the exact wording of a question before responding to a written journalist.
All of his responses were given to the background noise of fingers frantically tapping on keyboards, as if he was conducting an orchestra in the room. And amongst the controlled theatre there was still just the right amount of pantomime.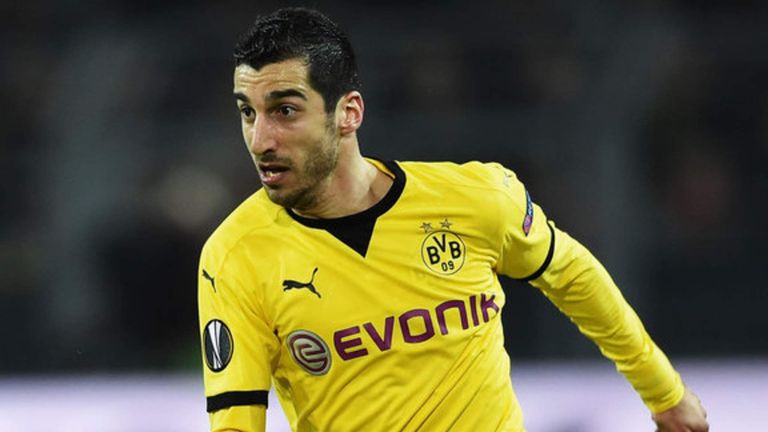 He played the audience perfectly when quizzed about transfer policy, mischievously asking the press officer sat alongside him if they had publicly confirmed the third signing of the summer (believed to be Henrikh Mkhitaryan).
When she answered 'no' and that they only had 'two of the four targets', he grinned to himself and replied "we have three." Cue laughter all around.
Later he unveiled his one and only prop. When challenged on his record of bringing through young players, he pulled out a sheet of paper and promised to show anyone who wanted to see a list of 49 youngsters to whom he had handed first-team debuts.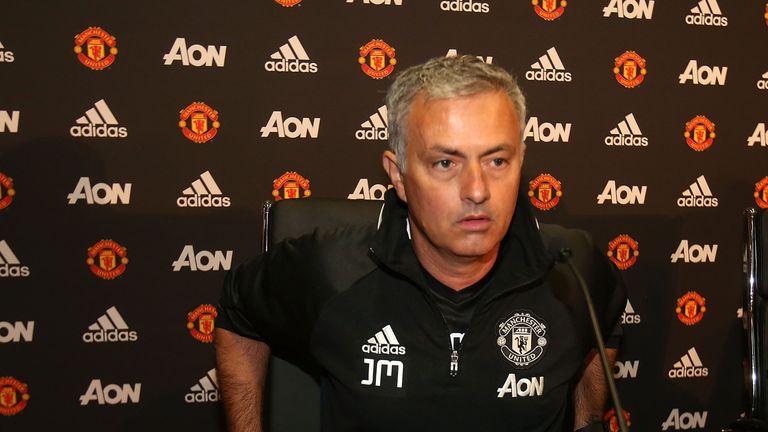 It was a grown up performance from a man who had clearly learnt his lines. Less circus, and more circumspect, Jose Mourinho will ultimately be judged on how his new team fares on the pitch.
But as the curtain came down on his first news conference at Old Trafford, few in the room were left doubting a Red Devil lurks just underneath the surface.