Michael Carrick says he will strongly consider retiring if his Manchester United contract is not extended this summer.
The 35-year-old has been granted a testimonial by the club and says he doesn't "think there's many places I'd want to play, if any, after this".
Carrick is the second-longest serving player at Old Trafford behind Wayne Rooney and his 11 years with United will be marked on June 4 by the testimonial match, which will raise money for his charitable foundation.


The midfielder's contract expires in the summer and, while remains a key contributor at United, Carrick says there have been no talks yet about a new deal.
Asked if he had discussed the matter with United boss Jose Mourinho, Carrick said: "I haven't really had that much of a conversation with him at the moment.
"Obviously that will happen. It's going to happen at some stage, pretty soon I'd have thought.
"That's something I'm really relaxed about. I'm sure he is as well."
Asked how long he thought he would play for, Carrick said: "I've said for some time now, as long as I feel I can contribute enough, that's fine by me.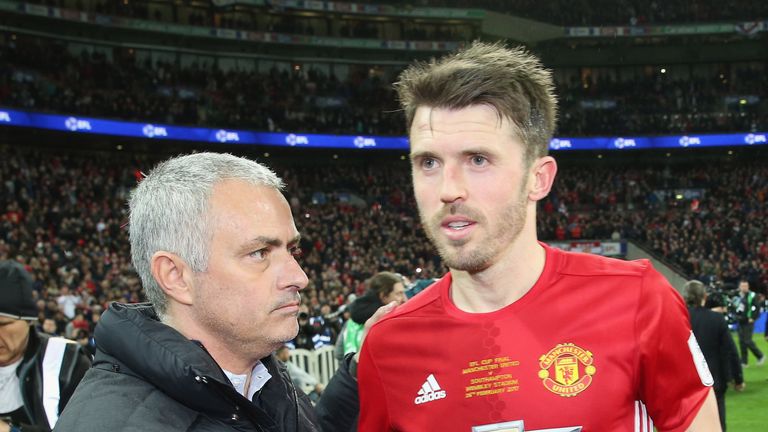 "I understand I am not going to play every game. I haven't really got a problem with that.
"I need to be playing enough. I don't want to be here just for the sake of 'you've been here so long, let's keep you on board'. I wouldn't want to do that.
"It almost depends on how long I'm here. I don't think there's many places I'd want to play, if any, after this anyway."
Asked if he might decide to retire if no extension was forthcoming, Carrick replied: "I probably would say so, yes. I think so.
"I couldn't say definitely but pretty much."
Watch Manchester United v Bournemouth on Saturday. Coverage begins on Sky Sports 1 and Sky Sports Mix at 11:30am.