Jose Mourinho praised Antony Martial's performance against Burnley, as Manchester United strolled to a 2-0 win, describing it as like having a "new player" in his squad.
Martial scored the opening goal of the game, and his 25th for United, before Wayne Rooney - making his first start since early March - bundled the ball home six minutes before the break after yet more fancy work from the Frenchman.
Mourinho singled out Martial for public criticism before the Europa League match against Anderlecht explaining why he trusted Marcus Rashford to perform for him over Martial, citing work-rate and application as the reasoning.
However, with Rashford given a rest and Zlatan Ibrahimovic injured in the win over Anderlecht, Mourinho handed Martial a start and he put in a man-of-the-match showing.
The 21-year-old made 11 more sprints than any other player to go along with his ruthless attacking dynamism.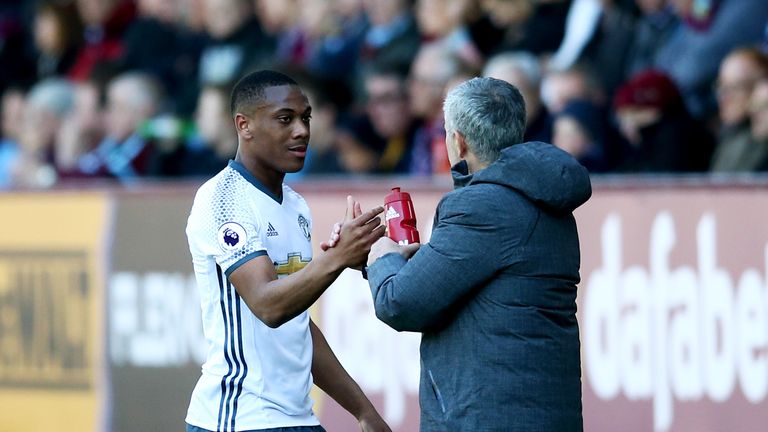 Mourinho said he was impressed with his performance.
"He has to understand what we need from him but it's not just for us but it's also for him," Mourinho said.
"If he wants to become a very special player - he can do that - then he has to go in a certain direction and today he showed this attitude and appetite. We are happy because we have a new player until the end of the season."
The result means that is now 23 games unbeaten in the league for United, who face Manchester City in Thursday's Manchester derby, live on Sky Sports.
Thursday's game has added significance as another United victory would see them displace City in fourth, putting them in control of securing Champions League qualification at the expense of their rivals.
Yet Mourinho is also concerned with achieving that eventuality by adding to the club's trophy cabinet with Europa League success, where they are due to play Celta Vigo in the semi-final.
"The gap is one point - but we are a bit in trouble as we have an eye on Celta Vigo too," he said.
"This makes it more difficult for us as the Premier League fourth position is possible but it's not a trophy. In this club we want trophies - in the Europa League we have 25% chance of winning it and in the Premier League we have 0% chance of winning it. We're going to go for it."