Gary Neville has paid tribute to former Manchester United team-mate Michael Carrick ahead of his testimonial match on Sunday.
The 35-year-old recently signed a one-year contract extension at United, and has been rewarded with a testimonial to honour his 11 years of service to the club.
Carrick, who has made more than 300 appearances for United, will head up an all-star team including former England team-mates Frank Lampard, Steven Gerrard, John Terry and Jamie Carragher.
His team, managed by Harry Redknapp, will face a stellar Manchester United 2008 line-up in front of 65,000 fans at Old Trafford on Sunday.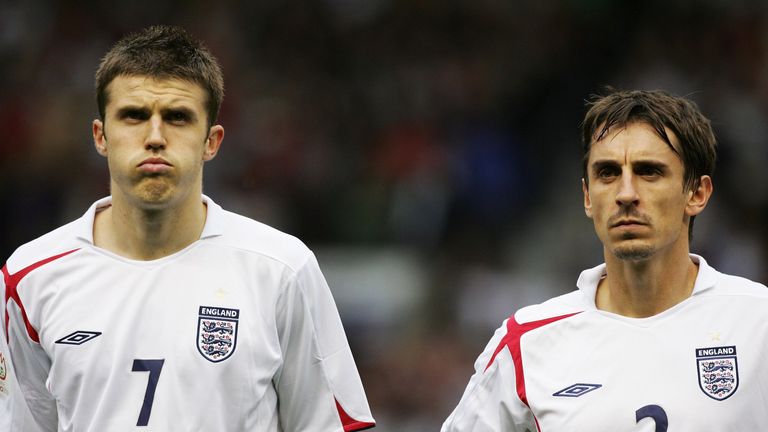 Speaking to the Manchester United official website ahead of the match, Sky Sports pundit and former United full-back Neville has lifted the lid on what it is like to be alongside Carrick on and off the pitch.
"When I first heard Michael Carrick had signed for United, I already knew what a good player he was because I'd just been with him at the 2006 World Cup. However, you don't know how any player will adapt to being at United, so none of us were sure how he'd settle - and it was certainly a bold move to come in and take Roy Keane's squad number!
"Straight away and over the following years, even among my friends and even when we were winning leagues, there were challenges to convince people about how good a player Michael was, and how important he was to the team.
"Those battles never took place within the dressing room, though. One of the biggest compliments you can pay Michael is that the team-mates around him had huge appreciation for him. He made everybody play better.
"Paul Scholes is the best person to speak to about Michael because he would admit that he got the best out of him, making sure that Scholesy was served the ball with the correct angles at the correct times, making the team tick.
"Michael did the unseen things, really. You never saw him crunch into a tackle, panic or go to ground. The sign of a good player is that they always look in control, and Michael was always in control. His composure never wavered.
"What people may not understand is the quiet, introverted passion that he holds for Manchester United. When we won leagues, Michael would be the one singing the most and going home last from the parties; the one that would look the happiest and most joyous behind the scenes at having won a trophy.
"On the pitch, in front of the crowds, he'd maintain his composure, but behind the scenes he showed how much he loved the club. Believe me, he absolutely loves United.
"Michael would always do every single rep in the gym, every single inch of every warm-up; he made sure he ate every single thing right, did absolutely every single bit of pre-activation, was always in the gym with the fitness coaches and sports scientists, always did the hydration tests, did absolutely everything by the book and set an incredibly high standard not only for himself, but also in the dressing room.
"I think it's taken a long time for Michael to be appreciated for his level of performance and the importance to the team and squad that he has, to this day.
"I think he brought the 2016/17 season back on track for United, at a point earlier in the season where, at times, the team needed stability and control. That changed every time he played, and Jose Mourinho recognised that he brought something to the team that isn't always visible.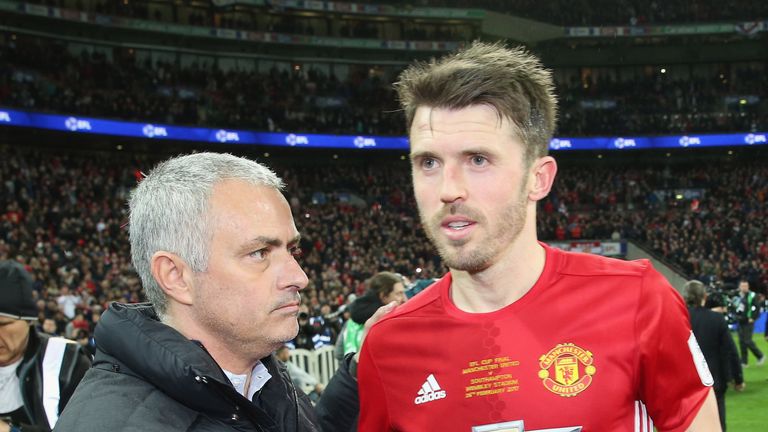 "I think when people come into the club, even coaches, it maybe takes them some time to understand that the team is just better with him in it. He composes everything, sorts everything out, makes sure there's a balance, serves passes into strikers with a perfect weight.
"There were more obvious contenders for the club's player of the season award, but Michael, for me, was the player who brought the season back on track and brought some order back to Manchester United.
"He's a brilliant player and as a person, I just can't speak highly enough of him. If there's just one complaint I can have about him, it's that he's asked me to play in this testimonial, and the biggest compliment I can pay him is that if it was anyone else I'd have said no!"