Record-breaking English coach Mark Briggs is in the dugout as Real Salt Lake face Manchester United on Monday evening. Adam Bate caught up with him to find out how he went from West Brom via Denmark to become a success story in the States...
When Real Salt Lake host Manchester United on Monday evening, Jose Mourinho will not be the only record-breaking coach in the dugout. The hosts' assistant is 35-year-old Englishman Mark Briggs, a man who is enjoying a stellar season himself.
As well as his role as an assistant coach to RSL boss Mike Petke, Briggs also serves as head coach to Real Monarchs, a feeder team to the MLS side that competes in the United Soccer League, the equivalent of second-tier football in the United States.
Briggs' Monarchs side recently broke the national record for consecutive victories in the competition by winning nine matches in the row on the way to topping the Western Conference. Not bad work for a young coach from Wolverhampton.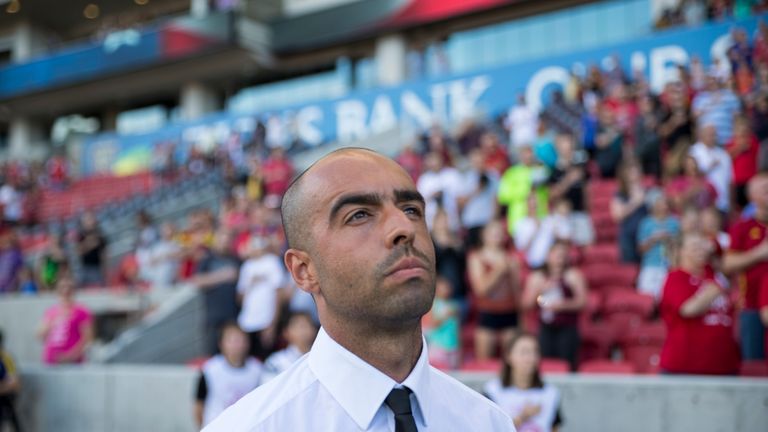 "Things are going well," Briggs tells Sky Sports. "We have tried to change the whole way that the club look at the USL team. It has been about changing the culture. We have made it more professional and that has made a big difference.
"The first team has done well and we have arguably the best academy in the country too. The USL team was probably the piece that was not going to plan and not doing what it should do. It just wasn't hitting those same heights. This year we have done that.
"The players now realise that while the end goal is playing in the MLS team, winning games and winning championships is what creates those opportunities. I would imagine five or six of them will now be getting first-team contracts at the end of the season."
For Briggs, it has come through hard work. He runs the USL session in the morning before helping Petke with the RSL session afterwards. "It's good integration because he knows who deserves a look and I make sure I'm on the same page in terms of style and expectations."
Briggs is clearly relishing working within such an organisation - "one of the best in the country from a structure standpoint" - but how did it all come about? It is a journey that began when he departed West Brom as a 21-year-old midfielder in 2003.
Instead of taking a more familiar path, Briggs went to play for Danish club Herfolge. "As a footballer, you have those choices and it was a great experience," he says. "It's just part of the job that you travel and I have never been afraid to go where the opportunities were."
There were spells in the non-league game in England but when former Everton player David Irving, a one-time team-mate of George Best with Fort Lauderdale Strikers, wanted to take Briggs to play for Wilmington Hammerheads in North Carolina, he did not hesitate.
"That's when it all escalated," he says. "I did quite well and we even ended up winning the division. But the club got into financial trouble soon after and disappeared so I signed a contract in Malta for two years. That was pretty random."
When the Hammerheads returned, so did Briggs. Coming to the end of his playing days, he was offered the chance to coach an under-11 girls' team within the youth system. It ignited a passion for coaching that has changed his life.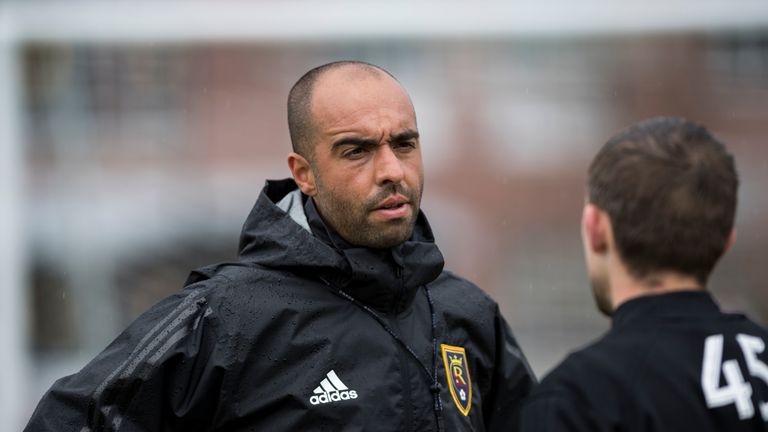 "That was how it all started for me," he says. "They asked me to do a trial period and I just loved it. It was a bit different to what I do now but I enjoyed it so much. It gave me that buzz for it. I was teaching proper technique. Making them understand what it takes to progress."
Briggs went from coaching a girls' team to running the entire youth programme up to the age of 17. When he took on the first team, it was a chance draw against Real Salt Lake in the US Open Cup - the equivalent of the FA Cup - that gave him the next big break.
The match finished in a 2-2 draw before the Hammerheads were beaten on penalties. "They played their strongest team," says Briggs. "To be honest, I'm still annoyed we didn't win." But the MLS team had seen enough to know that the visiting coach had something to offer.
"After the game, the general manager approached me," adds Briggs. "He told me that he liked the way I carried myself on the sideline, he liked how organised my team was and the style of play that they played. It all went from there."
It has led Briggs to facing Manchester United in Monday's friendly game at the Rio Tinto Stadium. "Obviously to come up against Manchester United for an Englishman is huge," he admits. "It will be nice to sit opposite Jose Mourinho and his coaching staff."
So would an opportunity like this ever have come his way if he had stayed in England? "Maybe not," he says. "I'd like to think I would have but it's a dog-eat-dog world in England and if you aren't in the right place at the right time it doesn't necessarily work out for you.
"Obviously I'd love to come back home and work in England at some point, but right now I am a young coach and things are going in the right direction. I just need to stay focused and keep working hard. My goal is to work at the highest level.
"Going abroad helped me get where I want to be. In a nutshell, I don't think I'd have got the chances I'm getting if I'd stayed in England." So will that include victory over United? Briggs just laughs. "A win over Jose for a boy from Wolverhampton would not be bad would it?"