Phil Neville: Marcus Rashford made for the big stage and can star at World Cup
Last Updated: 05/09/17 2:49pm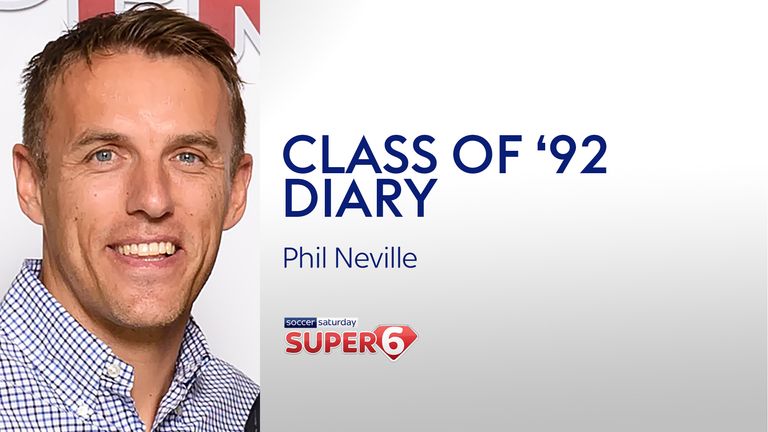 In the latest Super 6 Class of '92 diary, Phil Neville discusses Marcus Rashford's England heroics, Jordan Henderson's case for captaincy, Manchester United's style of play and Salford's long-term vision.
Rashford scored the winner as England closed in on World Cup qualification with a narrow 2-1 win over Slovakia and Neville believes the Manchester United youngster - no matter where he plays on the pitch - can star in Russia...
Rashford's a star - just play him
Slovakia's early goal made it a good game for England in the sense that they actually had to deal with the pressure of needing to step up and produce, which they don't usually get in qualifying.
I think we saw what Rashford is all about and his unbelievable temperament in showing that nothing really fazes him.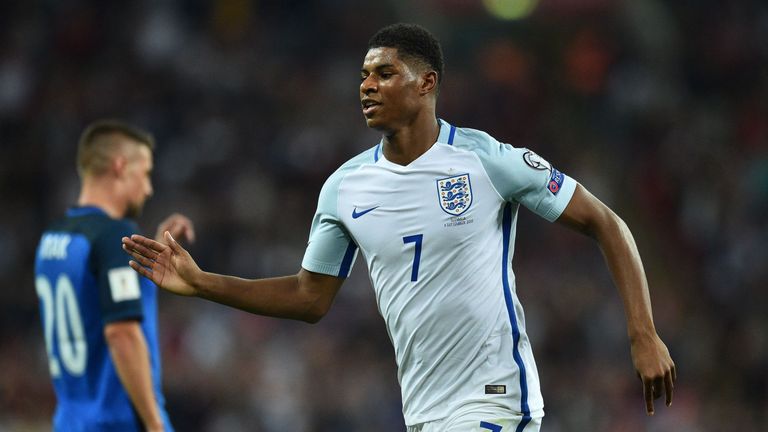 After criticism of the performance in Malta and then what was probably Rashford's mistake in trying to run the ball out of defence for Slovakia's opener, he responded by showing he is made for the big stage.
This season he's looked like he's got goals on his mind, having more shots than before, and he has become stronger and faster. I think we've got an absolute star on our hands.
People are questioning his position, whether he should be playing on the left or the right, but I don't think it matters one bit just as long as he is playing.
I played against Thierry Henry when he was on the left and that didn't stop his development. What it actually does is provide a bit more freedom and takes the pressure off a bit.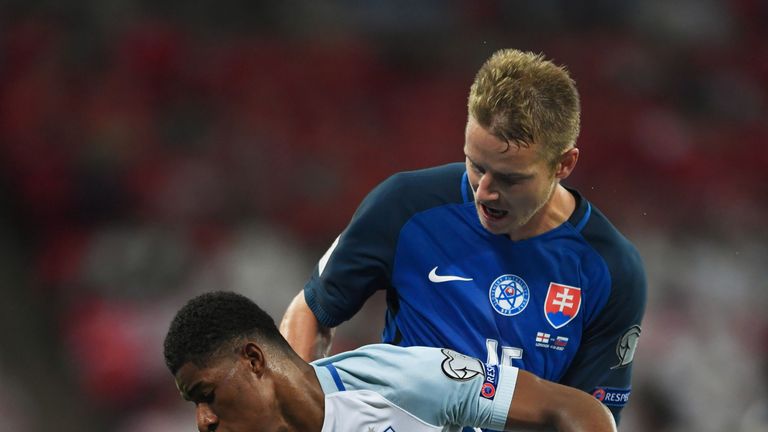 People are questioning his position, whether he should be playing on the left or the right, but I don't think it matters one bit just as long as he's playing.
Phil Neville on Marcus Rashford
Rashford will end up as a centre-forward but just getting minutes and experience is important. Playing in Europa League and FA Cup finals and for England is fantastic experience at that age.
He's already proven himself on the bigger stage and, as much as you don't want to overhype young players, I think he's perfectly poised to really step up at the World Cup.
When you are talking about young players stepping up at major tournaments - Michael Owen in '98, Wayne Rooney in '04 - these players go to these tournaments and relish the opportunity to really announce themselves and I think Rashford can do that.
Captaincy conundrum
Gareth Southgate has stated the England armband will be rotated. I think he liked the idea of sharing the responsibility but I think if somebody has grasped it - which it seems Jordan Henderson did against Slovakia - then they deserve the chance to keep it.
I think Henderson has grown into the role for Liverpool and I thought he produced a captain's performance on Monday night, so I see him as the favourite to have the armband at the World Cup now.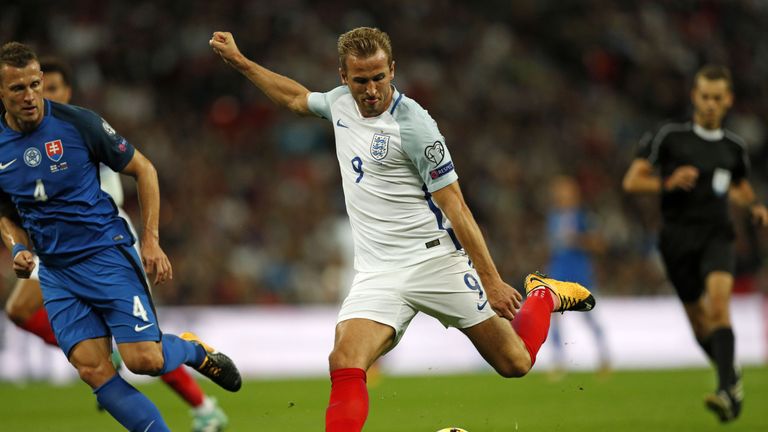 If you are looking at what you want from a captain then the way he plays, the fact he speaks well and his role in the heart of the team makes him the perfect candidate.
Harry Kane has also obviously had the armband but I don't like strikers being captain because you don't want to put extra pressure on top of scoring goals.
Kane is our best goalscorer so let him score goals. He's a leader already, he doesn't need an armband to feel important.
United's real test
Looking at the opening fixtures, Jose Mourinho would have expected nine points from those first three games, but the upcoming run of seven games in 21 days is the big test.
Going to Stoke on Saturday will be the biggest challenge yet with them beating Arsenal and Mark Hughes always eyes an upset rather than just setting his side up for damage limitation.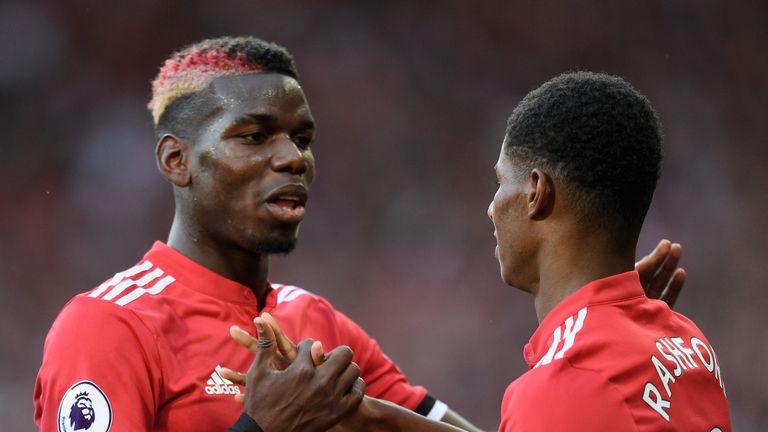 It couldn't have been a better start with the type of football that United have played, which is the most important thing for me. The way Paul Pogba, Henrikh Mkhitaryan, Rashford, Antony Martial, Juan Mata and Romelu Lukaku have started has been great to watch.
The mantra of Sir Alex Ferguson was always to play exciting and attacking football. If you play the right way then the results come more often than not, even if the odd 6-3 defeat to Southampton happened!
I think the fans going to Old Trafford are genuinely excited and the atmosphere will return. Win, lose or draw, United fans won't mind as long as the philosophy to attack is there.
Salford's long-game
I was at the game against Southport, when we didn't play well but got a result, then we went to Curzon Ashton and came from behind and got a draw, which is probably the story of our season.
The managers are a bit frustrated as to why we're not playing unbelievably well yet but I think there was always going to be a period of transition after going full-time.
We've got some big games coming up and the standard of players we've signed will come good, but it takes months rather than weeks to gel.
On Thursday night, I'll be watching the academy lads in the FA Youth Cup, which is the barometer for the young players, and we're hoping to see the work we've put in come to fruition.
The biggest early matches I played in were in the Youth Cup and it will be a brilliant to see how they stand up to that test, having already done well against some of the Premier League academies.
We wanted a big tie in the FA Cup, that's what gets our juices flowing. York are historically a league team and it's another big game at Moor Lane which will attract a big crowd.
I'm not so sure whether the cameras come, but a cup run is certainly one of our priorities and we are absolutely excited about having another go.
A first ever millionaire is guaranteed in this weekend's free-to-play Soccer Saturday Super 6 game. Here's what Phil Neville is going for...
Arsenal 2-0 Bournemouth - Arsenal simply have to bounce back. Who knows how these Arsenal players will respond but losing is not an option.
Brighton 0-1 West Brom - West Brom had an absolutely magnificent transfer window and they should too experienced and strong for Brighton, with their set-piece superiority likely to make the difference.
Everton 1-1 Tottenham - This is a really tough one to call. For me, these are two teams who could be challenging for fourth, fifth or sixth and I can't pick them apart.
Leicester 1-3 Chelsea - Chelsea are back on track. Leicester have played well without the results but with Alvaro Morata scoring goals already, I just think Chelsea are nearly back to where they were last season.
Southampton 2-0 Watford - Southampton are good defensively, don't give much away and are a really difficult side to beat at St Mary's.
Sunderland 1-1 Sheffield United - Sheffield United have started the season really well but I just fancy Sunderland to get something despite their recent losses.