Football Commentator & Columnist
Martin Tyler's stats: Arsenal's seven days and Romelu Lukaku chasing goals record
Last Updated: 26/09/17 2:53pm
Which player has scored in the most games in one season? And what quirky calendar stat have Arsenal just achieved?
Martin Tyler answers those questions and more in his latest stats and facts column, plus hit the video at the top of the page to answer his tricky teaser on goalscorers at the Olympic Stadium and St James' Park.
Got a question for Martin? Tweet @SkySportsPL with #TylersTeasers.
Martin's starting stats from West Ham 2-3 Tottenham
Javier Hernandez scored his first goal against Spurs in his ninth career game against them and Harry Kane, who had never scored away at West Ham before (apart from an own goal), netted twice. The Mexican now has 11 goals in his last five Premier League away games.
Spurs have won their first three Premier League away games for the first time in the competition's history. The last time they won their first three away league games was in 1991.
It's a fifth consecutive away win in total, equalling the club record in the Premier League. They have scored 21 goals in those five matches.
Hernandez's goal was the 150th West Ham goal under Slaven Bilic and the club's 50th Premier League goal against Tottenham.
Ten of the West Ham starting XI were born in the 1980's. Michail Antonio (March 1990) was the only exception and he was replaced by Andy Carroll (January 1989) in the 28th minute.
Arsenal's seven days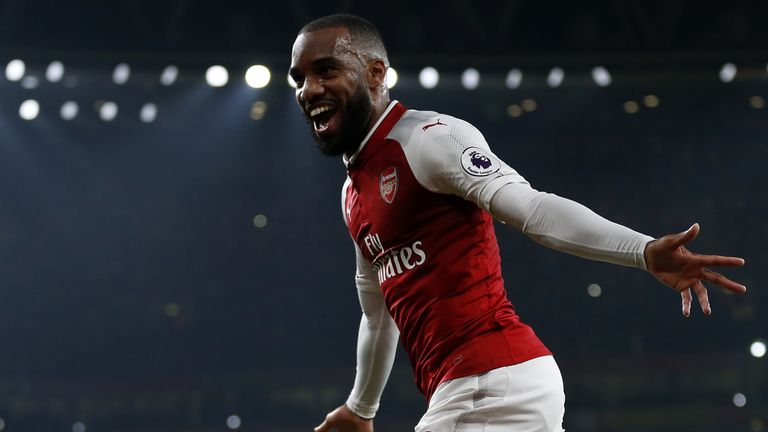 Here's another unique stat for you. Arsenal's last seven games at home have all been wins and have all taken place on seven different days of the week!
TUESDAY May 16: Arsenal 2-0 Sunderland
SUNDAY May 21: Arsenal 3-1 Everton
FRIDAY August 11: Arsenal 4-3 Leicester
SATURDAY September 9: Arsenal 3-0 Bournemouth
THURSDAY September 14: Arsenal 3-1 Cologne
WEDNESDAY September 20: Arsenal 1-0 Doncaster
MONDAY September 25: Arsenal 2-0 West Brom
Striking sensations
Romelu Lukaku has scored in five PL games already. What's the record? JJ
MARTIN SAYS: Lukaku has found the net six times for United since his move from Everton, scoring in five of those matches.
If Lukaku keeps up his current strike-rate then he'll certainly go close to matching Andy Cole, who leads the way for scoring in the most games over the course of a season after netting in an incredible 26 matches during the course of Newcastle's 1994/95 season. However, that was a 42-game season.
The record for a 38-game season belongs to Alan Shearer. When playing for Blackburn in the 1995/96 season, he found the net in 24 games as he racked up a season tally of 31 goals in the Premier League.
Since the turn of the century, the record is 21 matches. That was achieved by Robin van Persie (2012/13) and Cristiano Ronaldo (2007/08). Lukaku would need to score in 17 of United's remaining 32 matches to beat that tally.
Games scored in
| | | |
| --- | --- | --- |
| Player | Season | Games scored in |
| Andy Cole | 1994 | 26 |
| Alan Shearer | 1995 | 24 |
| Robin van Persie | 2013 | 21 |
| Cristiano Ronaldo | 2008 | 21 |
| Alan Shearer | 1995 | 20 |
| Alan Shearer | 1996 | 20 |
| Alan Shearer | 1997 | 20 |
| Thierry Henry | 2004 | 20 |
| Stan Collymore | 1995 | 20 |
| Robin van Persie | 2012 | 20 |
| Didier Drogba | 2010 | 20 |
Clean sheet kings
What's the most clean sheets for a team in their first ever PL season, as Huddersfield already have four? Ben
MARTIN SAYS: Saturday's clean sheet against Burnley was indeed newly-promoted Huddersfield's fourth from six Premier League matches, as they shut out Southampton, Crystal Palace and Newcastle previously.
In answer to your question, Huddersfield still have some way to go in order to break a season record for shutouts in a first Premier League season.
If we discount the 1992/93 season when all 22 clubs were playing in the Premier League for the first time, then the record is held by Fulham (2001/02) and Newcastle (1993/94), who both kept 15 clean sheets in their maiden seasons in the Premier League.
Under Jean Tigana, Fulham went onto finish 13th that season while Newcastle finished third behind Blackburn and champions Manchester United. However, that was a 42-game season.
Interestingly, Huddersfield have already kept more shutouts this season (4) than Burnley managed (3) over the course of their entire first Premier League season in 2009/2010.
One of those clean sheets came against Manchester United - a game I commentated on. Robbie Blake scored the winner that day and kindly gave me his shirt to raise money for charity and I drove home with it - unwashed - in the front seat of my car!
Raining goals
Man City have scored five goals in three matches already. Is this a record? James
MARTIN SAYS: Man City thrashed Crystal Palace 5-0 on Saturday, having beaten Watford 6-0 and Liverpool 5-0 in their previous matches.
No other side has scored 5+ goals in three of their first six matches and City are already half way to matching Chelsea's all-time Premier League record from the 2009/10 season where they scored 5+ goals in six games.
The first didn't come until October 24 when they beat Blackburn 5-0 - and they also put five past Sunderland (7-2), Portsmouth (5-0), Aston Villa (7-1), Stoke (7-0) and Wigan (8-0). They finished as champions.
City's own record stands at five matches in the 2013/14 season when they scored five against Norwich (7-0), Tottenham twice (6-0 and 5-1), Arsenal (6-3) and Fulham (5-0). They also finished as champions.
Arsenal (2012/13), Liverpool (2013/14) and Man United (2011/12) have also scored 5+ in five matches in one season.
Premier League games with 5+ goals
| | | |
| --- | --- | --- |
| Team | Season | No. games with 5+ goals |
| Chelsea | 2009/10 | 6 |
| Arsenal | 2012/13 | 5 |
| Liverpool | 2013/14 | 5 |
| Man City | 2013/14 | 5 |
| Man Utd | 2011/12 | 5 |
Defensive shut-out
What's the fewest games a side has conceded in during a complete Premier League season? Chloe, Manchester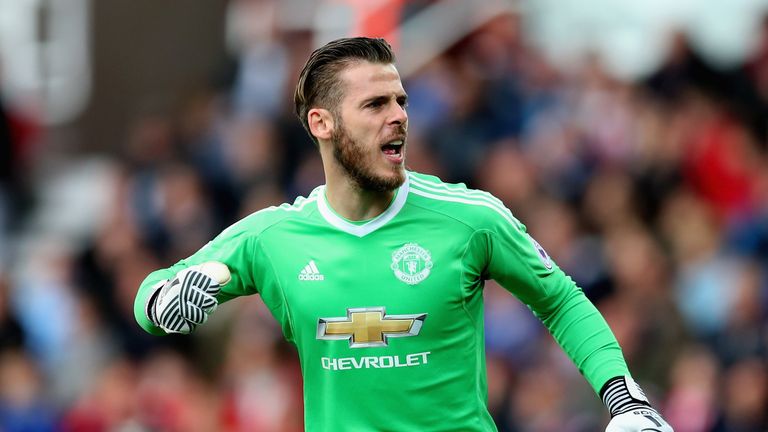 MARTIN SAYS: We are guessing you might be a Manchester United fan Chloe. Jose Mourinho's side have conceded just two goals this season. They both came in the same game at Stoke, so they have only conceded in one of their six matches so far.
In terms of Premier League history, Chelsea hold the record for conceding in the fewest games. They shipped a goal in just 13 matches during 2004/05 - keeping an amazing 25 clean sheets.
They are closely followed by United themselves, who conceded in 14 games during the 2008/09 campaign.
Fewest Premier League games conceded in
| | | |
| --- | --- | --- |
| Team | Season | Games conceded in |
| Chelsea | 2004/05 | 13 |
| Man Utd | 2008/09 | 14 |
| Arsenal | 1998/99 | 15 |
| Chelsea | 2006/07 | 16 |
| Chelsea | 2008/09 | 16 |
| Liverpool | 2005/06 | 16 |