Romelu Lukaku struggled at both ends of the pitch in Manchester United's 2-1 derby defeat to Manchester City on Super Sunday. The Belgian striker's record in the big games remains a concern for Jose Mourinho's team, writes Adam Bate.
"I have been there," Thierry Henry told Sky Sports. "You are waiting for that opportunity. That clear-cut opportunity. Stay focused, stay on it. As much as it was a great save, he has to hit the back of the net. He has to hit the back of the net and he didn't. I feel sorry for him because that is what people are going to talk about tomorrow if the game stays like this."
Unfortunately for Romelu Lukaku, the Manchester derby did stay that way - his United side beaten 2-1 at home by rivals Manchester City as Pep Guardiola's team extended their lead at the top to 11 points. Not only did Lukaku fail to find a way past Ederson from point-blank range but he was culpable defensively for both of City's goals. It was his nightmare day.
In truth, better players miss better chances than the one Lukaku spurned with five minutes remaining. Better chances too than the one he skied with his weaker right foot when away down the right channel midway through the second half as United searched in vain for that equaliser. What's more, the gulf in class between the two sides was not of Lukaku's making.
Right from the outset he was an isolated figure up front. Even so, six completed passes tells its own tale and it is literally true to say that his touches of the ball created more chances for City than United. But the real problem for Lukaku was not that this was the very worst of performances. It was that this was supposed to be the time to answer his critics.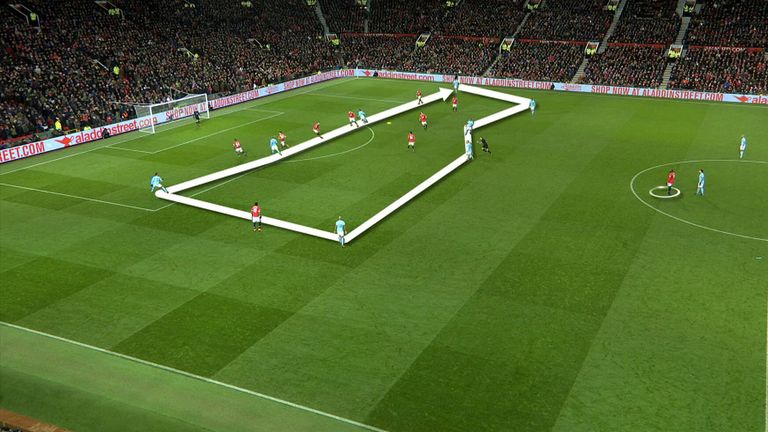 The 24-year-old striker, a £75m summer signing, of course, has now scored five goals in his last 40 Premier League appearances against the so-called big six teams. For some, this had once seemed a quirk. For others, it was only to be expected given that scoring against stronger sides is more difficult - particularly when playing for a weaker Everton team.
Now it is beginning to seem like a statistic that is haunting the player and diminishing his reputation. The move to Manchester United has certainly not improved these numbers as might have been anticipated. Instead, it has shone a light on them like never before. Lukaku has now played against each of United's top-six rivals this season. He is yet to find the net.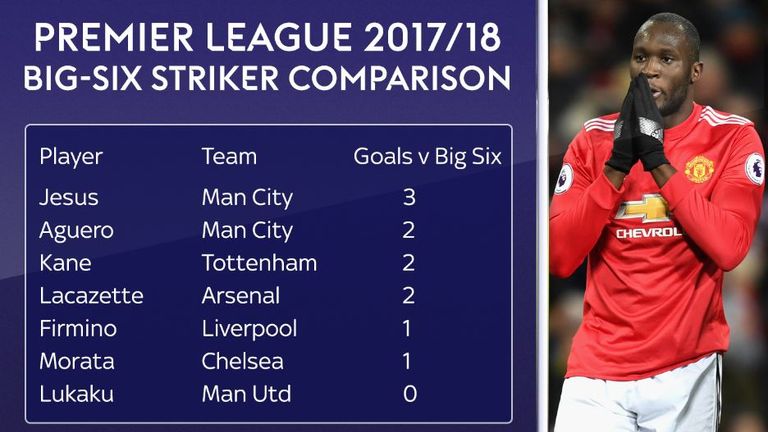 Of the main strikers at those clubs, Lukaku is the only one still to register in a big game. Gabriel Jesus has three and Sergio Aguero two. Alexandre Lacazette's goals for Arsenal in these games may have come in losing efforts, but Alvaro Morata hit the winner for Chelsea against United and Harry Kane scored twice in Tottenham's win over Liverpool.
In contrast, Lukaku's goals continue to come against weaker opposition. Gifted a generous fixture list to kick off his United career, he scored seven in his first seven Premier League games for the club. But since being unable to put away what Mourinho referred to as "a very good chance" in the first half of the stalemate at Anfield, Lukaku's form has dipped.
In his last 14 appearances in all competitions his only goals have been the fourth in the home win over Newcastle and an equaliser against CSKA Moscow in a Champions League tie that was all but a dead rubber. Bullying these opponents is part of the job of any forward but Jose Mourinho needs much more than that if United are to win titles.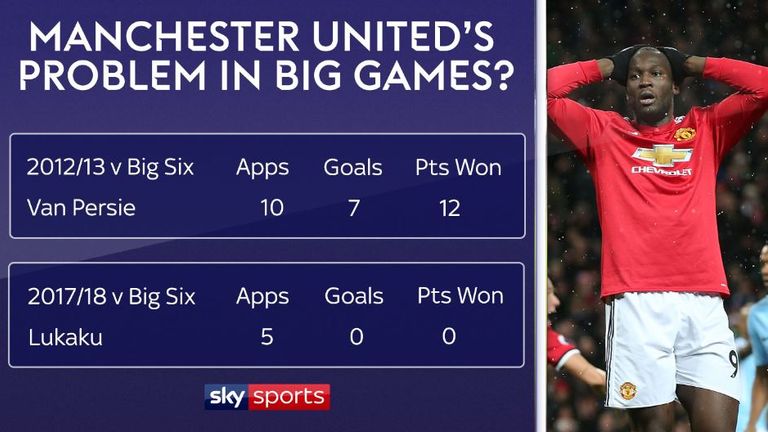 Consider the record of Robin van Persie in United's most recent title-winning campaign. The Dutchman not only scored in seven of his 10 matches against those big-six opponents in that 2012/13 season, Sir Alex Ferguson's last, but United won five of those seven matches by one goal and drew the other two. As a result, those seven goals were worth 12 points.
Despite the club's struggles since then, United remain accustomed to seeing their star strikers step up when it matters most. This was why Zlatan Ibrahimovic made such an impression with his two Wembley winners last season. The message sent loud and clear to supporters was that here was a man willing to embrace the responsibility of the glory goal.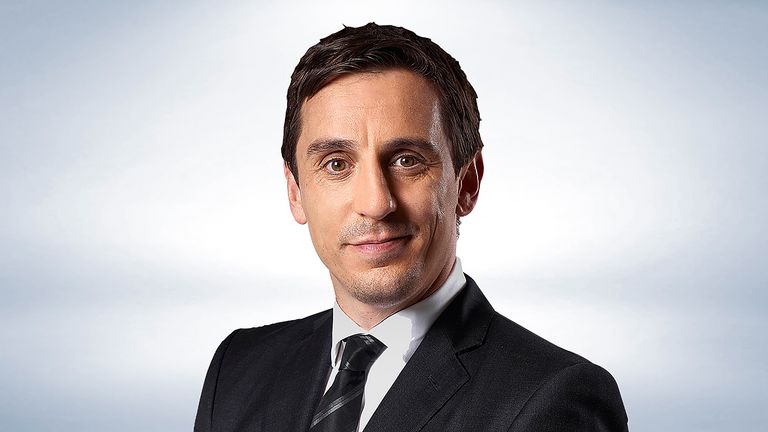 He is a young lad and he has got to get there to the point where he feels he should be out there.
Gary Neville is among those United fans now wondering whether Lukaku yet has that mentality. "He struggled out there," Neville told Sky Sports when discussing the player's derby efforts. "I am not just talking about struggling in terms of missing a chance. He struggled to be in the game and feel like he was confident in the game.
"He has got to get over that quickly because he is a Manchester United centre-forward. He is a young lad and he has got to get there to the point where he feels he should be out there. It is almost as if he doesn't believe at this point in time." The problem for Lukaku now is that the opportunity to prove his point could already have passed him by this season.
There are eight Premier League games to play before United come up against another big-six rival when they face Tottenham at Wembley at the end of January. Lukaku must wait and hope in the knowledge that however many goals he scores in the intervening period, the questions about his effectiveness on the big occasion will not be going away.