Lee Johnson ready for vintage Jose Mourinho reception as Bristol City take on Manchester United
By James Dale
Last Updated: 18/12/17 6:52pm
Lee Johnson is planning a vintage reception for Jose Mourinho at Ashton Gate when Bristol City take on Manchester United.
Johnson's Bristol City side have already claimed three Premier League scalps (Crystal Palace, Stoke and Watford) on the way to their Carabao Cup quarter final with United on Wednesday, live on Sky Sports Football.
The pressure is firmly on Manchester United, according to Johnson, but the Sky Bet Championship manager has dipped into his own pocket to ensure he has a post-game bottle available for his opposite number - who he has admired for some time.
"He's world class," said Johnson, when asked about Mourinho. "He's someone I've studied because as a young manager he's someone at the top of his game.
"I've ordered in a very expensive bottle of wine, I must add. I've had to raid my little girl's piggy bank so I'll be very disappointed if he doesn't come in and at least taste it."
Johnson joked his nickname should be "the small one" when he comes up against the self-dubbed 'special one' this week at what will be the first sell-out at Ashton Gate since redevelopment work.
But promotion-chasing Bristol City will be taking the tie as a serious representation of how they compare to top-flight teams.
"We've got a group that is very hungry to prove how good they are," Johnson added.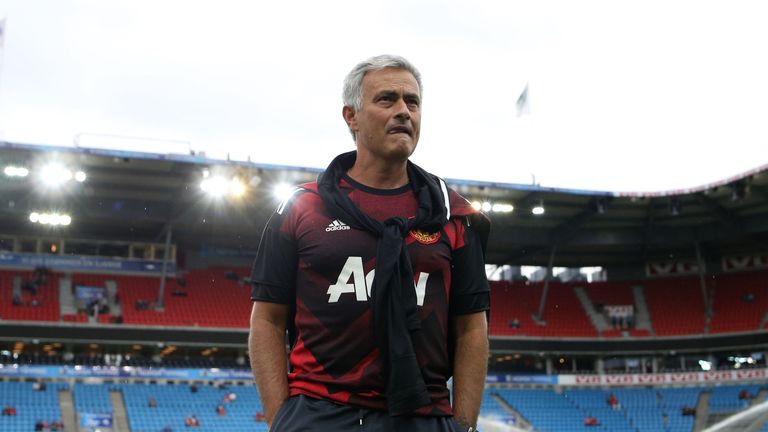 He's someone I've studied because as a young manager he's someone at the top of his game.
Lee Johnson on Jose Mourinho
"It's a chance for the players, the club and the supporters to enhance their reputation. There's minimal pressure involved apart from the pressure we put on ourselves. It's a big challenge to see whether or not we can cope with Premier League football.
"I'm sure they [Manchester United] can handle pressure, the players and the manager are world class so they'll be confident enough in their abilities for a trip to Ashton Gate, but this place is a difficult place to play.
"This will be an unbelievable atmosphere."
Childhood Manchester United fan Aden Flint, who has scored six goals from his centre-back position this season, has been tipped to play up front against Mourinho's side.
The 28-year-old was pictured in a United kit on an old school photo which appeared on social media this week.
Flint was dropped from the starting line-up in August as Bristol City fended off interest from Birmingham City, and while the player admits "anything could happen" in January, Johnson believes only a Premier League move would represent a step forward for the player.
"Aden's been playing very well, obviously we had the issue in the summer, I had to make the decision whether to sell him or not, at times I didn't feel it was right but I always kept that communication with Aden," said Johnson.
"I think he's happy, he's enjoying himself, he's playing very well and he loves his team-mates.
"I think he knows he's becoming a bit of an icon.
"Every player wants to play as high as he can for as long as he can and Aden knows if there an opportunity to get to the Premier League, hopefully with Bristol City but if not somebody else, naturally you'd want to do that.
"But I don't see that another Championship club for him is not a sideways step at best. I think this is the right club for him."