Manchester United have struggled to create Premier League chances, but why?
By Pete Hall
Last Updated: 22/12/17 11:56pm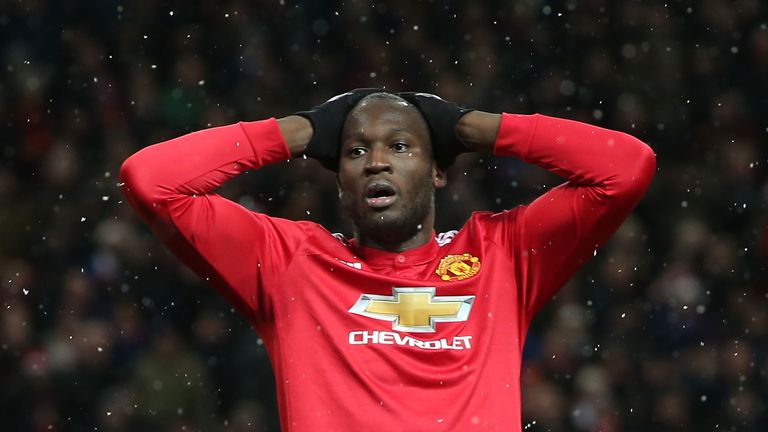 After making a blistering start to the season, Man Utd's potency in front of goal has disappeared. Why aren't they creating as many chances as they were?
It seemed that after the often tepid football of the Louis van Gaal era, and the previous David Moyes malaise, Jose Mourinho had finally cracked it. A 4-0 win preceded 4-0 win at the start of the season, as United played free-flowing football reminiscent of the Sir Alex Ferguson years. But such attacking threat didn't last long.
In United's first seven games, Mourinho's men created 91 chances - an average of 13 opportunities per game. The following 13 matches have yielded just 75 - less than six chances per game. No wonder Romelu Lukaku looks exasperated, even when he does find the net.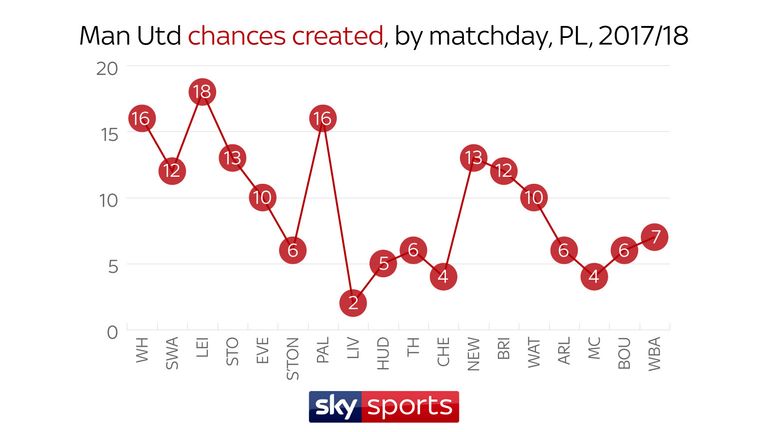 Such a run has seen United plummet down the list of top creators. Arsenal lead the way with 248 chances created, with United languishing down in sixth, one place below Southampton. But why such a rapid decline?
Mkhitaryan effect disappeared
Having gone from the top provider in the Bundesliga to laying on just one assist in 2016/17 for United, Mkhitaryan gave many the impression that a move to the Premier League had been a step too far.
However, after five assists in his first three games this season, with 13 chances created, attitudes changed, and the Armenia international became the fulcrum of the United creative midfield.
The decline in output since has been staggering. In nine appearances following the 2-0 win over Leicester in August, Mkhitaryan has created just 11 more chances for team-mates. His form has declined so sharply that rumours of a move away from Old Trafford have been mooted. Unable even to make the bench for Premier League games in recent weeks, it would take some turnaround for him to rediscover anything like his early-season influence, as it stands.
Pogba absence makes huge difference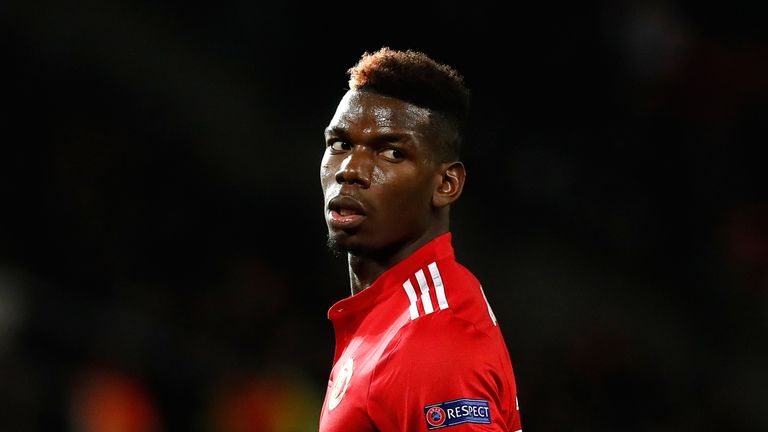 With Nemanja Matic alongside and providing the ultimate protection, Paul Pogba could open his legs this campaign, get forward, and prove to be the perfect link between midfield and attack.
The stats speak for themselves. With Pogba in, for the first four games, 12 was the fewest number of chances created per 90 minutes in a United performance. Then, with Pogba absent through injury until the visit of Newcastle, United's creative arsenal laid on just seven chances per game on average.
What happened upon his recovery? There were 13 chances created against Newcastle, 12 in the next game, then 10. Then, in the three games that Pogba was suspended for after his sending off against Arsenal? 17 chances in three games.
"When United went to Anfield, they couldn't connect the deep defence to the midfield and into attack," Gary Neville said after United's 0-0 draw at Liverpool in October. "[Pogba] connects that, he links it, with those runs forward and his composure on the ball."
Just how much difference does Pogba make? Well, he hasn't tasted defeat in a Premier League game since October 2016 - 41 matches unbeaten. His injuries have been a significant issue.
Lukaku not getting as involved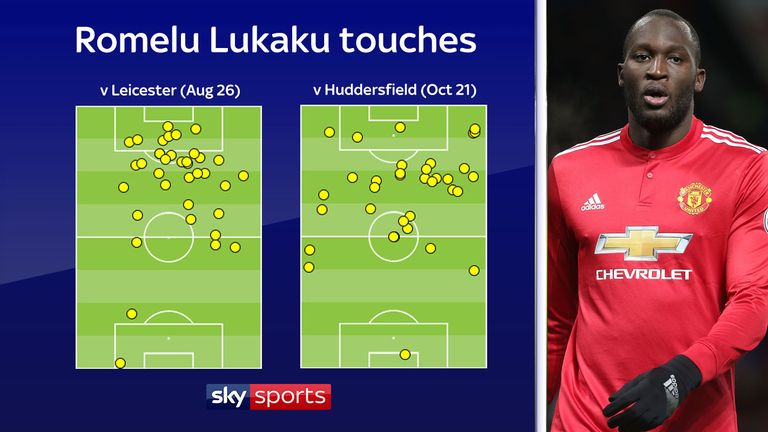 The aforementioned criticism for Lukaku does seem harsh when those further back are not doing their job as providers, but the Belgium international does have to take some of the blame for his positional play.
Even in the one game that Lukaku didn't score in during his incredible start to life in Manchester, against Leicester, he had 16 touches in and around the box. Against Huddersfield in late October, he had just three.
Of course the lack of service is a big factor, but 23 open play crosses still came into the Huddersfield box, eight fewer than against Leicester, but still enough for your striker to at least have a sniff of a goal.
Jose conservative against fellow top sides
From matchday eight to 11, United really struggled to make any inroads going forward, creating just 17 chances in those four games, but three of those opponents were Tottenham, Chelsea and Liverpool, the latter two away from home.
The last four league games have also seen the chances dry up, but that run of fixtures started with a trip to Arsenal, and a clash with runaway leaders Manchester City. Against such opponents, Mourinho has been notoriously reserved. Before the Arsenal win, which, quite frankly could have ended in defeat on another day, Mourinho's sides had taken just five points from 10 away games against big six sides - all 0-0 draws.
Such an attitude won't help attacking players. Lukaku, the first line of defence in such systems, finished the Chelsea match with an average position just outside the centre circle. If the players are so heavily restricted, how can they produce the attacking openings required to take all three points?
The concern for United supporters will be that lack of production has continued into fixtures with Bournemouth and West Brom, with just six and seven chances made by Mourinho's men in those games, respectively. Somehow, United must rediscover their attacking verve, and fast, if they are to even come close to halting City's title charge.