Sean Dyche unhappy with Martin Atkinson after Man Utd equaliser
By Gerard Brand
Last Updated: 26/12/17 5:52pm
Sean Dyche was unhappy with Martin Atkinson's decision to award Manchester United a free-kick ahead of their late equaliser in the 2-2 draw with Burnley.
After Burnley had gone into the break 2-0 up, Jesse Lingard halved the deficit and then levelled in the 91st minute with a half volley, after United were awarded a free-kick for Sam Vokes' foul.
Dyche was happy with the point at Old Trafford, but his one reservation was for Atkinson's call to award United a free-kick.
Dyche told Sky Sports: "We don't want to get too greedy. It's a tough place to come, we all know that. We gave a good performance overall, defended resolutely, did all the ugly stuff you have to do when you come to these places.
"My only minor frustration is the late goal, but also the decision which led to it. I don't know what Sam Vokes is meant to do to try to not give a fre-kick away, as he just stands his ground and the lad runs into him.
"We've seen a bit go against us this afternoon, but we've seen through that, and we've got a point on the table. I though the back five were excellent today, you have to be on guard here, that's for sure."
Dyche's Burnley are seventh in the Premier League and have now taken points off Tottenham, Chelsea, Liverpool and United this season.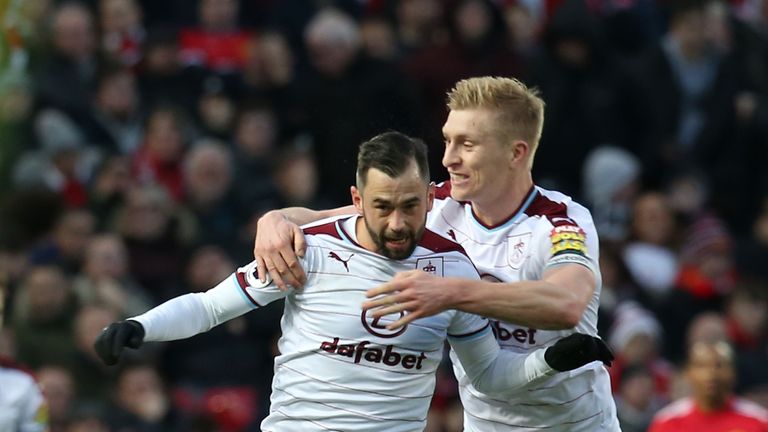 Jose Mourinho said before the game that the Clarets can seriously challenge for European spots this season, but 46-year-old Dyche says Burnley's only aim is to improve on last season's tally of 40 points, which they are now only seven points short of.
"The achievement is only that we're looking to build on last season. Our only marker is that, and I think we're doing that. I think the play is improving. Are we moving forward as a club, and on the pitch? I think we are.
"We don't want to overthink these things, we'd accept a point here before this game, because it's so tough to come here. So I'm not going to cry after the game, there's only one frustration, and that's the decision that went against us."