Paul Pogba's position is a dilemma for Jose Mourinho at Manchester United
Last Updated: 05/03/18 6:27pm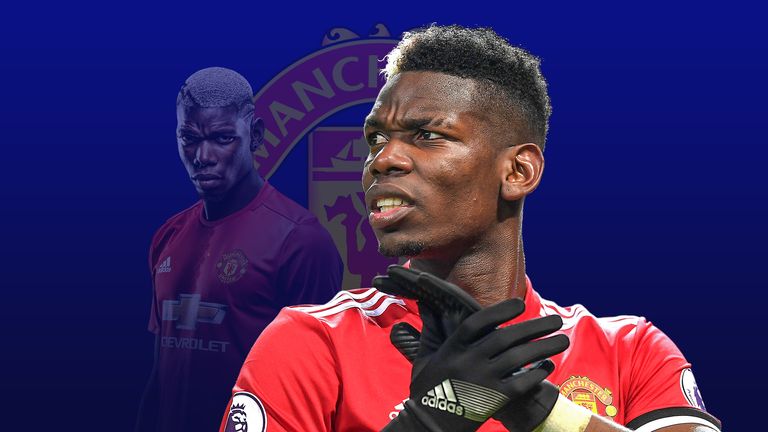 Jose Mourinho reverted Paul Pogba to the left of a midfield three against Chelsea - but is that his best position? We check the stats…
Manchester United have a problem with Paul Pogba: his position.
The French midfielder has been below par of late, with performances alongside Nemanja Matic in a 4-2-3-1 formation among the worst of his second stint at the club.
The £93.25m man was subbed off against Spurs and Newcastle, either side of being left out entirely against Huddersfield.
When probed on the matter, United boss Jose Mourinho said: "Paul is a midfield player. It doesn't matter the tactical system the team plays, he will always be a midfield player."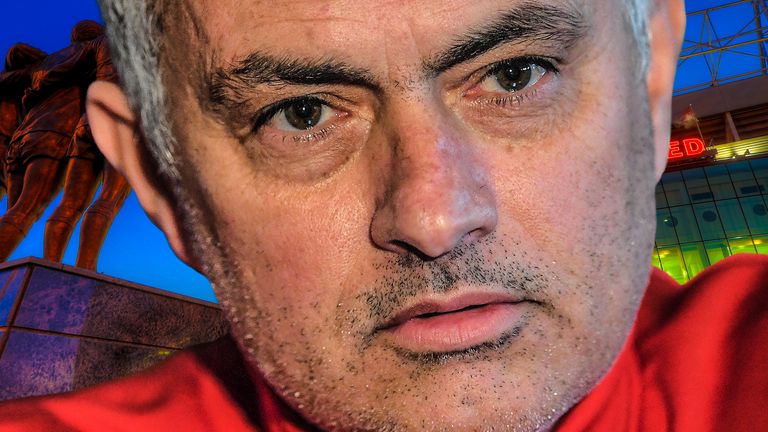 It is difficult to find a midfield player with more potential than Paul has. Paul has everything.
Jose Mourinho
Regarding his role in that position, the United boss added: "For me, box to box means [gestures] box to box.
"[It] means you have to defend well, have the physical conditions to go to the other box, where you have to be good at scoring, creating, heading and then, when your team loses the ball, you have to go to the other box.
"Now people say a box to box has to play free of defensive duties. That is not box to box - that is a box in the box and stay in that box!"
So how can Mourinho get the most out of Pogba? We examine the stats to see what his best position and role is…
FORM
Pogba's most influential game since returning to United was during a 2-1 win against upcoming opponents Crystal Palace in December 2016, according to the Sky Sports Power Rankings methodology - which awards players points for 32 different matchday stats.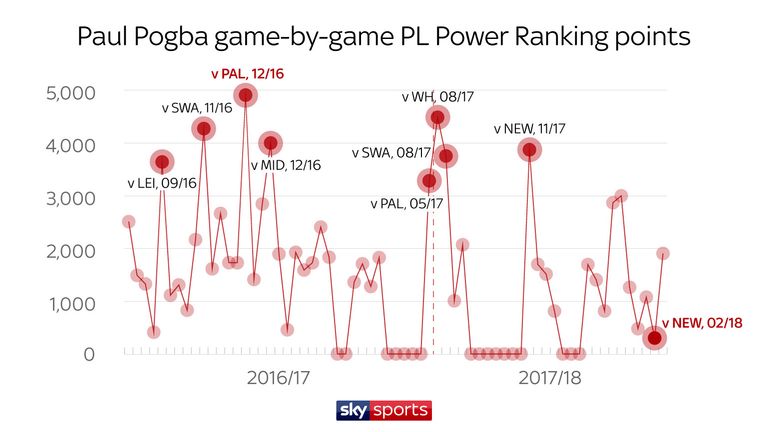 On that day, the midfielder opened the scoring and assisted Zlatan Ibrahimovic's winner, but he also had 121 touches (34 per cent more than his average) and completed 77 passes (+31 per cent).
In addition, Pogba created four chances (+122 per cent), won six aerials (+140 per cent), 13 duels (+49 per cent) and made five clearances (+300 per cent).
Crucially, United played a 4-3-3 that afternoon - the system of choice for rivals City and Liverpool this season - with Pogba on the left of Michael Carrick and Ander Herrera on the right.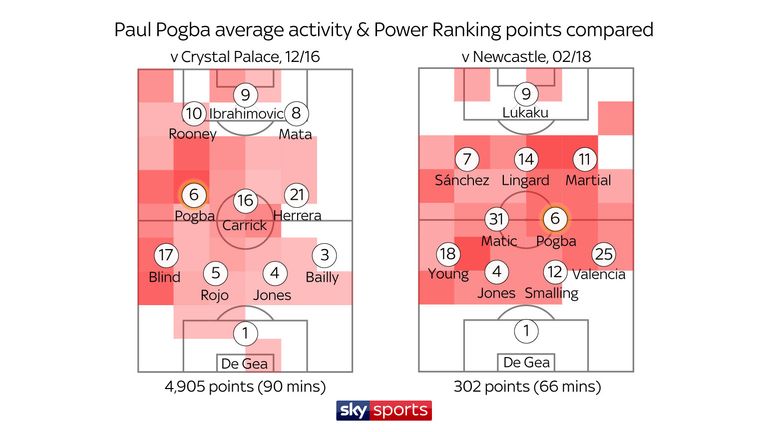 The disparity in his stats, between that Palace game and his recent run-out at Newcastle, is staggering.
The graphic below reveals just how drastic the difference is - converted to per 90 minutes to account for his 66th-minute substitution.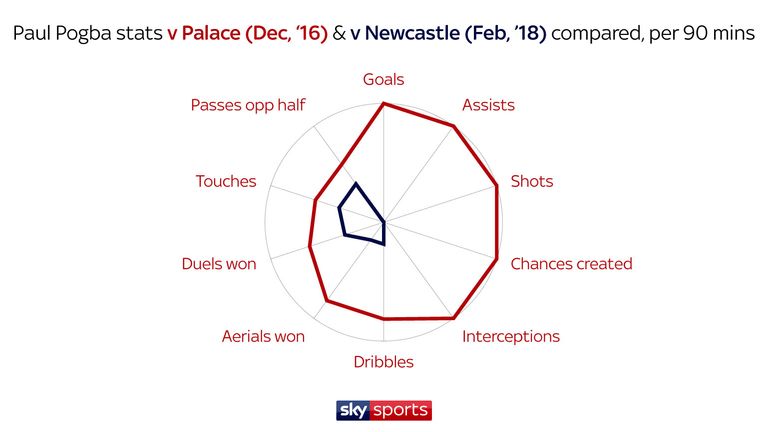 ON THE LEFT
Playing on the right of a defensive two, he appears inclined to drift into his favoured left-side position - which can lead to abandoning defensive cover.
He ventured out of position against Tottenham, which resulted in Mourinho subbing the midfielder for the first time without an injury.
At Newcastle, he was covering the breadth of the pitch, uncharacteristically - albeit playing in a more centralised pairing.
However, against Chelsea, his performance levels soared: when he was pushed wider to the left in a three-man midfield.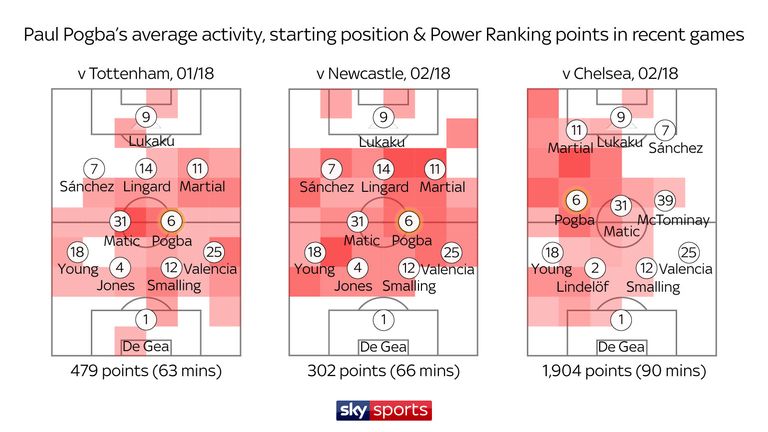 FORMATION
Pogba achieved true, global acclaim during his time at Juventus, where he was frequently deployed on the left of a 4-3-3 under Antonio Conte - which was, even then, widely regarded as his most effective position.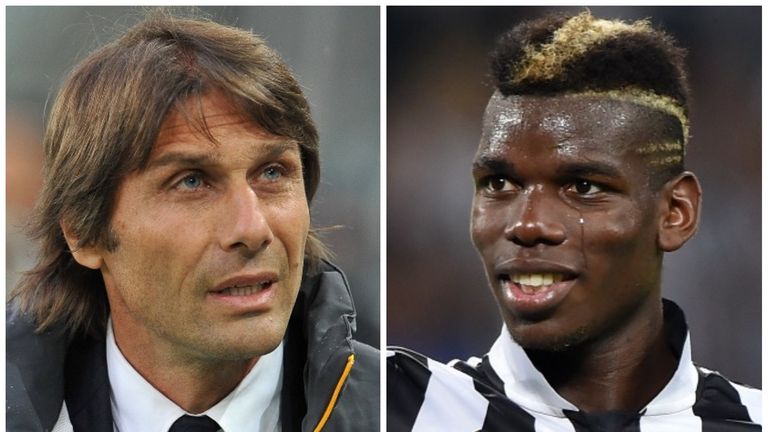 Mourinho has favoured a 4-2-3-1 at United, with Pogba playing in this formation on 25 occasions in the Premier League during his second spell at the club, according to transfermarkt.co.uk data.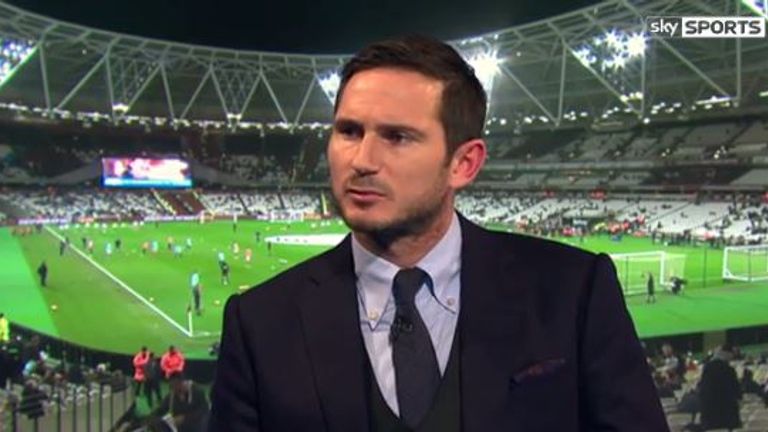 I am still wondering, what is his best position? What kind of player is he? What does he want to be?
Frank Lampard (Speaking on MNF in March 2017)
However, the France international has also played on the left of a 4-3-3 in 10 league games, and his stats prove he has excelled in this role - averaging 30 per cent more Power Ranking points per game.
Even allowing for fluid formations and tactical deviations, the results provide ample evidence that Pogba excels on the left of a three-man midfield.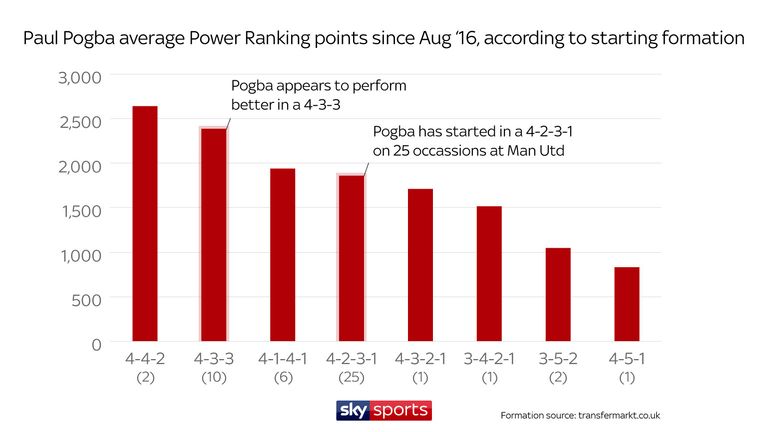 COMBINATIONS
The 2013 Golden Boy winner hit the ground running at United after his world-record transfer, playing alongside Michael Carrick and combining with frontman, and fellow new signing, Ibrahimovic.
United were early title favourites with the bookies, with Zlatan and Pogba endearing fans with lively post-match interviews. But the wheels came off somewhat and the combinations have declined.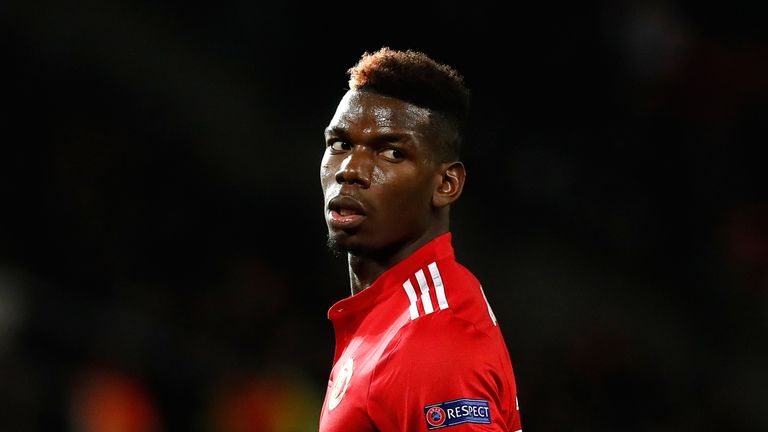 It's no surprise that his most fruitful passing partners are no longer regulars in the United team: Carrick is his most successful partner on the field, averaging nearly 25 pass combinations per game.
After that, out-of-favour Luke Shaw has provided the most combinations with Pogba per game - who has been replaced by back-in-favour Ashley Young - but, with Pogba frequently posted on the right of Matic, the two have failed to combine effectively.
Ander Herrera is Pogba's third-most frequent passing partner, narrowly ahead of fellow defensive midfielder Matic - but, again, the Spaniard has fallen down the pecking order after summer transfers - despite having a stellar campaign last term.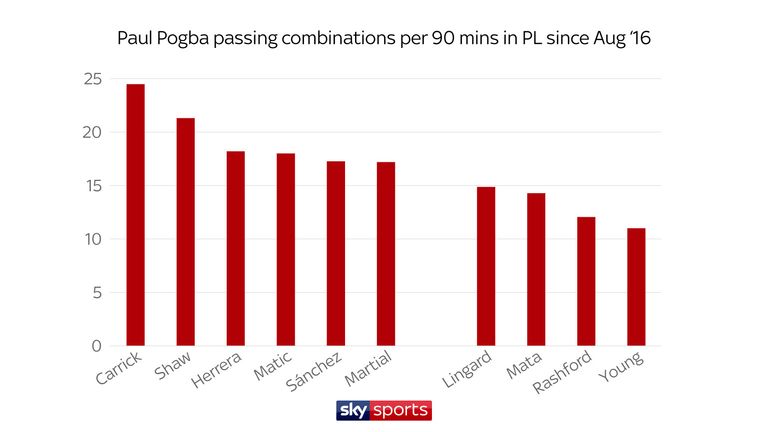 Of the forward-thinking regulars that remain at the club, Pogba links best with January signing Alexis Sanchez and compatriot Anthony Martial - but he achieves few passing combinations with Marcus Rashford, Juan Mata and Jesse Lingard.
Ibrahimovic is Pogba's top partner for combined chances created, but the Swede has been hampered by injuries at Old Trafford after re-signing for the club last summer on a one-year deal.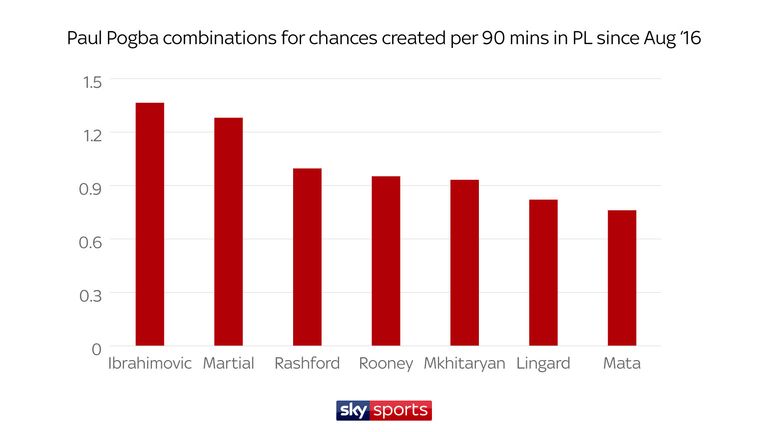 The list goes on: Wayne Rooney and Henrik Mkhitaryan were also among his top combinations, who have since departed to Everton and Arsenal, respectively.
But, in addition to being a top passing partner, Martial emerges as Pogba's most prolific team-mate for creating chances - although even he has been linked with a move away from the club.
ROLE
Much has been said about Pogba's ambiguous role. Is he a defensive midfielder, box-to-box, or purely an attacking force?
He appears to be best deployed as a box-to-box midfielder, as defined by Mourinho: having defensive duties in his own half and attacking duties in the final third.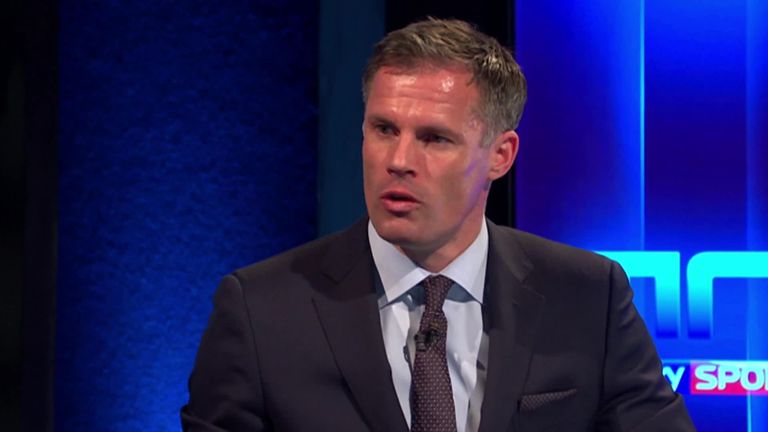 He's a liability defensively. What he does give you is a fantastic passing range.
Jamie Carragher (March 2017)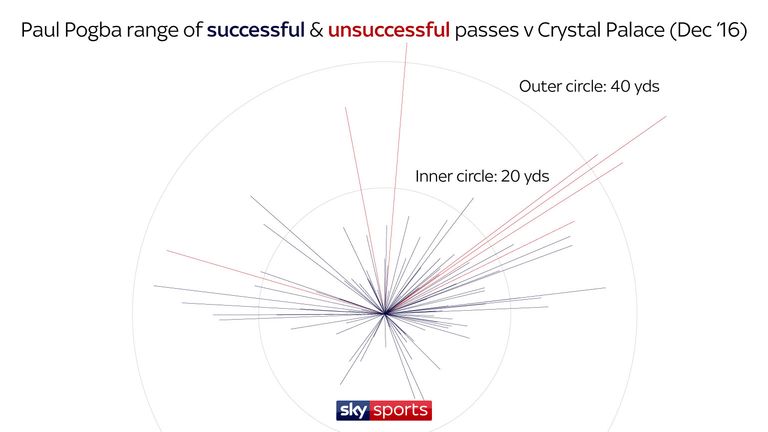 But that hasn't happened recently. Contrary to a positional defensive ebb, his defensive stats have actually declined - even compared with when he was bursting forwards and firing at will last season.
Additionally, in terms of running, he has discovered a greater degree of consistency, hitting around 11km per game, which may, actually, derive from playing with less freedom and greater positional duties.
The graphic below shows his average distance covered in every league game per 90 minutes - which can skew figures on the few occasions he was substituted on or off.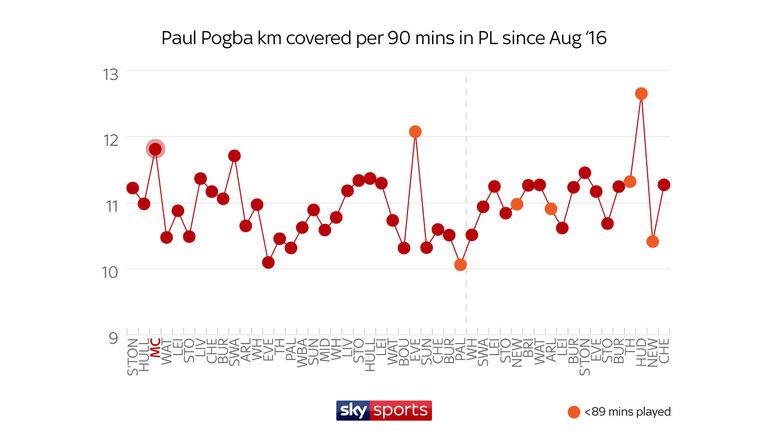 During games in which he completed the full 90 minutes, the graph above reveals he covered the most distance against Manchester City in August 2016.
But in his top performance, against Palace in December that year, he covered less distance and fewer sprints than almost any other game during his time at the club.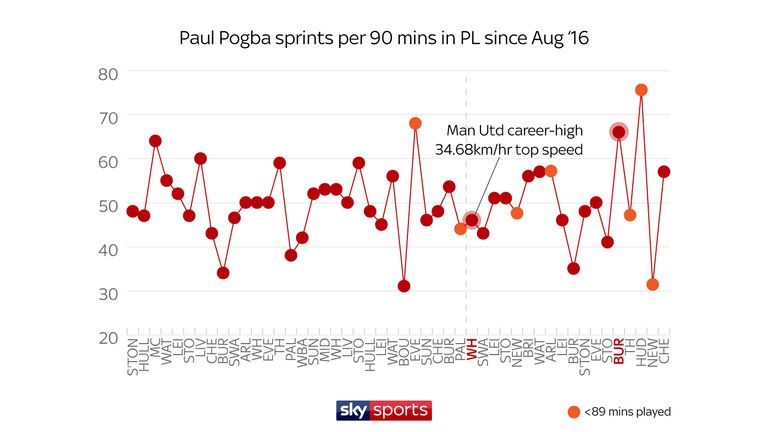 So, most of his top performances have been on the left of a 4-3-3, when he's typically covered less distance and concentrated on his talents: vision, winning duels, distribution, counter-attack threat and scoring goals.
In other words, playing to his strengths.
#Pogback to the left? Watch Crystal Palace v Manchester United live on Sky Sports Premier League from 7pm on Monday to find out