Paul Pogba has told Sky Sports he has emerged "stronger" from an up-and-down period with Manchester United.
The midfielder's performances have come under scrutiny this year as he has been dropped by Jose Mourinho and struggled to make an impact in several matches.
Yet there have also been demonstrations of his talent, including when he scored twice to spearhead a stunning second-half comeback against Manchester City at the Etihad Stadium.


Reflecting on his form, Pogba told Sky Sports: "You always want to be at the top every game, to improve every game and I think I am still improving.
"I can still do better. I am not young but I can still improve, learn and get more experience. I will get better and better during the next year."
Asked how difficult the past few months have been for him, when he has been left out of the starting line-up on a few occasions, the 25-year-old said: "It's been not difficult.
"It's something that didn't happen in the past, it's not something I'm used to, but everyone has to go through this, it makes you stronger and makes you realise you have to work hard, because anything can happen. It's affected me in a good way.
"When you go through it, you just have to work and keep believing in yourself and respond on the pitch."
I can still do better. I am not young but I can still improve, learn and get more experience. I will get better and better during the next year
Pogba has chipped in with five Premier League goals this season, including his double against Manchester City.
There is a chance that number could start to climb, though, thanks to some advice from team-mate Michael Carrick, who is going to be joining Mourinho's coaching team in the summer.
"He told me about how running without the ball can make the difference in the game," explains Pogba. "I call them the Lampard runs - making the run, getting into the box, and that helps a lot.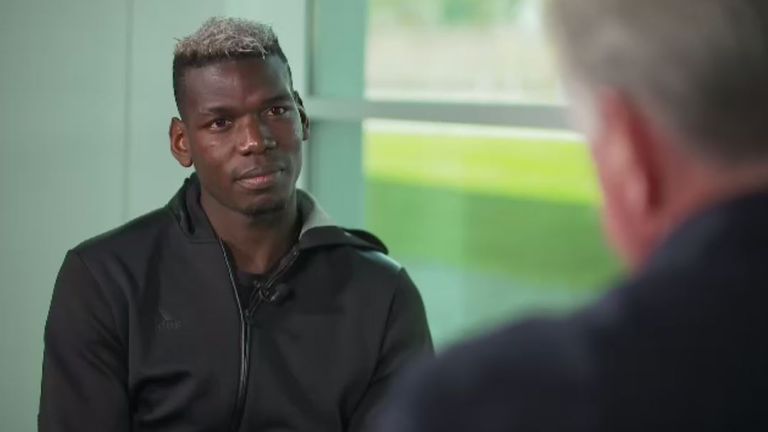 "Michael has the experience, he always talks to me since I arrived last year and helps me with the position and all that.
"It just came naturally in training if he sees something I could do better it comes and tells me. Sometimes I go to him and say do you see something I could do better and he helps me and helps me to improve. When you are inside and outside you don't see it the same, I just ask him and he helped me a lot."
While Carrick is retiring in the summer, there has been speculation that Pogba could leave Manchester United, with Pep Guardiola saying before the Manchester derby that Man City had been offered the midfielder in January.
However, he says he is happy at Old Trafford and has a good relationship with Mourinho.
"It's good, very good. He's the coach, I'm the player. He does the coaching, I do the playing.
"I'm here and very happy. I give my best for the team, for myself I'm happy because we are in a final [FA Cup final] and I want to finish the season very well."
Manchester United finish their season with a home game against Arsenal on Sunday, live on Sky Sports, and then clashes with Brighton, West Ham and Watford before the FA Cup final against Chelsea on May 19.
United and Arsenal served up a thriller earlier in the season at the Emirates and their meeting this weekend will be Arsene Wenger's final visit to Old Trafford as Gunners manager.
Pogba said: "For a Frenchman, it's all just respect that you have with a manager like Arsene, who's been there for years and done what he's done.
"When I was a kid, I was supporting Arsenal because it was like the French national team and what he did at the club was incredible. The fans must be sad, for a big manager like this to leave like this. He has been there for a long time, maybe it was the time."
Watch Manchester United v Arsenal live on Sky Sports from 4.15pm on Sunday