Gary Neville: Final straw for some Manchester United players after 'shocker' at Brighton
Last Updated: 05/05/18 1:58pm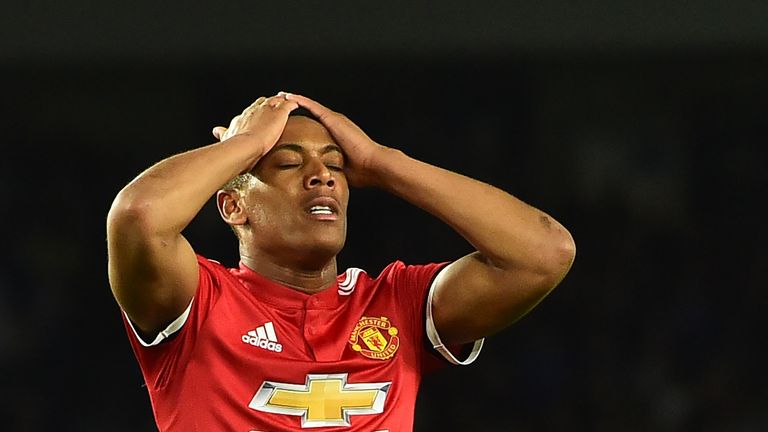 Gary Neville described Manchester United's performance against Brighton as a "shocker" and said it could prove to be the final straw for some players.
United needed four points from the final three Premier League matches to guarantee second place and Jose Mourinho made six changes from the team that beat Arsenal last Sunday with Marouane Fellaini, Marcus Rashford, Anthony Martial, Marcos Rojo and Matteo Darmian given chances to impress ahead of the FA Cup final later this month.
However, United only touched the ball once in the Brighton penalty area in the first half on Friday night before Pascal Gross earned the home side victory in the 57th minute.
Mourinho was clearly furious with his players in his post-match interview - and Neville believes some of them will be sold after a terrible night.
He told Sky Sports: "It felt to me like it was a final straw for him with some of the players. The trust that you need with players had gone.
"I'm trying to find the word that you'd use to describe that kind of performance. I've said 'woeful' and 'awful', but it was a shocker from first minute to last minute.
"I never thought at half-time that Manchester United would come out in the second half and repeat their first-half performance, but they did. In fact Brighton's best period was 20 minutes after half-time.
"Mourinho said it was important to him that four points were achieved to finish second and he couldn't convey that to his players.
Mourinho doesn't like some of those players. He's had enough of them and they are going to go. That's what I drew from it. They were absolutely terrible tonight.
Gary Neville
"When you can't get your message into your players then either the manager has to go or the players have to go.
"At this moment in time Manchester United are not going to lose Jose Mourinho, so he's going to make some big changes in that dressing room.
"It was so bad, so bad. I haven't got words for it. I said during commentary that I felt if there's any player who wondered why he wasn't playing in the cup final, you can just show them this video.
"They've got no excuse. It wasn't the fact that they played badly, it was that their attitude was terrible. It was awful."
United can still seal second spot by picking up positive results in their final two fixtures against West Ham and Watford, but Mourinho said the players were "not good enough" against Brighton.
And Neville said the manager has clearly given up on a number of them.
He added: "My view is that ultimately he doesn't like some of those players. He's had enough of them and they are going to go. That's what I drew from it.
"They were absolutely terrible tonight. They've played badly at times this season, but won and shown some spirit, but this was not good enough.
"Alright, it's the end of the season, it's a game against Brighton and they've probably already got second place but they are wearing a Manchester United shirt and the standards have to be a lot higher than that.
"Jose Mourinho looked tonight like he'd lost faith in some of those players."
Get the end of season drama and all of next season with two Sky Sports football channels for the price of one