Gennaro Gattuso drops hint over Leonardo Bonucci future amid Manchester United links
Manchester United play AC Milan in International Champions Cup on Thursday
By Zinny Boswell
Last Updated: 24/07/18 11:28am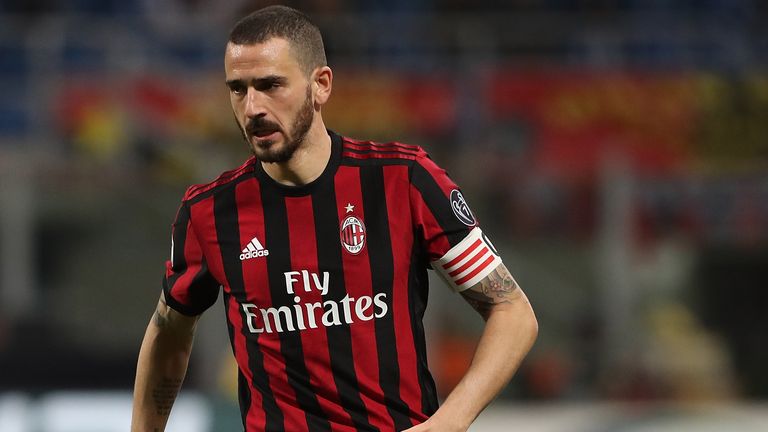 AC Milan boss Gennaro Gattuso has hinted that Leonardo Bonucci wants to leave, amid links to Manchester United and Juventus.
Bonnuci joined Milan from Juventus last summer for £37.45m on a five-year deal, but reports have suggested he could be on the way out, with United boss Jose Mourinho keen to bolster his defensive options.
Gattuso says he has held talks with Bonucci, who on has been linked with a sensational return to Juventus, but has told the central defender he must inform the club if his desire is to leave.
United's defence: An unpopular priority?
"I've spoken to Leo and you need to be honest and say things as they are," the Milan coach commented.
"Leo had a meeting with me, but I am not the club and he needs to talk to the directors.
"Until he leaves my dressing room, I want to see the Bonucci I've seen over the last 12 days - a professional Bonucci, he is the first to push the group and he is behaving as a great captain.
"Then it will be up to Leo and the club to decide, but I hope that Bonucci can stay here. He is a player with mentality and talent.
"I think that when a player expresses a desire, the coach must do all he can to convince him to stay."
Despite Mourinho's apparent interest in his captain, Gattuso was full of praise for the United manager ahead of Thursday's pre-season fixture in California.
"I think that Mourinho has been at the top for 20 years," the former midfielder said.
"He has won so much, he is always looking to get the best out of his players and it's not a coincidence he has been winning for so long.
"He has a great mentality and he knows how to get into a player's mindset. I think we are talking about one of the greatest coaches in the world.
"I can assure you that being a coach is more difficult than being a player.
"When you get to play these matches against these teams, for us it should be a source of pride and we can't put in a bad performance."