Jose Mourinho needs to "knuckle down and create a positive vibe" at Manchester United, says Tim Sherwood.
United failed in their attempts to sign add another central defender to his ranks, despite a lengthy spell chasing Leicester's Harry Maguire and a Deadline Day approach for Atletico Madrid's Diego Godin.
Former Tottenham and Aston Villa boss Sherwood says the United boss needs to create a positive air around the club in order to achieve success this season.


Speaking on The Debate, he told host Kelly Cates: "Most managers don't spend the amount of money in a lifetime that he has in the last two seasons. He's been very fortunate to have been given the funds at one of the biggest clubs in the world, so I can't understand why any manager, with that backing, is ever disgruntled.
"I think Jose needs to get in front of the camera in a press conference and send a message to the players saying, 'This is what we've got, I believe in you and we will push Man City a lot closer this season.'
"As a manager, when you sit in front of the media, you are not only talking to your fans and players, you are also talking to the board and I think he's got to stop talking to the board now. There's nothing you can do now, the window is closed, he has to carry on, knuckle down and get the best results for his club. He needs to send out a positive vibe.
"He's got [Victor] Lindelof, [Eric] Bailly, [Chris] Smalling or [Phil] Jones, they are all international footballers and they are now thinking that they aren't really wanted there. The manager tried to sign a centre-back, wasn't allowed to do it and he's almost been left with us. Now is the time to knuckle down and get on with it and start sending a positive message about the whole club."
Fellow guest Liam Rosenior agreed with Sherwood and argued that Jose could learn a thing or two from Pep Guardiola's coaching style, in order to make the most of the talent he has at his disposal.
He added: "Instead of talking down about his centre-halves, maybe he should be saying that what he has is good enough. We speak about Guardiola and the money he's spent, but the season he had a fantastic season [in his first season] and he had Vincent Kompany and Nicolas Otamendi who he didn't sign himself. Sometimes as a coach you want to bring in the best players but sometimes as a coach you have to improve the players you have.
"We've seen the likes of Lindelof and Bailly be signed over the last two years - two young centre-halves that were probably thought of as coming into their prime now. Bailly I'm really impressed by but he's been injured and Lindelhof hasn't produced the form that he might have been looking for. Is that down to the player, or is that down to the environment, the tactical element of the team and the coaching that goes on?
"I'm looking over at Man City and seeing what Guardiola is doing with Otamendi who didnt play anywhere near the level until Guardiola came in. Part of coaching is getting the best from your players and I need to see that from Manchester United."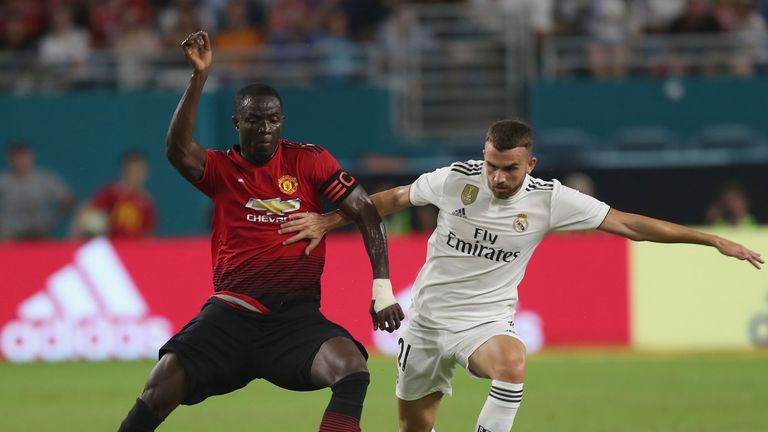 Ian Wright threw his weight behind the points his colleagues made on the subject, but also warned that Mourinho's thoughts about looking towards October could prove ominous, with City - who've already won this season's Community Shield - looking like they are ready to pick up where they left off.
"You are expecting Man United to do a lot more business and they've made no secret of the fact they were after centre-halves. They chased down Harry Maguire and were interested in Toby Alderweireld and you'd have though they probably might have got one of those two. But he is saying about judging in November; I think when you look at Manchester City's start, they look really invigorated already.
"If you look at the next six games after the Arsenal game, by October, they could literally win all of those games. Man United are going to have to have some players who are going to be rested and they are going to need to start really quickly. I think Lukaku probably won't start the season, Anthony Martial and Paul Pogba probably won't start the season, Lingard probably won't start the season. It's going to be an interesting start for them.
He continued: "Even with Pogba winning the World Cup, the comments he made...to poo-poo someone who has won the World Cup, you want to try and give him as much confidence, as much leeway to come and inspire your team to kick on like that, you just wonder why he does that. I've got a lot of time for Jose but he says things and I just wonder why would you say that?"
Upgrade to Sky Sports Premier League and Sky Sports Football now for just £18 a month.