Ole Gunnar Solskjaer calls for Manchester United reaction in derby 'world is watching'
Solskjaer tells Gary Neville: "It's the best game we could have. There's no hiding place." Watch Man Utd vs Man City on Wednesday, live on Sky Sports Premier League from 7pm; Kick-off is 8pm
Last Updated: 24/04/19 11:25am
Ole Gunnar Solskjaer has called for a reaction from his Manchester United players ahead of a derby "the world is watching".
United face Manchester City in front of the Sky Sports cameras on Wednesday, looking to restore pride after a 4-0 humbling at Everton, as well as dent their fierce rivals' Premier League title hopes.
In an exclusive interview with Sky Sports' Gary Neville, Solskjaer warned there would be "consequences" after a Goodison rout that was United's sixth defeat in nine games.
But the United boss believes a wounded squad has the perfect opportunity to respond against Pep Guardiola's side - and wants to see a display befitting of the badge.
"Of course there'll be consequences,' Solskjaer told Neville. "We're not going to see exactly the same team [against Manchester City].
"It's about a reaction, a response. We can't work on fitness - it's mindsets. I know the players; they're very good, talented players. Everton outran us, outworked us. We have to bring something different [against City]. We know the quality of their team but our fans need to know we've given absolutely everything - tactically, mentally, physically, as well as handling the ball.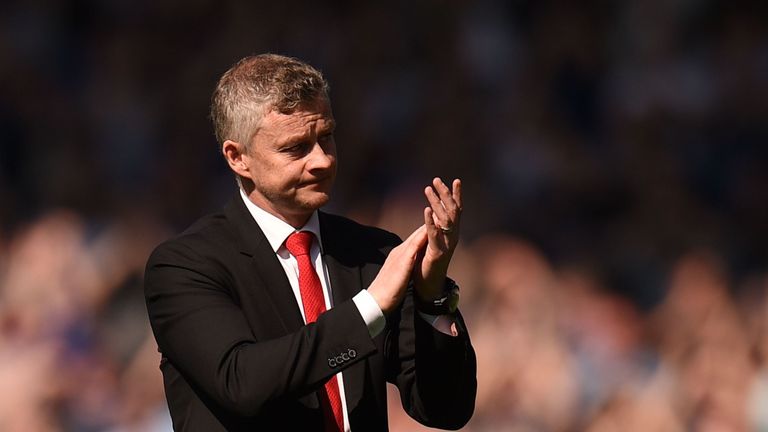 "For me it's the best game we could have. There's no hiding place. The world's watching. The whole of Manchester is watching. Liverpool is watching!
"Our players' pride has been hurt badly - my pride, the club's pride. The game is a great chance to put things right. We know we have a way to go to get where we want to be but it's a step; we can show the standards we want to have."
'Everton wanted it more - but we must look forward'
Solskjaer admitted to an "honest" post-mortem in the United dressing room on Sunday but insists he and his players must swiftly re-focus as they seek to stay in the hunt for a Champions League place.
"We spoke honestly at half-time and after the game," he said. "We know that performance is not acceptable if you want to get to the top where we think we belong. I can say only twice we've really let ourselves down this year in terms of performance - that game [against Everton] and the game against Wolves in the FA Cup.
"What disappointed me? More or less everything. We'd set the plan out. All four goals were avoidable but that's not where it went wrong. It was the application. You know that going to Goodison Park is going to be tough. You've got to fight for every inch, second balls, long balls, every challenge and they wanted it more.
"It's been difficult but you have to look forward. You have to think as quickly as possible through what happened and you have to focus on the next game because it's a big, massive game. Of course there are things that will happen and we'll change things but you can't do it overnight."
'United need stability - and identity'
Solskjaer fired a warning shot to his players in the aftermath of the Everton defeat, suggesting some of his stars could face the axe, but speaking at length about his plans to Neville, reiterated the need for time at the Old Trafford helm as he looks to reshape a squad capable of bridging the gap to their neighbours.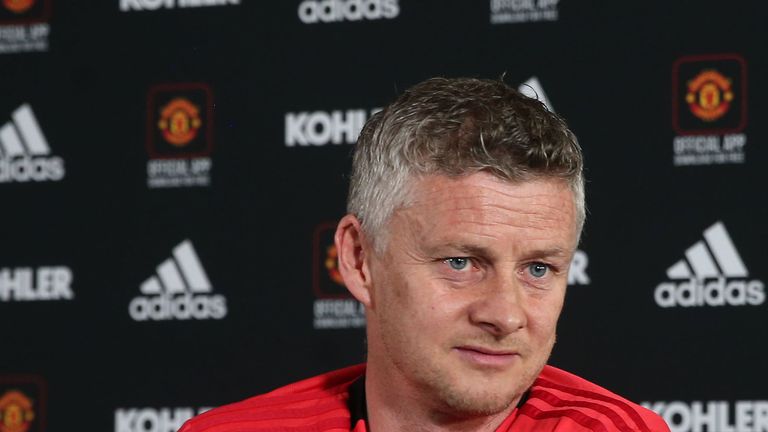 "I love the players; they're good lads," Solskjaer said. "They are willing to learn and if they're not willing to learn or pick up the mantle when you're left out, you can either leave it or work harder.
"I can see so many good things about this squad - things that we can improve on - and I have 100 per cent confidence that we can find the right players to come in and fit our mould of the personality and quality.
"You need stability, consistency, a long-term plan. Short-term results is always important because short-term gains make it easier to sell your long-term ideas. We want to find that identity within the group we have. You can't compare but Jurgen (Klopp) and Pep have been very successful in building a team over the years and I think everyone knows that part of the success is having time to build that continuity.
"The work, the ambition, the drive in the coaching staff - both short- and long-term is unbelievable. We're planning pre-season - we're planning to get fitter - and in terms of the squad we'll see where we feel players will be in two, three years' time because you have to have that long-term planning."
'Back the players'
While his long-term planning continues, Solskjaer has called on United fans to rally again quickly behind his side.
Asked if he had a message for the United faithful, Solskjaer said: "Back the players again. We can't win those three points back but we can show everyone that we are a Manchester United team.
"My focus is that all the players can walk off the pitch on Wednesday night - and on Sunday - proud that they've given everything.
"Performance, attitude, work rate, team spirit; if we come out saying I did everything for my team-mates, for the supporters, for this badge, I'll be happy."
Watch Manchester United vs Manchester City on Wednesday from 7pm on Sky Sports Main Event and Sky Sports Premier League. See The Run In on Sky Sports with two football channels for the price of one.