WATCH: David de Gea at fault for Man City's second goal during Manchester derby
Gary Neville: "I'll give him a bit of leeway for the first goal. But I'm not going to on the second goal. It's a really bad mistake."
Last Updated: 25/04/19 12:08am
David de Gea's performance during Manchester United's 2-0 defeat against Manchester United has been heavily scrutinised with the Spaniard at fault for Pep Guardiola's side's second goal.
City took the lead nine minutes into the second half through Bernardo Silva, and De Gea has even been questioned for his role in this goal with Bernardo beating the Spaniard at his near post from 15 yards.
City then doubled their lead 12 minutes later with De Gea definitely at fault. It started from a counter-attack as sub Leroy Sane struck home from 15 yards despite De Gea getting a touch on the effort with his right foot.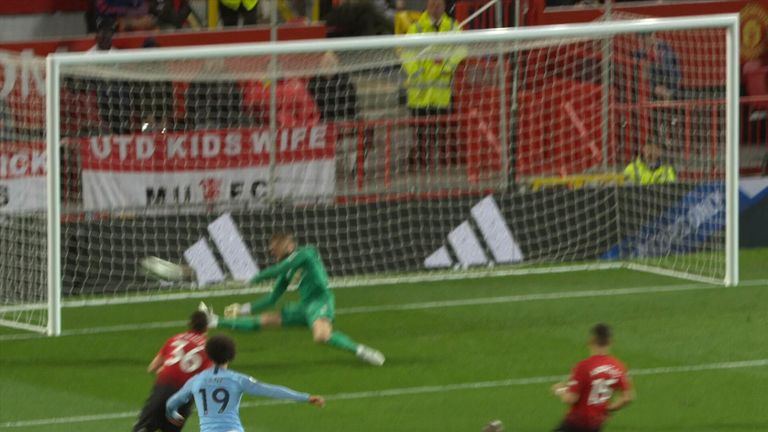 The error sparked plenty of debate in the Sky Sports studio with Gary Neville and former Manchester City and England goalkeeper Joe Hart giving their verdicts.
Watch De Gea's error by hitting play on the video at the top of the page!
Neville: It's a bad mistake
"I'll give him a bit of leeway for the first goal," Neville said. "But I'm not going to on the second goal. It's a really bad mistake.
"It went from a one-man to a four-man counter-attack for Manchester City. There were bodies everywhere, flying forward but the goalkeeper has to be doing better.
"He's been magnificent for Man Utd for so many years but this season it's just not happening for him. Those feet are letting him down, so many times. It's straight at him and goes off his shin into the net."
Joe Hart's analysis
"I'd probably go with my feet there too," Hart told Sky Sports.
"It's a quickfire moment and he's gone to go with the sole of his foot but it's hit him halfway up his leg. He's not going to be happy with it, simple as that.
"At the moment it's just not going for him. He'd make that save nine times out of 10 but unfortunately at the top of the game sometimes it just doesn't go for you. Right now, those small little fractions - it hits him on a different part of his foot and it does not go in the goal."
Ole backs De Gea
Meanwhile, Manchester United boss Ole Gunnar Solskjaer defended his goalkeeper in his post-match interview with Sky Sports.
"David made some terrific saves as well today. It's every-day work for everyone and David's got high standards that he sets himself," said Solskjaer.
"He's working really hard to improve, so at times like this we've got to stick together, batten down the hatches and make sure we don't do anything rash, anything stupid and keep working, sticking together as a team to come back fighting on Sunday."