Ole Gunnar Solskjaer expects Paul Pogba to stay at Manchester United
"Life has no guarantees," says Solskjaer
By James Dale
Last Updated: 26/04/19 2:01pm
Ole Gunnar Solskjaer expects Paul Pogba to stay at Manchester United despite Real Madrid's confidence of signing the midfielder.
Pogba has received heavy criticism for his performances during Manchester United's recent run of poor form and Sky sources understand he is expected to leave if they miss out on qualification for the Champions League.
"You can't guarantee anything in football but yes I think Paul is going to be here," said Solskjaer. "I can assure you he is now very determined to succeed at Man United.
"I would say yes I can guarantee, but in life you can never. He will be as far as I can answer."
Pogba remains a "leader" in the dressing room but is "a human being as well", says Solskjaer.
"The world has changed, you don't have a Bryan Robson, a Roy Keane or Steve Bruce in our dressing room," said Solskaer. "Leadership is so many different things.
"We're all different now. I don't lead the same way as Sir Alex [Ferguson]. Louis van Gaal, Jose Mourinho - we're all different leaders."
No crisis talks with Woodward
Solskjaer denied holding crisis talks with United executive vice-chairman Ed Woodward but says an "eye-opening" last 10 days have answered questions on his summer plans.
The United manager's meeting with Woodward on Thursday had been planned "many weeks ago", Solskjaer told Sky Sports News, and the pair made decisions based on "the plan we had before" losing to Manchester City at Old Trafford.
But a third defeat in 10 days has been a "reality check" for everyone at United and has influenced his plans heading into the summer transfer window.
"Some questions have been answered the last few weeks," he said. "But you can't change 10 players in one go."
De Gea will keep his place
United are "still in the race" for Champions League qualification despite being three points behind fourth-placed Chelsea, who they play at Old Trafford on Sunday.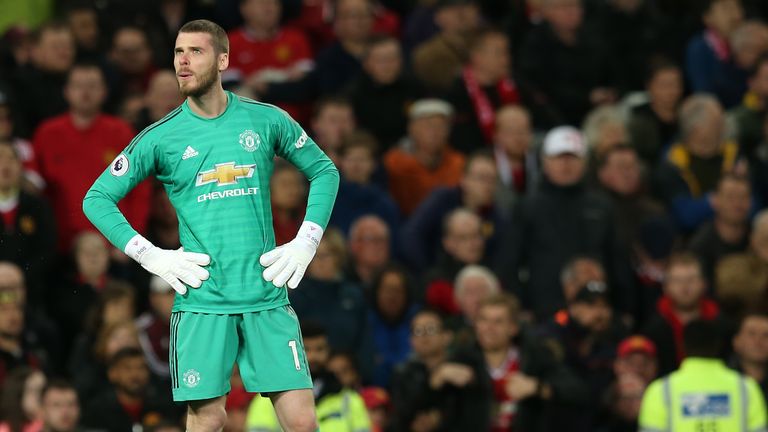 I'm not going to take him out of the firing line.
Solskjaer on De Gea
David de Gea will remain United's No 1 for that game and the remainder of the season despite coming under criticism for his performances against Everton and Manchester City.
The Spanish goalkeeper has been United's "best player of the last six or seven years", according to Solskjaer, and has not been affected by speculation about his contract - which runs out at the end of next season.
"David is fine, of course I'm not going to take him out of the firing line," he added.