Manchester United manager Ole Gunnar Solskjaer admits expectations are higher this season but insists he is "here to win" and challenge for silverware.
Solskjaer has faced fresh scrutiny after a 1-0 loss to Aston Villa in the Premier League on Saturday followed recent defeats by West Ham in the Carabao Cup and Young Boys in the Champions League.
The Norwegian, who signed a new three-year contract in July, was backed in the summer transfer window with the arrivals of Raphael Varane, Jadon Sancho and Cristiano Ronaldo as United look to win their first major trophy since 2017.
Solskjaer has overseen steady progress on the field and behind the scenes at Old Trafford, but those signings have now raised the bar and speaking on his latest podcast, Sky Sports' pundit Gary Neville said his former side must win silverware in the next 18 months and learn to play like a team if they are to challenge for the title.
Asked about those comments from his ex-United team-mate ahead of facing Villarreal in the Champions League on Wednesday, Solskjaer said: "He's always got loads to say, Gary! I'm used to Gary. He always said a lot when I was sat next to him as well in the dressing room.
"That pressure is a privilege. To work in this environment you have to embrace that pressure.
"I've got to say, yes I have been backed and the process has worked well. The backing I've got seems to me that we're sticking to that plan, but we're in a results business. We're here to win.
"We've improved. Expectations have improved with the signings, with the better performances. I'm here to win, don't think twice about that and Gary knows that.
"Of course, I speak to Gary as well and I know here at this club we have an obligation to win and we have an obligation to win in a certain style of play.
"Sometimes that's risky and you lose one or two. Lately we've lost one or two games, we changed the team in the Carabao Cup and you're out of the cup, that's the consequence, but we'll get there.
"Hopefully, we'll get there around April or May, challenging for the trophies we'd like to see back at Old Trafford."
Ole: Maguire could miss a few weeks
Solskjaer confirmed United captain Harry Maguire could miss a "few weeks" with a calf injury and is almost certainly ruled out of Wednesday's game against Villarreal, but left-back Luke Shaw could feature.
Maguire was substituted on 67 minutes of United's loss to Aston Villa on Saturday after going to ground holding his leg, while Shaw was replaced in the first half after pulling up and trying to play on.
Both players were absent from training on Tuesday morning and are continuing to be assessed.
"Luke has been in [on Tuesday], so I'll give him a chance to be involved on Wednesday," Solskjaer said. "He didn't train with the team.
"Harry is more or less definitely out. It doesn't look good. So, apart from that, from the bruised pride from the result, we should be ready to go."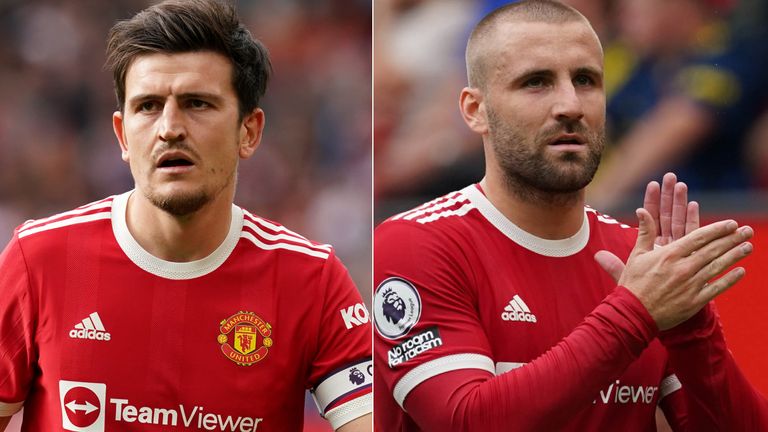 Pushed on Maguire's situation, Solskjaer added: "It's his calf. That might take a few weeks, so let's see how quickly he recovers.
"Of course he was hoping to play against Villarreal - he missed the last game we played against them (in the Europa League final in May)."
Aaron Wan-Bissaka will miss the match through suspension after he was sent off in United's shock 2-1 loss at Young Boys in the Group F opener earlier this month.
Marcus Rashford and Amad Diallo trained away from the main group on Tuesday as they continue rehabilitation from injury.
The severity of the injuries to Maguire and Shaw will be of interest to England manager Gareth Southgate ahead of naming his squad for the World Cup qualifiers against Andorra and Hungary on Thursday.
Varane: Man Utd are 'on the right road'
Raphael Varane is convinced Manchester United are on a "positive, upward curve" despite some poor recent results.
Solskjaer's side will look to bounce back from a run of three losses in four matches in Wednesday's match against Villarreal, with Varane confident it will prove to be just a blip.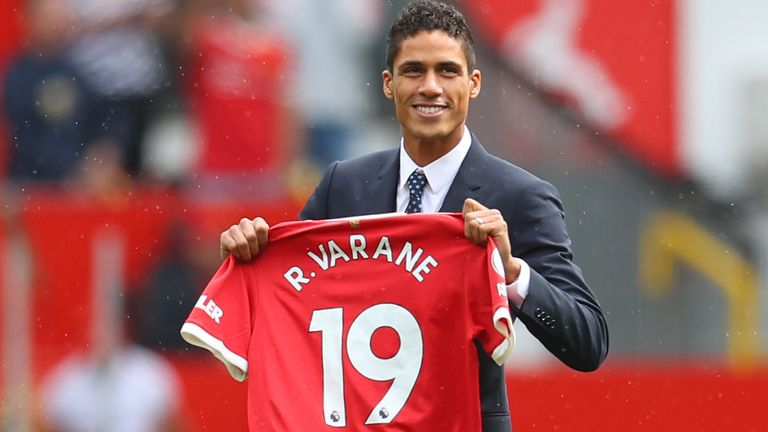 "What I've been able to see is, with my team-mates, there's a lot of quality in our squad, in our team," the France international said. "We've got huge potential, I'm convinced of it.
"We're working really hard, we're working well in training. I think we're improving all the time. Since the start of the season I think we're on a positive, upward curve.
"I think that there's talent, there's experience there as well. We've got everything you need to have that belief that you can do well.
"I think that's a really key issue - we've got to believe in ourselves, be convinced that we can do it, we have got to be ambitious, believe in our own potential and then I think you can achieve things when you do that.
"There's everything there in the right place. Just concentrate on the little details but keep believing and have that positive mentality.
"I believe that each time we go into a game, we go on that track and keep on that road of positivity, think on how we can improve in little details and then I think we'll be there. As I say, we're on the right road."
Emery: United should stick with Solskjaer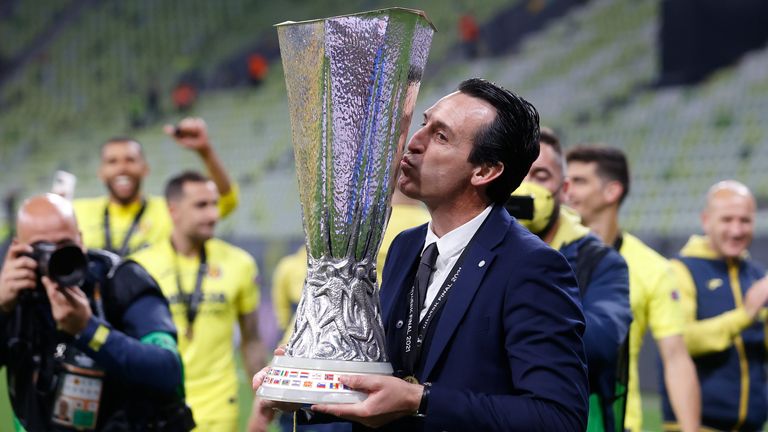 Villarreal head coach Unai Emery believes Manchester United should stick with Solskjaer as the sides prepare to meet for the first time since the Europa League final in late May.
United were favourites in that match, but Solskjaer's wait for his first trophy went on as Villarreal sealed glory in Gdansk, winning 11-10 in a mammoth penalty shoot-out after the final ended 1-1.
Solskjaer is under scrutiny, just as Emery was during his spell in England, but the former Arsenal manager says he should have the backing of the club.
"I've lived that when I was in Arsenal," Emery said. "Solskjaer is a former Man United player and a head coach, who has a lot of support and a lot of respect.
"Last year he was in the Champions League and got to the final of the Europa League. He has many challenges ahead this year.
"It is true [there have been] some negative results, but the management shouldn't change their mind about the vision they have about the head coach.
"What Solskjaer has done and what he stands for in Manchester United, we have to respect them.
"For us, they are the favourites but at the same time we have to find our competitive personality and we have to prove it tomorrow."
Sky Sports' Nick Wright: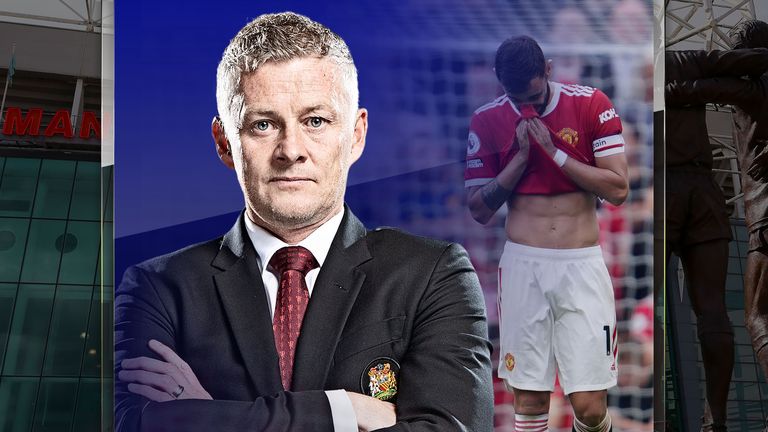 "When Bruno Fernandes's penalty sailed over the crossbar at Old Trafford against Aston Villa on Saturday, Manchester United's unbeaten start to the Premier League season went with it.
"After the euphoria of Cristiano Ronaldo's second debut, when he scored twice in United's 4-1 thrashing of Newcastle earlier this month, recent results have served as a reality check.
"United are still only one point off the top of the Premier League, the 1-0 loss to Aston Villa was not immediately costly in that sense, but the pressure is on after three defeats from four games.
"Wednesday's Champions League clash with Villarreal has taken on added significance after the shock defeat to Young Boys and, having also crashed out of the Carabao Cup against West Ham, Ole Gunnar Solskjaer has problems to solve ahead of a daunting run of fixtures which includes Liverpool, Tottenham and Manchester City."