Fergie attempts to unsettle City
Man Utd boss Sir Alex Ferguson has warned ManCity they could suffer an 'untold' impact if they lose the Premier League title race.
Last Updated: 13/05/12 9:18am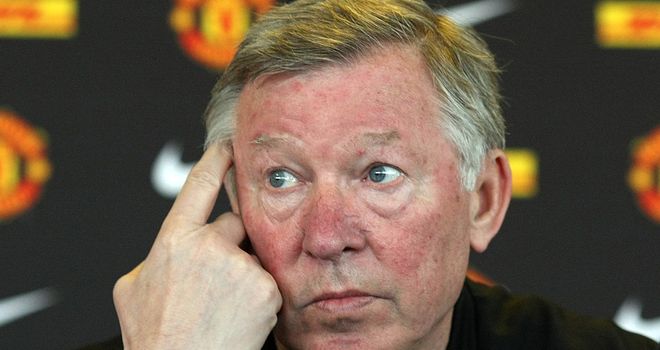 Manchester United manager Sir Alex Ferguson has warned Manchester City they could suffer an 'untold' impact if they lose the Premier League title race.
The derby rivals go into Sunday's final day of the season only separated by goal difference at the top of the table.
Leaders City host relegation-threatened Queens Park Rangers, while United travel to take on Sunderland at the Stadium of Light.
Ferguson has conceded it will take 'something stupid' for United to beat City to the title, but he has also attempted to undermine the confidence of his club's 'noisy neighbours'.
"City have got to win, but it's an enormous challenge for them, because the disappointment of losing the game would be unbelievable," said Ferguson.
"It's untold at this moment in time what affect it could have on them.
Agony
"It's fantastic for the neutral, fantastic for the media, but agony for both clubs, more so for City if they lose it."
Ferguson, though, has admitted City will have taken a huge stride forward if they manage to complete their title quest.
If City beat QPR at the Etihad Stadium, it would complete an achievement worth recognising for Blues boss Roberto Mancini, one that even Ferguson accepts goes far beyond merely assembling a squad at vast cost.
"To win the league is not easy," said Ferguson. "Many people underestimate how difficult it is to win the league.
"Of course, Roberto Mancini has had a big financial advantage over everyone, but you have still got to put a team on the pitch and pick the right players.
"The manager must take the most credit if you win the league over here, because when you have squads of players, trying to orchestrate the harmony in the place is very important.
"Making everyone feel they have played their part is not easy in the modern game. To win the league is a massive step forward for Mancini."
Ferguson also does not expect City to encounter the same problems in staying at the Premier League summit as Newcastle did under Kevin Keegan.
Romantic
The Magpies looked certain to clinch the title in 1996 after Keegan brought in some of the most exciting attacking players the Premier League had ever seen.
It was a flawed concept, though, as Newcastle's defence was not up to the task of keeping the opposition out.
Manchester United eventually surged past them and just two years later they were down in 13th spot.
But Ferguson does not see City suffering in a similar manner, even if they fail to clinch their first championship since 1968 on Sunday.
"Kevin was different," said Ferguson. "He was a romantic. He brought in so many attractive attacking forwards, (Les) Ferdinand, (Peter) Beardsley, (Faustino) Asprilla, (David) Ginola, (Philippe) Albert.
"It was a fantastic array of players. They were entertainers, but that was Kevin. He wanted to win at Newcastle with the most exciting team of all time.
"I always remember when he went to Belgium and won 5-0 away from home in a European tie (at Royal Antwerp in 1994), he said afterwards, 'We are invincible'. Dearie me.
"That was Kevin. He was such a romantic for the attacking part that Newcastle had at the time."