Giggs wants Becks reunion
Ryan Giggs would relish a reunion with David Beckham if they are both selected for the London Olympics.
Last Updated: 29/05/12 9:34am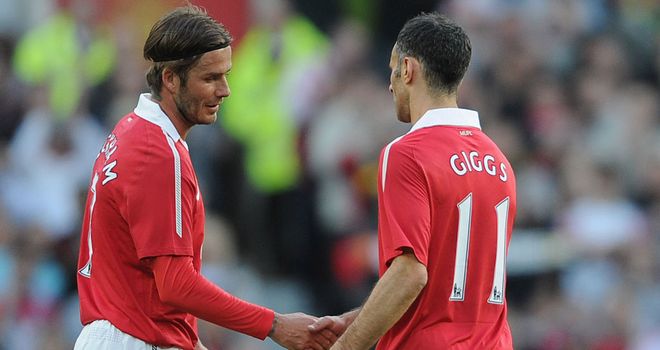 Ryan Giggs would relish a reunion with former Manchester United team-mate David Beckham if they are both selected to represent Great Britain at the London Olympics this summer.
Giggs is the only over-aged United player to have been made available for the Games by manager Sir Alex Ferguson, with the Welshman having never played at a World Cup or Euros.
The 38-year-old has made no secret of his desire to feature at the Games and says the chance of linking up with old team-mate Beckham makes the prospect even more attractive.
Reunion
He would be happy to roll back the years and play alongside 37-year-old Beckham, now at LA Galaxy, for the first time since he quit Old Trafford for Real Madrid in 2003.
He said: "I don't think it'll be like 20 years ago when we were both up and down! We might be able to get up but we won't be able to get back down again.
"Becks is obviously a friend and he's a great player and still remains that so if that was to be it'd be great.
"Obviously I started my playing career with Becks playing the youth team. Twenty years later to be still doing that it would be great. We'll have to wait and see."
Team GB coach Stuart Pearce will be allowed to pick three players over the age of 23 in his 23-man squad.
Giggs has already put himself forward and is hopeful of making the cut after missing out on playing at a major tournament with Wales.
He said: "I've put myself forward to be involved with the Olympics. Whether I get picked we'll have to wait and see.
"Obviously everybody is excited about it, about the Olympics coming to London and coming to different parts of Britain so yeah I'll have to wait and see.
Experience
"I've spoken to Stuart Pearce but I think the majority of players have. I'd love to be involved and hope I will be.
"I've not played in a tournament so to do that it would be nice to do that to be involved in a tournament atmosphere because I've never experienced that.
"People are going to have different views on the Olympics and Team GB. My view personally is I want to be involved and I want to be involved in the tournament atmosphere. If it happens it happens if it doesn't so be it."