Manchester United midfielder Michael Carrick flattered by Paul Scholes comparison
Michael Carrick has hailed the influence of Paul Scholes and admits it is an honour to be compared to him.
Last Updated: 25/02/13 11:26am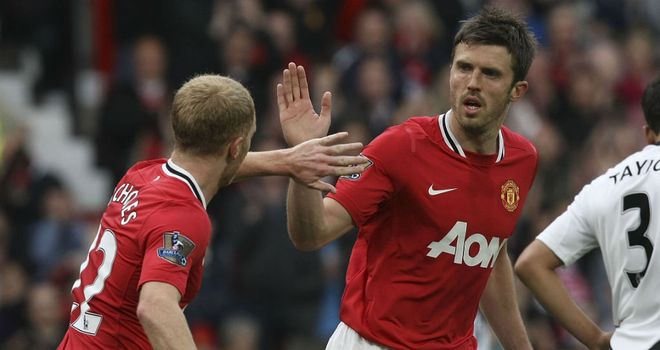 United won 2-0 at QPR on Saturday and their fans serenaded Carrick with a song likening him to Scholes.
"Scholesy is a legend, so I don't know whether it is tongue-in-cheek but it is a nice song and I will take that," said Carrick.
"It is always good to be compared to players like that. Paul is as good as it gets and has been throughout his career.
"To train alongside him and have the chance to learn every day has been something I have tried to make the most of.
"It has helped me bring my own game on whether he knows it or not and that has been a big help."
Scholes himself has also placed on record his admiration for Carrick, describing his fellow midfielder as a "Rolls Royce" of a player.
Carrick believes it is that kind of mutual respect in the camp that has helped forge such a strong bond between them.
"It shows the respect there is within the squad for each other's game," added Carrick.
"We all have different qualities and we all want to help each other to be successful."