Sir Alex Ferguson says Manchester United do not fear Real Madrid's Cristiano Ronaldo
Sir Alex Ferguson has paid tribute to Cristiano Ronaldo but insisted Manchester United will not worry about him.
Last Updated: 05/03/13 6:56pm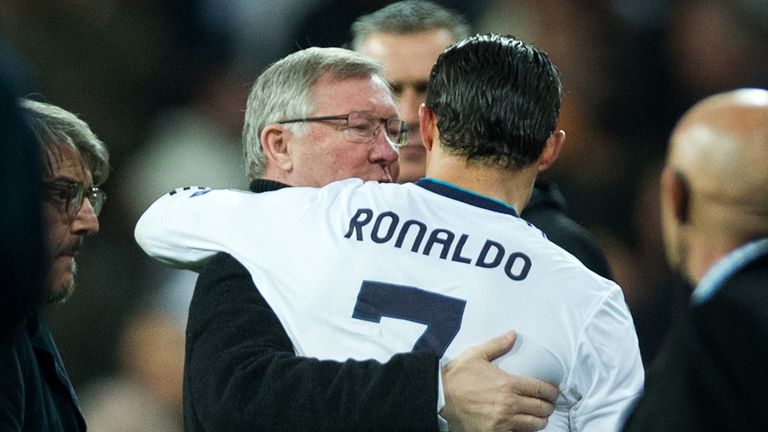 The United boss is well aware of the danger his former player poses, but has warned his side against becoming overly preoccupied with the Portugal international, who scored Real's goal in the first leg three weeks ago.
Ferguson wants United to concentrate on their own game as they bid to take the attack to Real and clinch progression to the Champions League quarter-finals after a 1-1 draw in Spain.
"(Cristiano) Ronaldo is a supreme athlete. He never misses a game, has fantastic physique, two great feet, pace, he is good in the air," Ferguson said.
"My biggest concern is if he turns up because you expect problems. We have to try and curtail that as best as we can. It won't be easy because he does it every week.
"But it isn't something we should fear. If we go in worried about the damage Cristiano can do we forget what we can do ourselves."
Real Madrid come into Tuesday's game following successive wins over fierce rivals Barcelona - a 3-1 win in the second leg of their Copa del Rey tie and a 2-1 victory in La Liga.
"Real have had two fantastic performances against Barcelona," added Ferguson, whose own side are 18 games unbeaten after Saturday's 4-0 win over Norwich. "I was there for the first one when they were superb. They have found form at the right time for a game of this nature.
"Our form has been consistent for quite a while, which we need for tomorrow night's game also."
Ferguson is relishing the visit of the Spanish champions and is confident that the fixture will live up to the pre-match hype.
"I think there will be goals," said the United manager. "I think both teams will score, but we have to think we can score more than them.
"There has been a massive build-up. You can see from the number of photographers at the training ground today - that is an indication of how important a game it is for both clubs.
"It's an occasion you always want to have and that's the beauty of the Champions League, you have the opportunity each year to play against one of the big teams from Europe. It is one of the biggest.
"I think both teams are in form. Real had two fantastic performances against Barcelona and found form at the right time for a game of this nature. Our form been consistent for quite a while which we need on Tuesday."
Meanwhile, Ferguson is crossing his fingers that he does not have reason to lament the performance of Turkish referee Cuneyt Cakir at Old Trafford.
"You hope in a game of this nature that you are going to get the best refereeing performance, on the same level as the players on the pitch," said Ferguson.
"Mistakes will be made by players and the referee but you hope it will be a top performance.
"You hope to get nothing less than the best. An occasion like this deserves that."