Premier League: Manchester United striker Robin van Persie ruled out for a month
Manchester United striker Robin van Persie will be out for a month with a thigh injury.
Last Updated: 14/12/13 4:25pm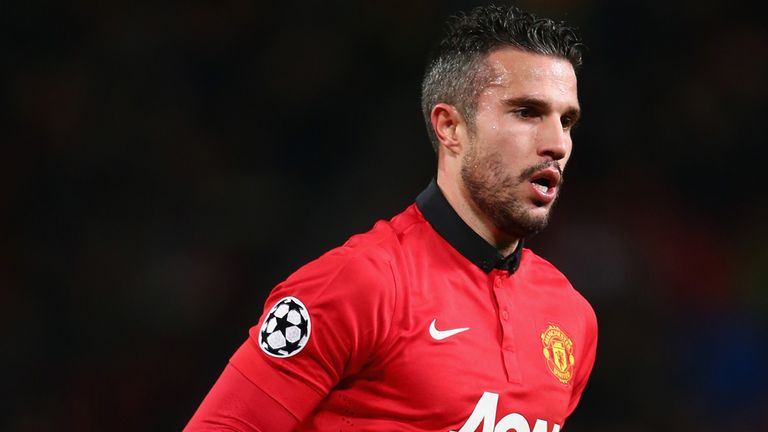 Boss David Moyes confirmed Van Persie suffered the injury when he took the corner which led to Phil Jones' goal in the 1-0 Champions League victory over Shakhtar Donetsk on Tuesday.
"Robin van Persie is out for a month," said Moyes, who has a number of injury problems going into this weekend's game with Aston Villa.
"It is unfortunate because I think if you look at our record with Wayne Rooney and Robin in the team it is actually very good and we have not had them for quite a period recently.
"Marouane Fellaini has a bit of a back injury. Michael Carrick is missing and Robin is going to miss four weeks with a thigh strain. That is a big blow to us."
Goalscoring responsibility will now fall to Rooney who has been in great form this season despite United's problems. Rooney is edging towards Bobby Charlton's club scoring record of 249.
Rooney will clock up 500 first-team appearances (including with Everton) on Sunday and Moyes thinks that, at 28, the England international is getting better.
"There are big things ahead for Wayne and some big targets ahead - he can break Sir Bobby's record," Moyes said.
"As he gets older, he's adaptable and such a good football player. If he gets older and loses his pace, he can play a bit deeper. There are some fantastic legends around this club and Wayne has got a chance of turning out as one of them.
"He's been in the game a long time already but is someone who can go on and play many, many more games."
Nemanja Vidic, Patrice Evra and Chris Smalling were also sidelined for the Shakhtar game, while United have suffered back-to-back Premier League defeats against Everton and Newcastle, but Moyes is staying positive about the situation.
He said: "I have no doubt it will get better. I am sure we have plenty of players who can cover it and we don't miss them too much."
While Moyes does have alternatives to Van Persie, in midfield his squad has been left bereft by the absence of Michael Carrick, who has been sidelined for a month with an Achilles injury.
"I do (feel United have felt Carrick's loss)," said Moyes.
"We need him for his creativity. We have missed him for lots of other reasons as well. It is important.
"We were looking for a couple of midfield players in the summer. We weren't able to get two. We got one.
"We needed one who could give us something else if we did get an injury to Michael or one who could have played with him.
"We have definitely been a little bit short in that area. Hopefully he is not too far away and he will be back in a couple of weeks."