Moyes sets the tone
Manchester United have left themselves plenty to do after a miserable 2-0 defeat away to Olympiakos in the first leg of their last-16 Champions League tie. The result piles further pressure on David Moyes and Adam Bate feels the manager must take the blame for this latest failure.
By Adam Bate
Last Updated: 25/02/14 11:44pm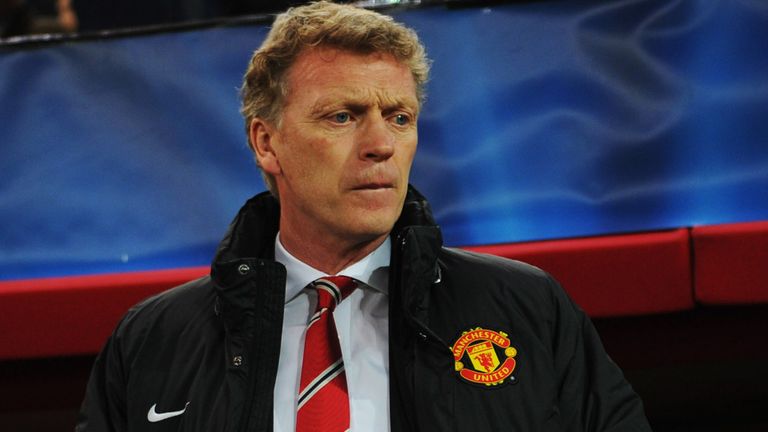 After witnessing Manchester United's woeful display in Athens on Tuesday night, curiously, it was the recent comments of former player Tim Howard in praising Everton manager Roberto Martinez that sprang to mind. Evidently, the experienced goalkeeper has been inspired by the positive attitude of David Moyes' successor at Goodison Park.
"No matter what game we go into," said Howard, "the focus has not at any point this season been on the other team - it has always been about us. You have to do this 40 weeks of the year, it is nice not to come into work every day thinking 'Oh, that's looming ahead'. The manager keeps us bright and bubbly and focused on ourselves. Not always having to look over your shoulder at who is coming next is good. We work on ourselves and it's a difference."
It certainly seemed very different to the United team that walked out to face Olympiakos in the first leg of their last 16 clash in the Champions League. The game was Moyes' first in the knockout stages of the competition and there were clues to his outlook in the pre-match interview. Fans of Moyes bingo were in business. Tough place to come. Check. Be compact. Check. Be hard to play against. Check. There was even a warning to watch out for the Greek side's adventurous free-kicks.
Clearly the United boss had done his homework but the focus felt negative. The plan seemed to be to play with little tempo in the hope of keeping the vociferous home support quiet. This was about stopping Olympiakos and nicking the away goal. Get it right and it's called a professional European performance. Get it wrong and it can be interpreted as more of the same from a Moyes - an overly-cautious approach from an inexplicably cautious manager.
Context
A little context: This is not a good Olympiakos team. It's 15 years since the club from the Piraeus reached the quarter finals of the Champions League and this vintage is far from their best. It's not even as good as last month's version with Kostas Mitroglou, the prize asset who was sold to Premier League bottom club Fulham. Even last week's incarnation with a fit Javier Saviola can be considered superior. Accepted wisdom was that they were the weakest side left in the draw.
Indeed, when Borussia Dortmund scored two early goals in St Petersburg earlier in the evening, the aggregate tally stood at 11-0 in favour of the seeded teams among the last 16 despite the underdogs enjoying home advantage each time. Trust United to bust the narrative. And against a side they'd beaten in their previous four encounters. Praise the Greeks, but do not doubt United were the architects of their own demise.
Their work was sterile and without purpose. With Juan Mata cup-tied and Adnan Januzaj omitted from the squad, it was left to Antonio Valencia and Ashley Young to provide their particular brand of one-dimensional invention from wide. In truth, conspicuously under instruction, they operated narrower than usual. But for the ploy to succeed in an attacking sense, it required nominal full-back Chris Smalling to get forward with gusto - a role in which he's seldom appeared comfortable.
As a result, with Michael Carrick and Tom Cleverley sitting deep and offering neither protection nor penetration, getting star striker Robin van Persie into the game proved something of a chore. The Dutchman had just 12 touches in the first half - fewer than any player on the pitch - and if that seemed a problem worth solving, there was little evidence of any intent to do so after the break. He managed only 12 more touches, albeit spurning United's only chance of note in the process.
That skied effort offered some semblance of an excuse for Moyes and the apologists who cling desperately to the view that the prophecy of the Chosen One can still be fulfilled. Perhaps the opening goal could be dismissed as fortunate but that would be doing the excellent Alejandro Dominguez a disservice as his first-half effort was more deft flick than deflection and reflected the balance of play if not possession.
After all, while United had the ball - 60.6 per cent of it in the opening 45 minutes - it was the home side that fashioned the chances. Only a Nemanja Vidic block had prevented Dominguez scoring earlier. Carrick spoke afterwards of "controlling the game without penetrating through their lines and causing them any problems" and the assessment was rather more accurate than some of his side's passing. This was a group of players lacking any conviction in their work.
Anyone expecting a half-time rollocking in the dressing room to result in a positive response was to be disappointed. "We didn't start the second half well," added Carrick. "It was a bit sloppy really." Understatement. United retreated from kick-off and Cleverley's misplaced pass set the tone. A lazy foul by Van Persie followed and when a quick free-kick from Wayne Rooney put Cleverley in trouble shortly afterwards, it was Carrick who surrendered possession. It was a mess.
And so, it felt entirely appropriate that Joel Campbell should double the lead 10 minutes into the second half. The finish was impressive, bending the ball low into the far corner, but a weak challenge from Carrick preceded it and for all the quality of the strike it only served to hammer home the point that the visitors were there for the taking. The only factor preventing a more handsome win for Olympiakos was the paucity of their own ambition - shown by coach Michel's questionable decision to invite pressure by withdrawing both scorers late on. It stayed 2-0.
So where do United and Moyes go from here? Questions will continue to be asked of the players. Moyes himself spoke of the Champions League finalists among the group but that feels something of a misnomer. Rio Ferdinand continues to look desperately poor and in need of the sort of Hawthorns-epiphany that struck Gary Neville, while Vidic's farewell tour might not fare so well. In truth, it feels cruel to suggest Moyes has the same tools just because the names are the same.
And yet, there is no excuse for plumbing these depths. The much-maligned midfield four of Valencia, Carrick, Cleverley, Young won at both Chelsea and Manchester City just last season. Meanwhile, one can only imagine how Sir Alex Ferguson would have revelled in having Juan Mata and a maturing Adnan Januzaj at his disposal. No, this United regression is one of style as much as personnel - no fluidity or creativity to their play in spite of, rather than because of, the players.
This is a shell. A zombie Manchester United. As such, any optimistic talk regarding the second leg of the mystique surrounding this famous old club on magical nights seems similarly hollow. "We'll need the crowd," said Moyes. "We'll need everyone behind us at Old Trafford. It will be a big game for us. We've done it in the past and we'll try to do it again." We're reading from the Liverpool phrase book circa 1992 here.
Don't rule it out, of course. Olympiakos might not have the nous or quality to see this through. But it's hard to convince yourself that a dramatic turnaround would constitute 'typical United' anymore. Yes, we have seen those comebacks before. But like Tim Howard says, things were different then. And David Moyes wasn't the manager of Manchester United.