Premier League: Neil Adams wary of United response at Old Trafford
Norwich manager Neil Adams is trying to focus solely on his own team rather than the upheaval at Manchester United.
Last Updated: 26/04/14 4:38pm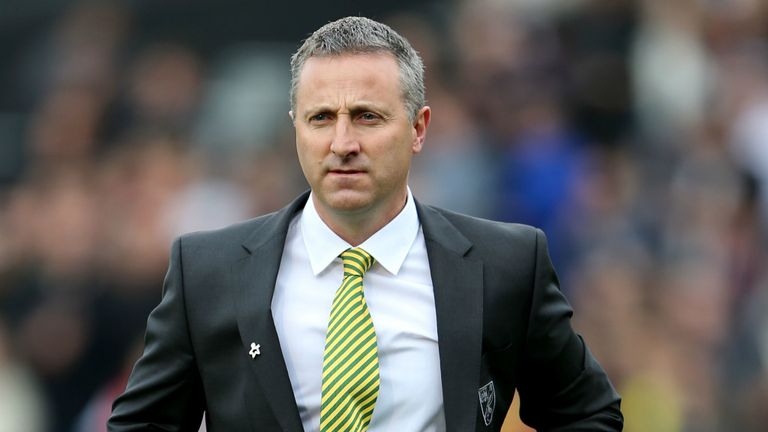 Adams is aware the home crowd will be determined to lift their team after a turbulent week, with the sacking of David Moyes followed by the appointment of fans' favourite Ryan Giggs as interim boss.
Norwich go into the game just two points above the relegation zone, and they then face a trip to Chelsea and a home clash with Arsenal in a daunting run-in.
Adams, who succeeded the sacked Chris Hughton two weeks ago, said: "Obviously, I feel very sorry for David. It's never nice when managers lose their jobs.
"I'm not too fussed over what time it's come. We've just got to deal with it.
"There will be a lot of speculation - is it beneficial for us? Is it going to be a hindrance?
"It is what it is. We're playing a good team, with good players who have probably not done as well as they would've liked this season, hence what's happened this week.
"You're naturally going to see a reaction. The crowd will be up for it.
"Ryan Giggs is a huge fans' favourite at Man United, he's won everything there is to win at domestic level, and he's one of the best players the club has had.
"Naturally there's going to be a reaction from that. It's something we've prepared for and have to be ready for."
Adams has overseen defeats to relegation-rivals Fulham and leaders Liverpool since replacing Hughton, but defender Steven Whittaker has been impressed with his approach to the role.
"I hope he is the manager here next season," said the Scotland international. "A lot of the boys had a boost, training's been a lot higher tempo than before and that's taken it into the games as well.
"I think there's been a big change the way we're playing, the positive approach that we've got and he's got is rubbing off on the boys and hopefully we can get the results.
"We've done well in the two games he's been in charge of so far, but the results haven't quite matched the performances, so that's something we're looking to improve on.
"We've got the performance, but without getting the points on the board that can push us up the league a little.
"Three points in this division's massive and it's still tight down there. We could go up a couple of positions with one win.
"We've taken confidence out of the last two games, even though the results haven't gone our way. We believe we can pick up points, hopefully enough to stay in the division.
"We're looking to start the game well, how we did in the second half against Liverpool. We got in their faces and when we did that we put them under a bit of pressure.
"If we had started the game like that the result might've been different. We need to make sure that we're like that for the 90 minutes."
But Whittaker also echoed the thoughts of Adams over the appointment of United legend Giggs to replace Moyes until the end of the season.
"It might give the players a lift, but we need to concentrate on what we're doing," he added. "We would do our homework on the team that's played the weeks before, but it's going to be different.
"It's hard to know what's going to come at us, but they've got quality players so it's going to be hard no matter what."