Sky Sports News HQ reporter Vinny O'Connor meets Memphis Depay and finds a man out to become a Manchester United legend...
The shrieks of excitement as children ran through a fountain on another scorching day in downtown San Jose were more than matched, over the road, by the Manchester United fans gathered outside the team hotel.
As they waited behind barriers for a glimpse of the players, the chance of an autograph and a selfie, they talked of finding the new Ronaldo in Memphis.
Memphis Depay wants to be known by his first name. In two first halves of football he's already scored his first goal for his new club. That might be a bit premature to draw comparisons with Ronaldo, but, as Memphis readily admits, his aim is to achieve legendary status at Old Trafford.
"I'm honest - of course I want to be a legend," he said. "I will put pressure on myself to play good every game. I'm still young, I have to improve, the Premier League is different so we will see.
"I have to do my job, so then yeah, maybe in time I can be a legend. But to have those positive sounds from the fans and the legends that talk about me, I'm grateful for that."
While other clubs were interested Memphis made it clear, as soon as he knew Manchester United were in for him, he wanted to follow the example of Ruud van Nistelrooy in making the switch from PSV Eindhoven.
The two have spoken briefly about the move, giving Memphis a clearer idea of exactly what he's taken on. To become a legend you have to deliver success and he's quite clearly not one to shy away from big expectations. When asked if it's realistic to be part of a title-winning side in his first season his answer was emphatic.
"It's realistic! We are Manchester United!"
And the foundation for potential success is the team spirit being forged here on the West Coast of America.
"It's given me a good feeling that's important because I'm new. It also gave me a nice feeling to score that first goal for Manchester United and I hope to score more goals in the future.
"We have great quality. We are getting in good shape for the real competition the Premier League, Champions League, the cups, so we have to continue."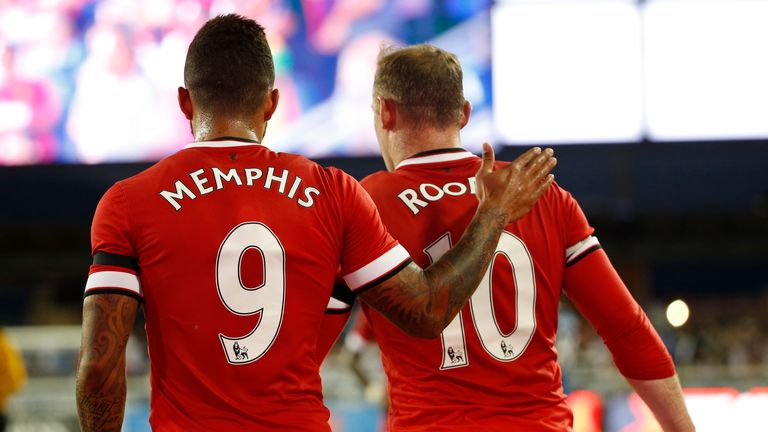 With Louis van Gaal potentially favouring a 4-3-3 system this season, rather than playing out wide all the time, Memphis may also operate as the main front man if Wayne Rooney is unavailable for any reason.
Rooney is targeting 20 plus goals this season. Memphis on the other hand doesn't set himself targets, he just has little doubt that Van Gaal, who gave him his international debut, will get the best out of him.
"He's a great, great manager. He can make players a lot better. I feel I will be a better player every time I train with him. I feel stronger, that's one of the things he can really do to you."