Leicester City boss Claudio Ranieri called to say thank you, says Guus Hiddink
By Oliver Yew
Last Updated: 03/05/16 12:15am
Guus Hiddink revealed Leicester manager Claudio Ranieri called him to thank Chelsea for their role in handing the Foxes the Premier League title.
Ranieri, who was sacked by Chelsea owner Roman Abramovich in 2004, guided the Foxes to a remarkable title success, sealed when Tottenham conceded a two-goal lead to draw 2-2 in a bad-tempered clash at Stamford Bridge.
Chelsea interim boss Hiddink said: "I got a call from Ranieri. He called and thanked us for what we did, especially the second half, and I congratulated him for being champions.
"He said five times 'thanks', because of the emotion. I didn't see any tears because it was not a Facetime conversation, but his voice was trembling a bit."
Hiddink also took time to pay tribute to the newly crowned Premier League champions.
"A lot has been written about this and it is a fairytale story," he added.
"What is admirable in Leicester, despite not being favourites, bit by bit they were written towards the championship then normally you get reactions of implosions and that they didn't do.
"There was no tension when they started smelling the title. That's why I think they deserve it highly."
Chelsea captain John Terry also praised Leicester and their manager Ranieri, whom he worked with during the Italian's time at Stamford Bridge.
"He's (Ranieri) been different class," Terry told Sky Sports. "I spoke to him pre-season and wished him well.
"To do what he's done this year has been unbelievable and has given hope to all the smaller sides.
"Credit to Claudio, he's a great manager, a great person.
"Congratulations to all their players because all season long everyone has been saying they will lose the next one and they've kept winning and churning out results."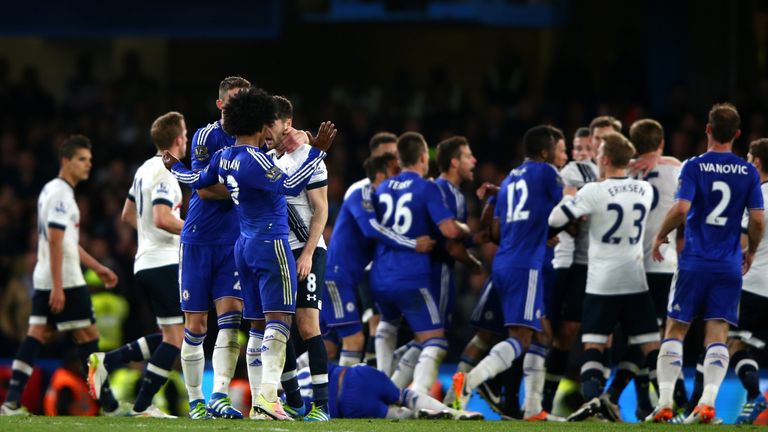 Chelsea surrendered the Premier League crown they won last season to Ranieri's men following the 2-2 draw at Stamford Bridge, but Terry insists the Blues, who will be led by Antonio Conte next season, will be back in the hunt for the title.
He said: "It still hurts us that we have lost the trophy we won last year. We have been disappointed not to retain it. 
"That hurts us having to hand the trophy over to Leicester, credit to them they have been superb, but we have not been good enough and we will be back next year."