John Terry left the Liberty Stadium on crutches after Chelsea's 2-2 draw with Swansea on Super Sunday.
The Blues captain appeared to roll over on his ankle in the final minute of the action-packed stalemate in Wales.
He hobbled through the closing stages, and managed to header a Swansea attack clear, but he appeared to make sure he landed on one leg after making the clearance.
Terry was grimacing and immediately dropped to the turf upon the final whistle to receive treatment from Chelsea's medical staff before leaving the stadium on crutches with his ankle strapped.
Chelsea face Liverpool on Friday Night Football next week, live on Sky Sports 1 HD. Antonio Conte is confident Terry will be fit to take on Liverpool but said more about the defender's condition would be known on Monday.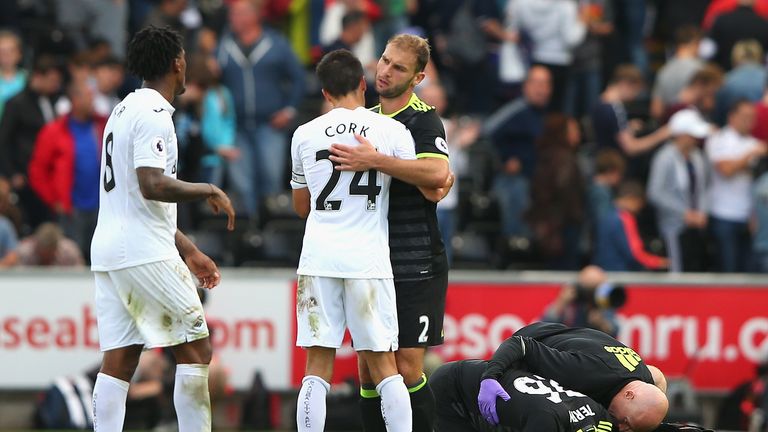 "I don't know the extent of the injury but tomorrow we will see the situation about his ankle," he said. "But he is a warrior and I am not worried."
On Tunnel Talk, Sky Sports pundit Alan Smith said the injury might calm down over the next few days if it is not too serious.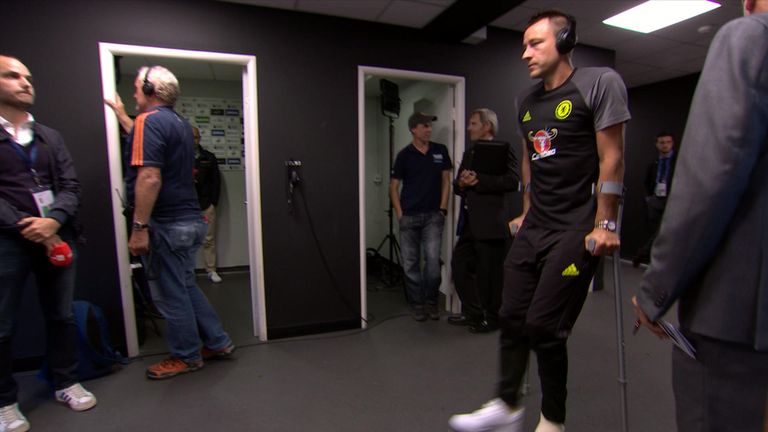 "If it is long-term it's a blow. They've obviously got a couple of centre-halves with Kurt Zouma on the way back and, of course, David Luiz recently signed," he said.
Live Friday Night Football


"Those little twisted ankles, they are painful at the time. I did it enough myself and they can calm down in 48 hours or so. They are heavily icing it, I imagine, and hopefully he won't be out for too long.
"He's got it heavily strapped but it's not in a boot which is a bit more of a serious sign. Hopefully it's just a little sprain and not something that's damaged the ligaments too much."