Chelsea beat Stoke to extend winning run to 13: Outright record looms
Last Updated: 01/01/17 11:44am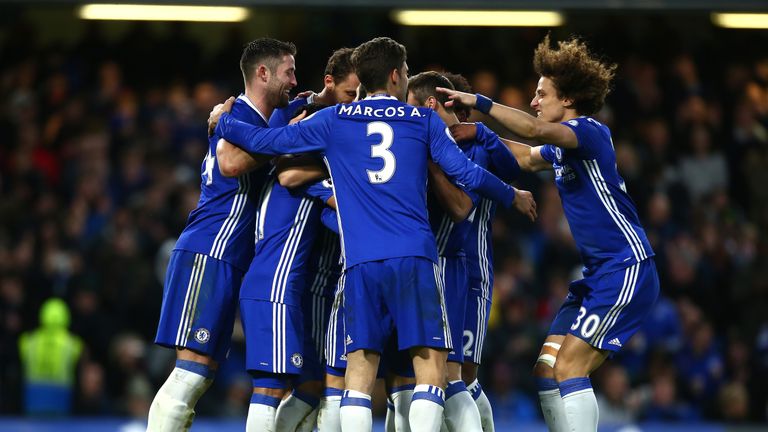 Chelsea won yet again on New Year's Eve but can they break the Premier League record?
The 4-2 win over Stoke at Stamford Bridge extends their sequence of Premier League wins to 13 this season. That now equals the most wins that any team has managed in a single Premier League season.
Antonio Conte's team have already eclipsed Chelsea's previous best of 11 wins in a row, but one accolade still eludes them - they need one more win to equal Arsenal's record of 14 consecutive victories picked up over two seasons in 2002.
If Chelsea are to match that feat they will need to get the better of Tottenham, live on Sky Sports 1 HD this Wednesday. To beat the Premier League record and set a new mark of 15 wins in a row, they will need to go to Leicester in mid-January and win there as well.
Here we take a look at where Chelsea's achievement ranks in Premier League history…
Chelsea's best winning runs in the Premier League
| Games | Start | End | Manager |
| --- | --- | --- | --- |
| 13 | Oct 16 | --- | Antonio Conte |
| 11 | Apr 09 | Sep 09 | Carlo Ancelotti |
| 10 | Nov 05 | Jan 06 | Jose Mourinho |
| 9 | Aug 05 | Oct 05 | Jose Mourinho |
| 9 | Jan 07 | Apr 07 | Jose Mourinho |
Best Premier League sequences in a single season
| Team | Season | Wins | Manager |
| --- | --- | --- | --- |
| Chelsea | 2016/17 | 13 | Antonio Conte |
| Arsenal | 2001/02 | 13 | Arsene Wenger |
| Liverpool | 2013/14 | 11 | Brendan Rodgers |
| Man Utd | 2008/09 | 11 | Sir Alex Ferguson |
| Man Utd | 1999/00 | 11 | Sir Alex Ferguson |
Best winning runs in Premier League history
| Wins | Team | Start | End | Coach |
| --- | --- | --- | --- | --- |
| 14 | Arsenal | Feb 02 | Aug 02 | Arsene Wenger |
| 13 | Chelsea | Oct 16 | --- | Antonio Conte |
| 12 | Man Utd | Mar 00 | Aug 00 | Sir Alex Ferguson |
New customer winter madness offer: save over 40% on your Sky Sports Month Pass, just £20