Iconic Italian striker Fabrizio Ravanelli is a former club and international team-mate of Chelsea manager Antonio Conte and is convinced his compatriot is set to win the Premier League title. Adam Bate caught up with him to find out why he is so sure…
"They will definitely win the Premier League," says Fabrizio Ravanelli. He is a relaxed and engaging interviewee but there is no room for ambiguity when it comes to his opinions on Antonio Conte's Chelsea. His mind is made up and a serious look falls upon his face.
"I am sure because Chelsea has a fantastic team and is a fantastic club," he adds before pausing for dramatic effect. "But mainly I am sure because of Antonio. All of his teams have the same mentality. You see it. On the pitch they try to win every duel with their adversary.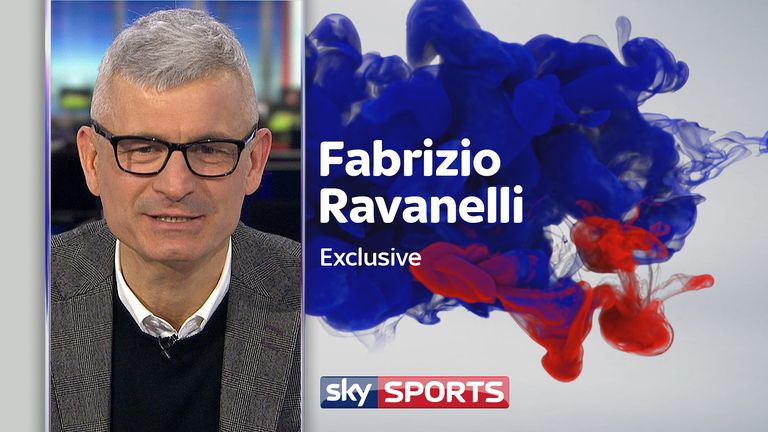 It's the Antonio mentality. He watches hours of video, loves studying tactics and has this amazing ability to get his ideas onto the pitch.
"I went to Cobham recently and saw the organisation at the training ground. It's the Antonio mentality. He watches hours of video, loves studying tactics and has this amazing ability to get his ideas onto the pitch. It is not easy to do that but he gets the best from every player."
Ravanelli, the White Feather, is looking as fit as ever having now grown into his trademark look. He knows very well where Conte's character was forged. The two spent four seasons together at Juventus. They won it all but were far from superstars in the dressing room.
Roberto Baggio was the team's top scorer and already a legend in the making by the time that Ravanelli arrived in 1992. Most of the fanfare was reserved for expensive new signing Gianluca Vialli. Meanwhile, Paolo Di Canio and Pierluigi Casiraghi were already at the club.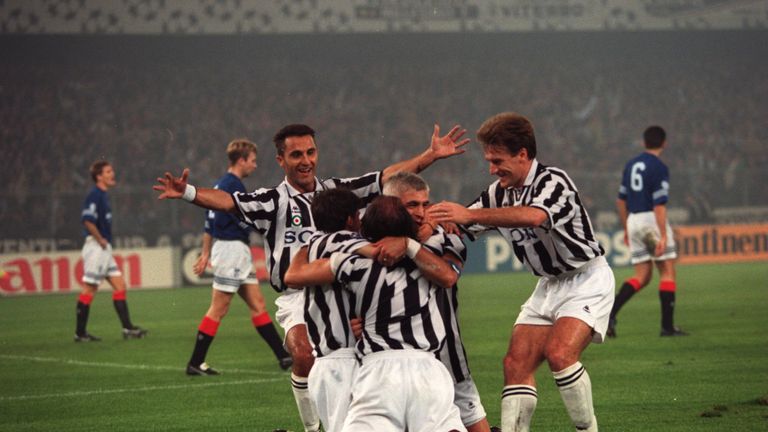 It was little easier for Conte trying to make his way as a youngster in midfield, a functional figure compared to some of the competition. That summer alone he had to contend with new arrivals Andreas Moller and David Platt adding to the competition for places.
And yet, both men found a path for themselves. Four years later it was Ravanelli scoring in Juve's Champions League final victory with Baggio and others having been seen off. Moller and Platt were long gone too. Conte was still there controlling things in the centre.
"In that period we won the Italian league, the Champions League and the UEFA Cup," says Ravanelli. "You have to remember that Juventus were a fantastic team that wanted to win every competition. To do that every player has to be a very strong character.
"When you are at a big club, the competition is not on a Saturday it is in the week. The training every day is a competition and you have to be at your maximum. Antonio worked hard in every training session. This is important if you want to achieve your goals.
"He was a fantastic player, a fantastic man, and a very professional guy. That was very important for him and for us as a team. Antonio was not someone who talked all the time in the changing room. But when he talked you knew about it and you listened."
Conte was a listener too. He would later write a thesis - La personalita dell'allenatore - examining the psychology of the football coach and he certainly had the chance to learn from the best, enjoying club success under Giovanni Trapattoni and Marcello Lippi.


But it was the man who gave the pair their international debuts for Italy who Ravanelli rates above all others. "Arrigo Sacchi, for me, is the best manager," he explains. "He changed the mentality of the Italian coach. He used the offside trap and introduced the back-four.
"This was a big revolution in Italian football. He played very attacking football and this was very surprising when it was common to play with just one striker. After that there were the likes of Marcello Lippi and Fabio Capello, but it was Sacchi who changed it all."
Now Conte is changing things at Chelsea. Having inherited a side that had scrambled into the top half under Guus Hiddink last season, he has turned them into a team that is currently clear at the top of the table thanks to a record equalling 13-game winning run.
Ravanelli on Diego Costa
"It is great if you have a striker with the characteristics of Diego Costa. He scores the goals but he is also the first defender for Chelsea. He does a lot of pressing. I had those same characteristics. When I was playing, I'm sure Antonio the manager would have loved me!"
It took some tweaks to turn it around. Notably, a formation change to 3-4-3 that sparked a dramatic upturn in results. "Antonio is the best at this," says Ravanelli with a smile. "He understands very quickly what the possibilities of the playing squad are tactically.
"For example, at Juventus he liked to play 4-2-4. But to do this you need very strong players on the left and right of midfield. Once he understood what fantastic defenders he had in Leonardo Bonucci, Andrea Barzagli and Giorgio Chiellini he switched it to play 3-5-2."
Ravanelli was a youth coach at Juventus during Conte's reign - "I enjoyed it very much" - and it is worth remembering that while the club has become serial winners of Serie A since then, that was not the case in 2011 when he took over in Turin.
"Before he arrived, Juventus were not doing well," adds Ravanelli. "They had finished seventh, which was unacceptable. He made them understand what Juventus is. He changed the mentality of the players and focused them on the need to win every game."
It is this relentlessness that has become a feature of Conte's coaching career. Promotions with Bari and Siena. The 49-game unbeaten sequence in Serie A with Juventus - "that's when I realised he could be one of the great managers" - and now the form of Chelsea.
Put simply, when Conte is on a roll, there is no let up. It's ingrained in him. It's why Ravanelli is so sure. It's why he is convinced the title race is over. "This is what you are seeing now at Chelsea," he adds. "Every player believes in the coach. They believe in Antonio Conte."