Diego Costa's Chelsea legacy: Two titles, 59 goals and lots of fireworks
Last Updated: 22/09/17 1:28pm
Two titles, 59 goals and lots of fireworks - assessing Diego Costa's impact at Chelsea and the task facing successor Alvaro Morata...
So it ended in acrimony. Of course it did. Diego Costa's Chelsea career dies as it was lived, after antagonising his opponents, pushing everything to its very limit. Playful off the field, he nevertheless revelled in his role as an on-field bully throughout three tumultuous years of extraordinary highs and lows. He leaves in a huff - back to his beloved Atletico Madrid for over £50m - but with two titles to his name.
Costa's role in those triumphs can hardly be overstated. The man Jose Mourinho admitted he was waiting for, did not wait too long himself before tucking into the league's defences. The striker crashed home seven goals in his first four games, an introduction from which the only conclusion to draw was that he had transformed Chelsea into champions-elect.
The understanding forged with Cesc Fabregas was instant, his international team-mate, the creator to Costa's penalty-box predator. Seen as a blunt instrument, there was underrated subtlety to his work too. A deft flick caressed over the head of Arsenal goalkeeper Wojciech Szczesny. The neat finishes with either foot in the stunning 6-3 thrashing of Everton.
A menace with the ball, Costa will also be remembered for his malevolence without it, although it was rarely clear whether he was truly out of control or merely revelling in life on the edge. There were 31 yellow cards but only one red. But Chelsea's deal with the devil was underlined in his second season when Costa returned in poor shape for the title defence.
With his form perceived as a factor in Mourinho's demise, Costa would not have been the first to make a big impact only for things to turn sour. When he greeted Antonio Conte's arrival with news of his intention to leave, that might have been that. Instead, he proceeded to fire the Blues to another title and became a two-time Premier League champion.
Conte was the catalyst, his formation tweak coupled with N'Golo Kante's arrival heralded as key factors in Chelsea's success. But there was the small matter of scoring goals and Costa delivered 20 of them. Many were crucial. There were winners inside the final five minutes in the first two games of the season. Ultimately, his goals added 16 points to Chelsea's total.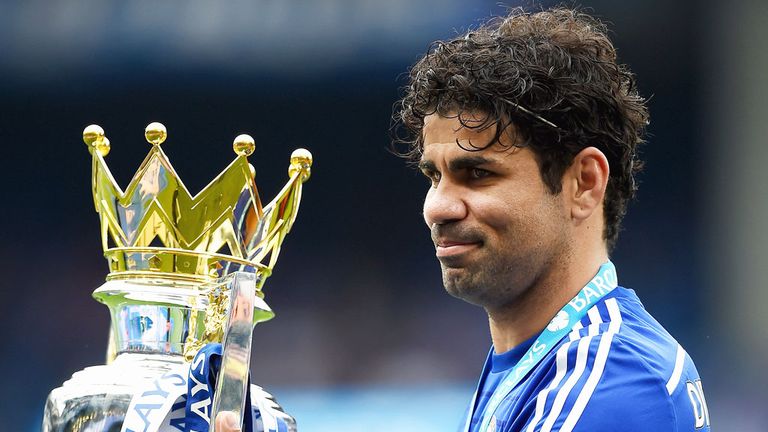 And that was just the goals. "He participates in everything," said Mourinho, when recalling a Costa tackle on the edge of his own area rather than the two goals he scored in the same game. Conte spoke of his "fundamental importance" - the leader of the line and setter of the tempo, an aggressive manifestation of the manager's own combative approach.
It was a combustible relationship from the outset with Costa's intermittent desire to leave threatening to throw off Conte's plans. This is a man who had never previously played three consecutive seasons at one club and his January agitations were ultimately enough to convince Conte of the need to move him on. In the end, this particular fire burnt itself out, destined, no doubt, to re-ignite once more in Madrid.
So where does it all leave him among Chelsea's Premier League favourites? In terms of fans' affections, there are certainly a fair few who are more adored. Costa did not score as many as Gianfranco Zola and had none of the charm. He does not come close to Didier Drogba in the pantheon of Chelsea legends. However, even Drogba cannot match Costa's strike rate.
The Ivorian was undoubtedly a man for the big occasion, often seeming to have the pen in his hand as well as the ball at his feet as he played the role of cup final script doctor, shaping events to his whim. But for all his brilliance, the hero of Munich cannot truly claim to have been the man whose goals carried Chelsea to two titles in quite the same way as Costa.
Drogba won four titles in all but only one was defined by his goals - 29 of them for Carlo Ancelotti's title-winning team. He managed no more than a dozen in each of the other three wins, outscored by Frank Lampard in two and Costa in the other. Twelve was Costa's low mark - notching 20 in a league season as many times as Drogba in a third of the attempts.
That is a lot of goals to replace but there is hope that Chelsea can move on quickly. Morata has pace and boasts a superior touch. He is an accomplished finisher and a presence too, having scored even more headed goals than Costa last season. And yet, there are the intangibles. Does Morata really have the sheer force of will to replace Chelsea's Mr Nasty? Perhaps Chelsea were missing that streak in the recent goalless draw with Arsenal, a team Costa so often tormented.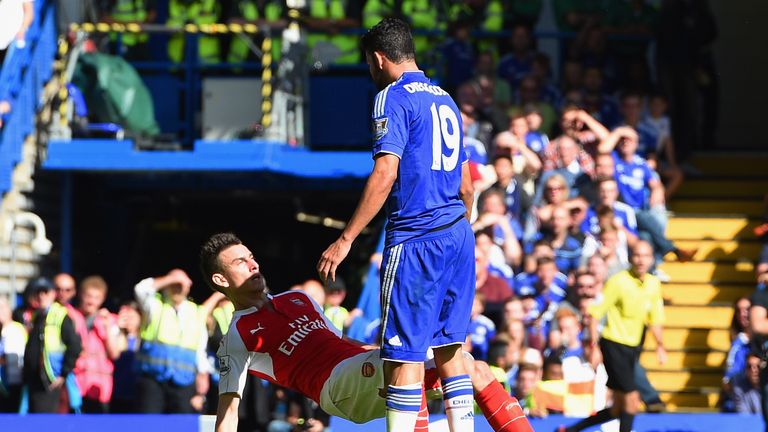 Spain boss Julen Lopetegui says that Morata must add more aggression to his game. Former team-mate Gigi Buffon joked about a need to "get over his mental hang-ups". Old colleague Diego Marino was rather more industrial in his language. "Sometimes in football you have to be more of a b****** and he's not," he told The Guardian. Now who does that sound like?
Perhaps Morata will yet play his part in defining Costa's Chelsea legacy. Will his predecessor be regarded as the man Chelsea utilised before switching to a more refined weapon? Or was he the cutting edge whose unique appetite for the fight was lacking in those who sought to replace him? Either way, what is certain is that there will be no forgetting Diego Costa.